Durex Billboard in New South Wales encourages safe sex in a post-Covid world
By Lily Abery on Thursday, September 30, 2021
As the Australian state New South Wales anticipates a return to social interaction come 'Freedom Day', Durex has debuted an enormous moving billboard in the aforementioned state.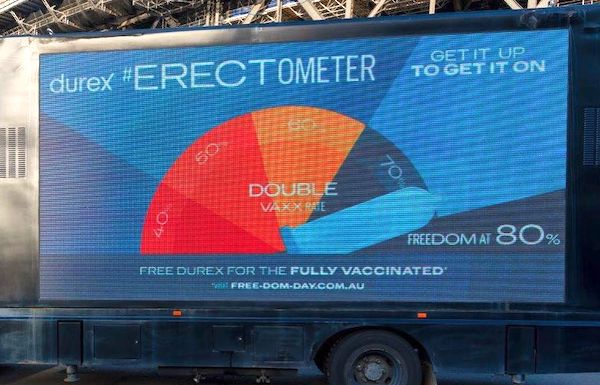 The billboard tracks Australia's vaccination data in real-time, with the dial reacting accordingly. The concept is simple: the higher the vaccination rate at that point in time, the more aroused the display gets- a feature birthed from the brain power of Durex's in-house RB studio. B&T reports that when 80% of residents have had both dosages, the 'Erectometer' will reach vax 'climax'.  
The billboard is not one-dimensional in its appeal, however. As well as providing a fun visual attraction, those at Durex have also managed to incentivise vaccination itself, demonstrating their shrewd social acumen. Upon reaching NSW's 'Freedom Day', double vaxxed citizens will be able to redeem free condoms by presenting their vaccine passports on a dedicated site.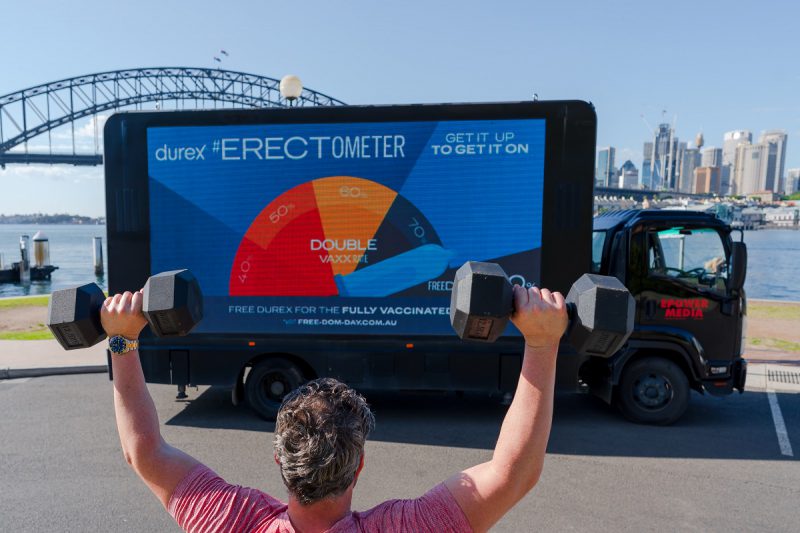 Moreover, to catch the eye of more voyeurs, the Erectometer will cross Sydney's aptly named Homebush, Mona Vale, Balls Head Bay, and Pleasure Point. When explaining the campaign, Henry Turgoose, marketing director at Reckitt Health commented how "as singles prepare to mingle for the first time in almost four months, Durex wants to ensure Aussies are protected for the increase in physical intimacy […] that the end of lockdown brings."  
This sexual countdown has come at just the right time, if you pardon the pun. Lockdown has without-a-doubt prevented copious numbers of physical interactions between Aussies-and indeed the world over- leaving sexual frustration at an all-time high. By launching their 'erectometer', Durex has helped facilitate Australia's transition from sexual frustration to sexual frenzy. But, as always, safety first kids, safety first.