Volkswagen creates world's smallest car dealership to promote its new AR showroom
By Joe Colquhoun on Monday, November 16, 2020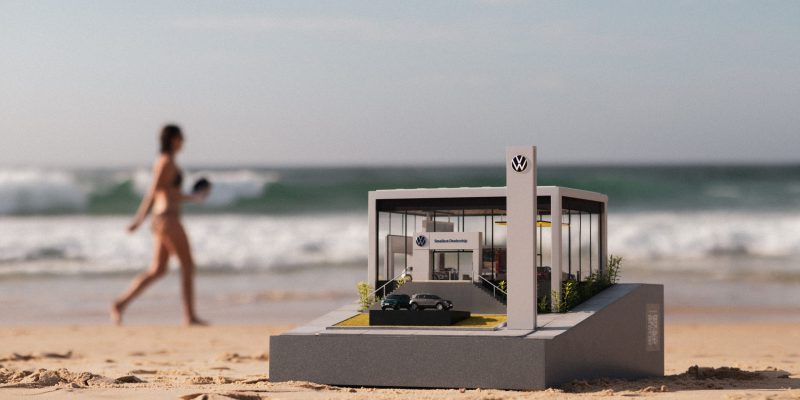 Volkswagen has created a miniature version of its dealership to promote its new virtual showrooms that come as a response to the ongoing covid crisis.
The little dealership sits at just under a foot tall and has been recreated down to the finest detail —complete with tiny plant beds and glass floor-to-ceiling windows.
The automaker and agency DDB Sydney revealed the dealership in Sydney's central business district this week with QR codes on the side that prompted passersby to try out the car brand's new augmented reality experience.
Once connected, users can view the interior and exterior of the vehicles, turn on the lights and open the doors, all through 3D graphics superimposed through their phone cameras.
The offering comes as Covid-19 lockdowns have led clothing retailers and fellow automakers, to tap AR tech as an alternative way for consumers to try out their products.
"This is just the first phase of the AR," Volkswagen chief customer and marketing officer Jason Bradshaw said. "We're continually looking for ways to enhance our customers shopping experiences and are excited to be able to give Australians the opportunity to 'try on' our latest range of small SUVs in their own time, on their own driveway, to help them feel confident that they have found the right car for them with a brand they know and trust