We need to talk about the creative marketing genius of Aviation Gin
By James Herring on Sunday, February 17, 2019
When he's not busy smashing out hit movies Ryan Reynolds is creating some of the coolest booze brand marketing I've seen in a long while.
About 12 months ago the Deadpool star announced he'd purchased an "ownership interest" in US brand Aviation Gin, the press release confirmed he had pursued the investment after tasting the drink.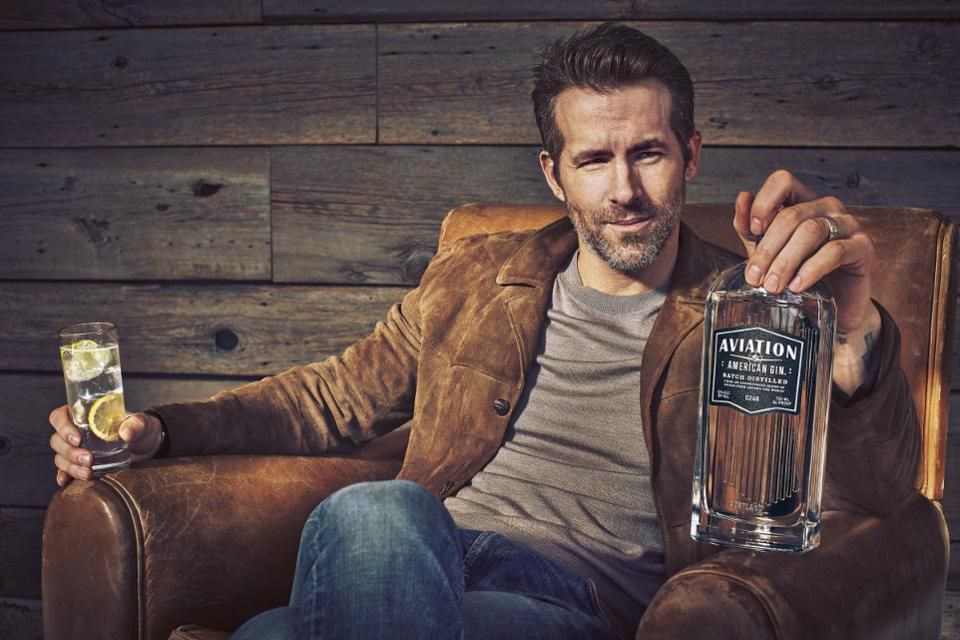 At the bottom of the release Reynolds' new corporate email address was provided to journalists – and anyone curious enough to email the star would receive an auto-triggered out of office message;
It read:
"Thank you for your email and interest in Aviation American Gin! I'm away from my desk at the moment but will respond the moment they give me a desk. About a year ago, I tried Aviation for the first time. Since that day, I've spent my time finding some way to infiltrate the company. I did this for one simple reason: It's the best damn gin on the planet. Period. My responsibilities here at the company are vast. I'll spend my days being photographed intermittently clinching my jaw muscles while pointing at things and nodding. I'll drink Aviation Gin. I'll sit in board meetings, imagining my very own Red Wedding. I don't know whose idea it was to allow me into the gin business, but I can assure you, there are smarter, more reasonable people in charge. Thank you again for your email… If the matter is urgent, please contact my secretary, Bruce, who'll respond the moment I get a secretary named, Bruce."
He signed off the note as "Ryan Reynolds, owner, Aviation American Gin".
He also shared his corporate email address with millions of viewers on the Jimmy Fallon talk show.
If you want to get a special email from @VancityReynolds, all you have to do is email [email protected] #FallonTonight

— Fallon Tonight (@FallonTonight) August 14, 2018
The stunt landed Aviation Gin with a new database of tens of thousands of new customers.
.@AviationGin has had a lot of attention lately. 20,000 daily emails crashed our servers. I had no idea we had an IT Department until an hour ago. They seem super sober.

— Ryan Reynolds (@VancityReynolds) August 15, 2018
It was was the first taste of how Reynolds planned to bring his cool humour to the fore in the brand's marketing.
In a video uploaded to his YouTube channel he shares the story of the 'The Process' – the film tears up every cliche in the luxury booze brand playbook as it tells of the painstaking 'holistic' process through which the gin is made.
Among many highlights the hilarious film includes glossy shots of workers misting oranges on the tree (with the tears of Aviation's owner – Reynolds) and corporate promises of 'humanely caught' botanicals.
Then there was the brilliantly "botched" announcement of a partnership with Virgin Atlantic founder Richard Branson.
Then last week after recently calling a truce in their 'social media war', Reynolds and Hugh Jackman agreed to each create an advertisement for both their respective beverage brands.
Hugh Jackman created an ad for Aviation gin and Reynolds for Jackman's Laughing Man coffee company.
The video brings both brands into the spotlight in a fun and creative way.
We've already written about how awesome Deadpool's marketing is – but to see this same mindset at play and working it through a consumer brand is fascinating.
Off the top of my head? I dunno. If heaven and laughter made a baby while watching Titanic. But wetter. https://t.co/E77mzzJ1Sc

— Ryan Reynolds (@VancityReynolds) August 15, 2018
The Deadpool star is just one of many Hollywood personalities tapping into revenue streams from the booze industry.
Sean "Diddy" Combs has served as the brand ambassador for vodka brand Ciroc since as far back as 2007, Justin Timberlake has a tequila collaboration with Casa Sauza, and Matthew McConaughey announced  a collaboration to launch Wild Turkey Longbranch.
None of them are doing marketing half as well as Reynolds.
Verdict: Gincredible and Ginspirational (Oh yes I did)