Top 10 PR and marketing stunts and campaigns of March 2017
By Rich Leigh on Monday, April 3, 2017
Before I get onto the top stunts/campaigns, I have NEWS. (As always, feel free to skip to the numbered bit if you'd prefer).
Today is the release date for my very own book: Myths of PR: All Publicity is Good Publicity and Other Popular Misconceptions!
It's available in paperback and as an eBook, and jumped up to the 2nd best selling PR book on Amazon on the first week it was announced, based on pre-orders alone, which blew my tiny little mind. If you buy it, or have bought it, please do let me know what you think (@RichLeighPR) – and feel free to leave reviews on Amazon when you've finished it – it'll all help get it out there!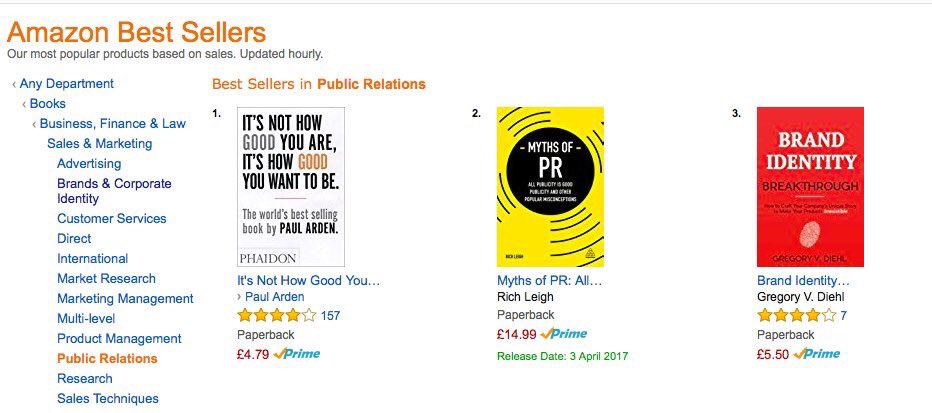 We're having a book launch drinks shindig in London on the 27th. All 150 tickets I put up went quickly, but I added a few more just. Get your free tickets and find out more here: mythsofPR.eventbrite.com (if you miss out, just add yourself to the waiting list – there'll be drop-outs, I'm sure).
All that said, there have been some great campaigns this month. My agency's been busy launching this amazing new thing, so I missed April Fool's Day round-up this year, but… given it fell on a Saturday, we didn't miss out on much as far as I can tell.
Here, in reverse order (and based solely on the number of unique views each post received), are the top ten PR and marketing campaigns throughout March 2017:
---
10. New Zealand Fire Service create virtual 360 degree house fire in online first
The New Zealand Fire Service, in partnership with FCB New Zealand, has created this virtual reality home fire escape experience, allowing participants to try and escape a house fire. The experience uses uses footage from an actual fire filmed at a derelict house, and aims to highlight how important having an escape plan is.
Very smart use of tech for A Good Cause.
9. Forget ripped, it's time for ribbed as Durex India launches jeans
Durex India launched 'Durex Jeans' and nobody really understands why.
I mean, I wish I had more to say about this, but… I mean, it wasn't even an April Fool's Day thing, as far as I can tell. *Shrugs*.
8. St. Patrick's Day success story, a Guinness Doughnut! – by The Wern's Lawrence Davies
Dublin bakery Aungier Danger partnered with Guinness to create a St. Patrick's Day-inspired doughnut.
The dark cocoa doughnut, filled with a Belgian chocolate mousse – complementing Guinness's unique flavour, apparently, smothered in a rich a blackcurrant glaze.
To add another element of fun to the campaign, all Patricks, Patricias, Paddys, Pedros and Podges (or variants of the name) all got to enjoy a free doughnut on St Patrick's Day itself.
7. Chessington employs toddlers to 'toddler proof' resort – post by Callum Gable
Chessington World of Adventures was recruiting VIPs (Very Important Pre-Schoolers) between the ages of one and five to help 'toddler-proof' the Resort ahead of the release of its new attraction 'The Gruffalo River Ride Adventure' in mid-March.
6. BrewDog announces world's first craft beer hotel – post by Angharad Welsh
Hot on the heels of its Puppy Parental Leave story last month, craft beer company BrewDog announced it will be building the world's first craft beer hotel.
Alcohol-themed hotels have turned into a bit of a 'thing' in PR land of late and BrewDog has jumped on board with its own offering – a beer lover's dream just a 'hop' across the pond at their brewery in Ohio.
Guests can look forward to fully-stocked mini bars, IPA on tap in rooms, beer-themed toiletries and spa treatments and brewing tank hot tubs, which can of course be filled with beer.
5. One Water trial new 'dirty' packaging to highlight World Water Day – post by Radioactive PR's Lydia Bryant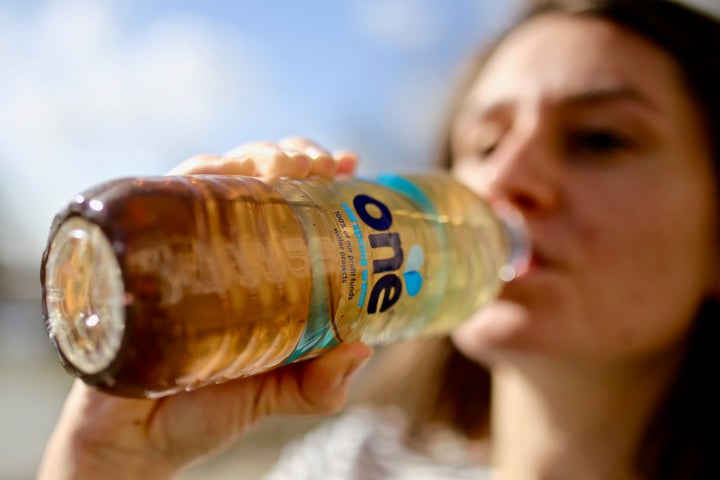 British bottling water brand, One Water, an organisation that allocates all of its profits to global clean water projects, trialed new packaging to coincide with World Water Day on March 22nd.
The new packaging included a sleeve that made the bottle look like it contains dirty water instead of spring water, in the hope it will raise awareness of its cause and help reach its fundraising target of £20 million by 2020.
4. Cheltenham Races PR stunts – Paddy Power out of the blocks with Putin and Trump on a horse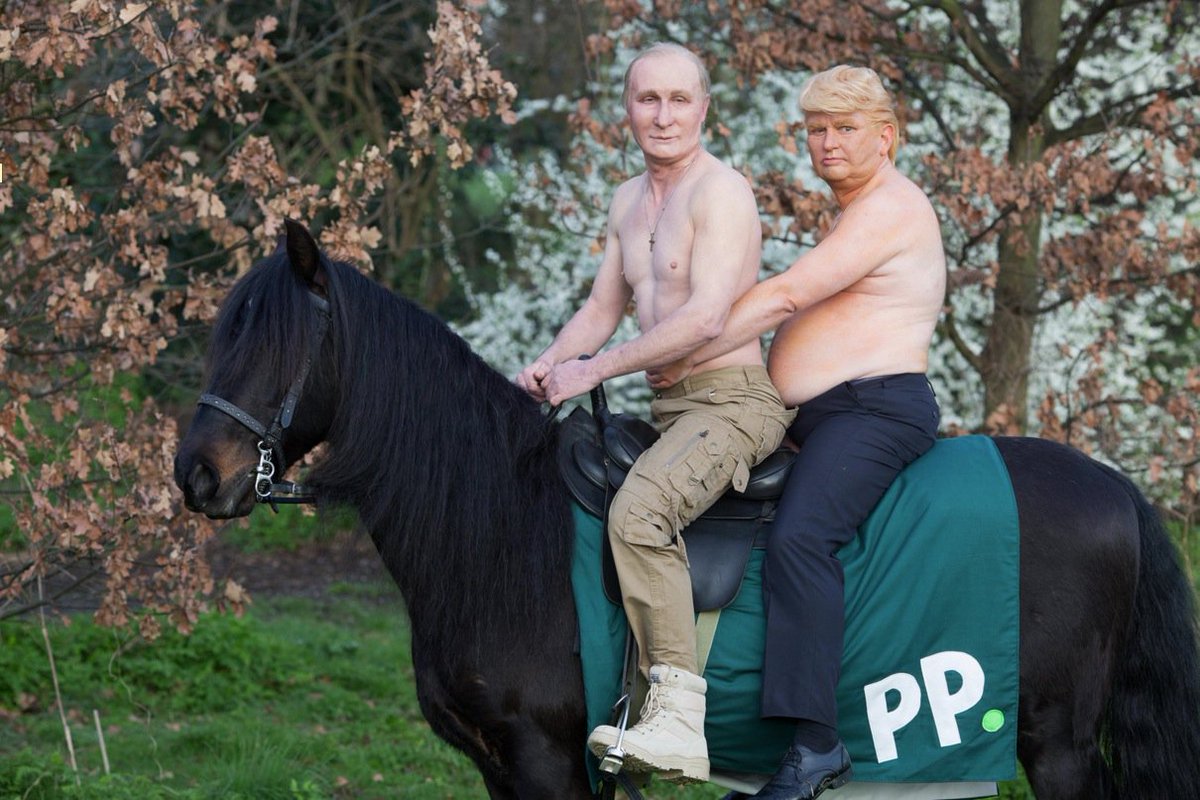 Here are prosthetic versions of Trump and Putin, on a horse in central London. Paddy Power were behind it. Why? 'To launch Cheltenham Races (a horse racing festival) and politics betting specials', according to this tweet.
Uh huh.
3. The 'pawfect' car for dog lovers – Nissan unveils concept to promote new 4×4
Nissan 'unveiled' a unique new model concept to promote its new X-Trail 4×4. In short, they've done that thing where somebody in the angles meeting shouted out 'hey, the internet loves dogs, let's go from there'. We've all been there.
Highlights of the Nissan X-Trail 4Dogs concept include a two-way 'dog cam', water shower, dryer and access ramp. It's useful-sounding and fun enough to warrant inclusion, but if you're expecting this to become a real thing, don't hold your breath.
2. London gets a 'porking' in Peperami pothole PR stunt
Peperami's phallic Animal was 'on a mission at the beginning of the month to leave no hole unfilled', punning his way around the capital and across social media as he drew attention to pot holes or 'Hangry Holes'. If you've ever wondered just how far you can stretch a joke about meat filling a hole, this is the stunt for you.
Picking a somewhat-vague parallel for Peperami filling a hole in people's… stomachs (?), the brand jumped on the fact that potholes are at an all-time high in London.
Members of the public were asked to report a pothole by tweeting @Peperami with #HangryHole.
1. No more bull – statue stands defiant on International Women's Day – Angharad
US fund manager State Street placed a statue of a defiant girl staring down the infamous Wall Street Bull in a stunt that delighted social media this International Women's Day.
The bronze statue was placed to highlight the lack of women on corporate boards of financial institutions and the long-debated gender pay gap (something I actually go into some depth about in PR Myths) in financial companies and wider industries.
---
As always:
If you'd like to write for the site – please do sign up to do so by clicking right here and filling in the short form.
If you've seen or are working on any great stunts or campaigns, please email me – rich [at] prexamples dot com (or tweet @PRexamples or @RichLeighPR)
Subscribe to our monthly newsletter, highlighting the best PR stunts and campaigns
---
Thanks for reading