#MissingType returns and goes global as brands and places drop As, Bs and Os from names
By Rich Leigh on Tuesday, August 16, 2016
In June 2015, brands and street signs dropped the As, Bs and Os from their names – the letters that make up blood types – to highlight National Blood Week and the lack of blood donors. In just 10 days after launching the campaign, a record 30,000 new donors had signed up. Here it is if you'd like to refresh your memory – I was a huge fan, and loved the real-world impact of the stunt-led initiative.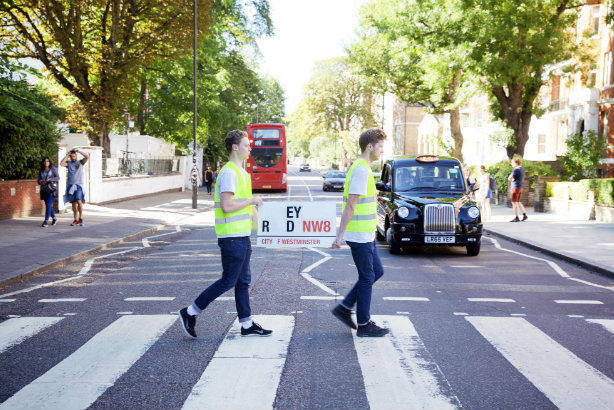 The award-winning effort by NHS Blood and Transplant is back – and this time, it's global, being activated across 22 countries. Everywhere from the U.S and Australia to Brazil and Nepal is getting involved – and further to the PR-led approach last year, a TV ad campaign will run alongside it (see below).
In England, the focus is on a particular need for more young blood donors and more black and Asian donors.
The number of people becoming donors and giving blood for the first time in England decreased by 24.4% in 2015 compared to 2005.
This year, the campaign is bringing together 25 blood services from 21 countries, covering one billion of the world's population. Each is calling for new donors to ensure blood donation for future generations.
Throughout the campaign As, Bs and Os will disappear in everyday and iconic locations around the world – such as this, Europe's longest place name:
Brands and organisations backing the campaign already include Microsoft, St Thomas' Hospital, Boots, Warburton's and Manchester City. Other launch partners include Lloyds Bank, Paddy Power, Transport for London, Claire's Accessories, Tottenham Hotspur, Santander and Royal Mail, which has issued a special postmark for all letters sent in the UK this week to support the campaign. The CIPR has also got involved: 
We're missing our 'I' in support of the #CIPREXCEL award-winning #missingtype campaign. Find out about giving blood https://t.co/NmKX7wgYBX

— C_PR (@CIPR_UK) 16 August 2016
Mark Perkins, Creative Director at MHP – ENGINE said: "Last year the activity was predominantly PR led. Building on its success and the content created in the media relations and digital campaign, the TV creative from ENGINE agencies WCRS and Trailerpark takes Missing Type to another level of visual disruption. Now we need as many brands, organisations and individuals to join the movement on social media using #MissingType with a link to blood.co.uk to help drive new donor registrations to help save lives".
Involved agencies:
ENGINE Group's: