McDonald's hijacks the gaming multiverse with #ThisIsMcDonalds campaign
By Jess Gaynor on Monday, December 19, 2022
McDonald's is encouraging gamers to hunt for food menu 'look-alikes' in exchange for the real thing.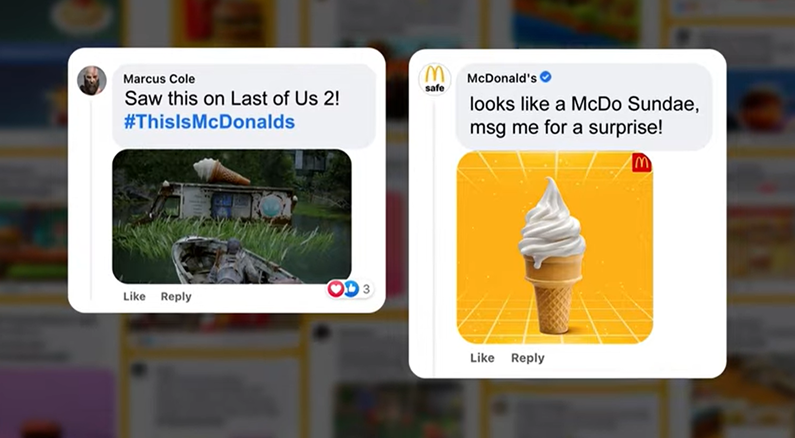 The recent #ThisIsMcDonalds stunt was initially launched in the Phillapines, where gaming personality Alodia Gosiengfiao retweeted the screengrab she took of a look-alike 'Big Mac' that she found inside Grand Theft Auto V. Alodia then challenged her eight million followers to search for other look-alike McDonald's items in their games too. To fuel the hunt, McDonald's food, gaming credits, consoles and other gaming merchandise are being given away in exchange for screengrabs of the menu look-alikes.
So far different look alike items such as Big Macs, fries, McFlurries, cheeseburgers and much more have been found in the gaming multiverse. The gaming platforms these items have been found on include The Sims, Fall Guys, Final Fantasy, Call of Duty, Grand Theft Auto, etc!
Ate @AlodiaAlmira ! Found a Big Mac while playing Yakuza Kiwami! I swear #ThisIsMcDonalds talaga. ✨🍔 pic.twitter.com/Wk6wHcBOuP

— Rojean (ロジン) (@Rojean_vielka) December 4, 2022
AYO??? Thank you so much @McDonalds! My late night cravings before stream have been fulfilled. THIS IS WAY TOO MUCH FOOD anyone want some? Come join me in the hunt for more McDonalds menu items in games! #ThisIsMcDonalds pic.twitter.com/Po87xCYh1H

— OAS Maggiekarp (@magukarp) November 30, 2022
Oliver Rabatan,  McDonald's Philippines chief marketing officer said:
"It has been fascinating to follow this virtual hunt and watch gamers exchanging virtual food clones for the real deal. Leo Burnett's idea taps into the relationship between gamers and food, which is a big part of gaming culture, and helps us to connect with a huge gaming audience in the Philippines and beyond"
Additionally, Raoul Panes, chief creative officer at Publicis Groupe Philippines and Leo Burnett Manila said:
"As a brand that lives in culture in the most authentic, playful ways, McDonald's has been  brainstorming ways to connect with the Philippines' 40+ million strong gaming  community. Then we stumbled upon an amazing discovery: so much food in the gaming  multiverse looks just like McDonald's products, despite being unbranded. Why not hack  this unbranded space to build brand love for McDonald's through the gamer behavior of  screen-grabbing milestones and discoveries for posterity or bragging rights?"