Desperados Bottles Christmas with This Festive Beer
By Zara Wilson on Friday, December 16, 2022
The festive period is among us. Decorations are up, presents are ordered and the weather outside is frightful. Oh, we love you Christmas! 
This year, Desperados have taken two traditional elements of Christmas and combined them in the most unimaginable way possible – Christmas cake and family arguments. Introducing new Desperados Christmas Cake and Family Arguments, the limited-edition beer created to bring together these two traditions.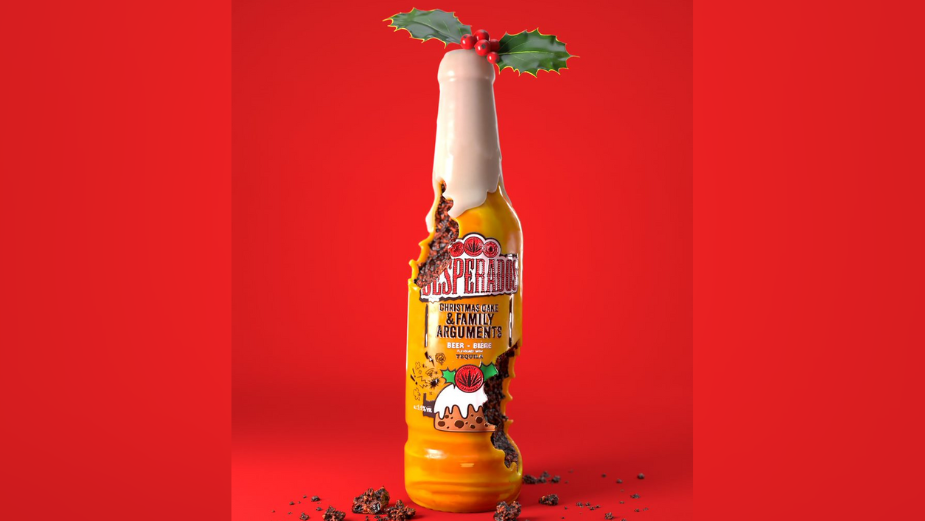 The latest creation infuses the classic Desperados beer with the warmth of cinnamon, ginger, clove and nutmeg as an attempt to bottle Christmas cake and that all important spicy kick of chilli to mirror those classic family disagreements.  
Rutger van der Stegen, global marketing manager for Desperados, said: "Experimentation is at Desperados' core, so we're excited to bring some festive fun to our beer this year. Our special beer will certainly tickle the tastebuds with all the flavours of Christmas, while also providing an unexpected spicy twist by trying to capture the flavour of those, all too often, seasonal disagreements that bubble up when everyone comes together around the Christmas tree." 
Unfortunately, the Desperados Christmas Cake and Family Arguments won't be available to purchase this holiday season. However, the brand is collaborating with well-known creators such as Jack Fowler, who push the boundaries of creativity and fun, just as Desperados does with its beer.