Hackney Children & Baby Bank release 'luxury' advent calendar
By Assisi Azzopardi on Thursday, December 15, 2022
Hackney Children & Baby Bank are highlighting the intolerable reality of the cost-of-living crisis that millions of families are experiencing this festive season, with a different take on a  'luxury' advent calendar.
The calendar contains 'anything but' luxury items e.g a bag of 2p coins, Christmas dinner in a tin and a torch.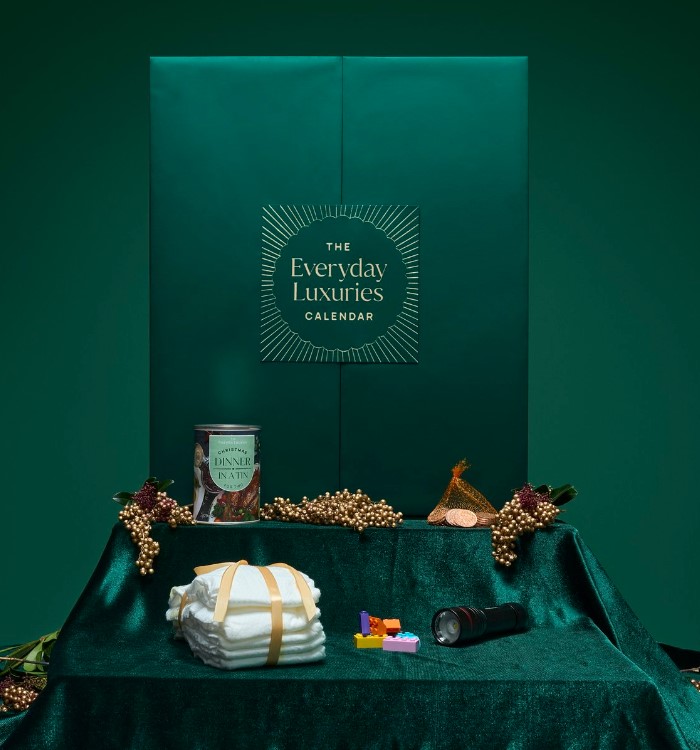 Statistics from Salvation Army reveal that 67% of people are worried about being able to afford ingredients for their Christmas meal, and one in seven cannot afford to give their children a Christmas gift.
In light of this the charity have swapped the luxurious gifts, for everyday essentials that low-income families need – including clothes, shoes, toys, food, books and baby equipment.
The campaign has been shot by Jacob McFadden – the advent box and sleek draping imitate a genuine luxurious advent calendar, comparatively, the items found within the boxes include must-have items, such as socks and medicine.
Beautine Wester, founder of Hackney Children & Baby Bank stated, "Hackney children's bank has seen an unprecedented rise in demands for everyday basic necessities. Many families this winter are struggling to hold it all together and at their wits end facing a very bleak Christmas; we hope this campaign goes some way to highlighting the extent to which families are struggling right now while also directly helping those in need."
To donate, visit: https://www.everydayluxuriescalendar.com/
Agency: Atomic London