Lego to release playable Lego foosball table inspired by fan's creation
By Jess Gaynor on Monday, October 10, 2022
Another fan-made creation submitted to Lego Ideas has been approved to become an official set, as part of Lego's 'For The Joy of Play campaign' taking place in Paris this month. However, despite being 2,339 pieces, it will likely be a lot smaller than you would expect!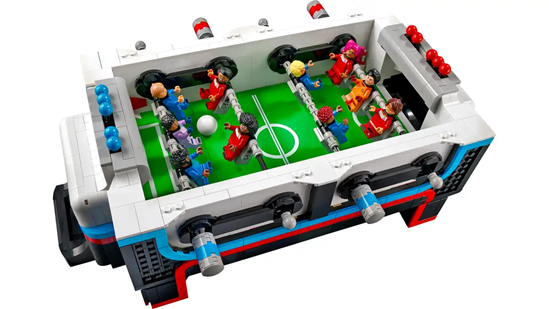 16-year-old Donát Fehérvári submitted his Lego Foosball Table creation as part of the "We Love Sport!" building challenge, and was announced as the contest's winning entry at Lego Con last year. The official Lego set is loosely based on Fehérvári's submission, but has been called "Table Football," rather than "Foosball Table," and is significantly smaller than traditional foosball tables.
The set will have four rods, two for each player, and a total of 10 Lego minifigures on the field. In another, welcome change to traditional foosball, rather than including predetermined minifigures for the teams, the set includes more than 40 minifigure heads and hairpieces across a range of skin tones, along with an extra bit of stadium seating for the inactive players that also functions as a storage box for all the spare pieces.

Check out the star-studded promo video below, featuring Manchester United and England star, Marcus Rashford, as he battles it out on the mini foosball table against Premier League legend, Thierry Henry.
Thierry Henry, who will also be present at the 2-day 'For the Joy of Play' event in Paris this month, said: "Throughout my career I've played football everywhere you can imagine – from my garden to stadiums across the world and now in a LEGO Ideas Table Football set! LEGO play is all about harnessing the unifying spirit of sport to rebuild the game for fans everywhere. I am very excited to see the new LEGO set bring people together across the world as they master the table football game in brick form."
LEGO Designer, Antica Bracanov, who headed up the official designs based on Fehérvári's ideas, said: "What makes the LEGO Ideas Table Football set so amazing is that it harnesses the spirit of sport. Donat's design champions the shared rollercoaster of emotions that fans experience when watching football games. At the LEGO Group, we are incredibly proud to have brought this set to life, allowing fans to swap football boots for bricks, and be inspired take part in the game of play, for the love of play."
The game is fully playable and expected to cost £214.99 in the Lego store. Available from November 1!