Tony the Tiger turned VTuber as part of brand partnership Twitch
By Shadia Muse on Wednesday, August 24, 2022
Kellogg's Frosted Flakes and Twitch's brand partnership studio are now collaborating to try and connect with new audiences. As part of this new collaboration, Tony the Tiger, Kellogg's mascot will become an interactive virtual YouTuber or V Tuber. The first show will air on Friday, August 19th from 5pm to 7pm ET as Tony the Tiger competes on Twitch with well-known streamers.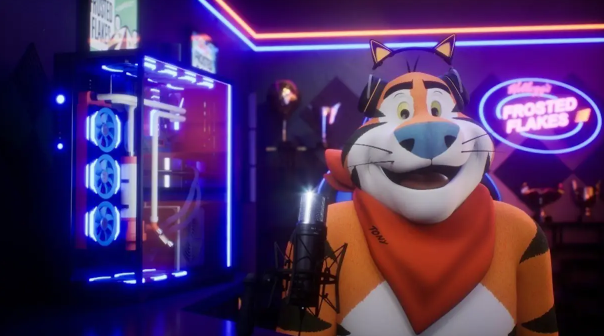 Tony will go live with Twitch streamers Jakeen 'BigCheese' Johnson, Brennon 'GoldGlove' O'Neill and Chrissy Costanza (Chrissyofficial) on Tony the Tiger's new Twitch channel playing a popular battle royale game.
"This innovative concept taps into the growing popularity of VTubing on Twitch, where we saw VTubing content increase 467% year-over-year last year," explained Adam Harris, global head of Twitch's brand partnership studio.
"Together with Kellogg's Frosted Flakes, we're producing a made-for-the-Twitch-community live experience that introduces a beloved character to well-known Twitch streamers, fosters a healthy dose of competition, and encourages viewers to interact with Tony the Tiger in real-time in Chat."
During the two-hour live stream, fans can interact with Tony by participating in Kellogg's Frosted Flakes-fueled polls and chatting on the live chat feature. Tony also will show off his custom Kellogg's Frosted Flakes gaming rig, equipped with a milk-coolant PC.
Sadie Garcia, director of brand marketing at Kellogg All Family Cereal, said: "Twitch is a growing service with more than 31 million average daily visitors, giving Tony and Kellogg's Frosted Flakes a chance to connect with new audiences and engage unlike we've ever done before with a fun and innovative gaming experience."