M&Ms research reveals how young Brits feel misrepresented by the film industry
By Lily Abery on Thursday, August 25, 2022
Over half of Brits aged 18-35 (57%) think outdated movie character stereotypes are overused and offensive and lead to a feeling of not belonging.
The study of 2,000 Brits aged 18 – 35, commissioned by confectionary brand M&M'S as part of its global 'FUNd' initiative designed to champion diversity and inclusion, reveals 29% of respondents have refused to watch a film due to an offensive or outdated stereotype. Oversexualised women is the stereotype young adults feel they see too much of in movies, followed by females being depicted as weak or too sensitive, and foreign characters' broken English being used for comedy. Black/Latino people portrayed as gang members; black communities being broken or 'disruptive'; and 'flamboyant' members of the LGBTQ+ community were also cited as outdated tropes.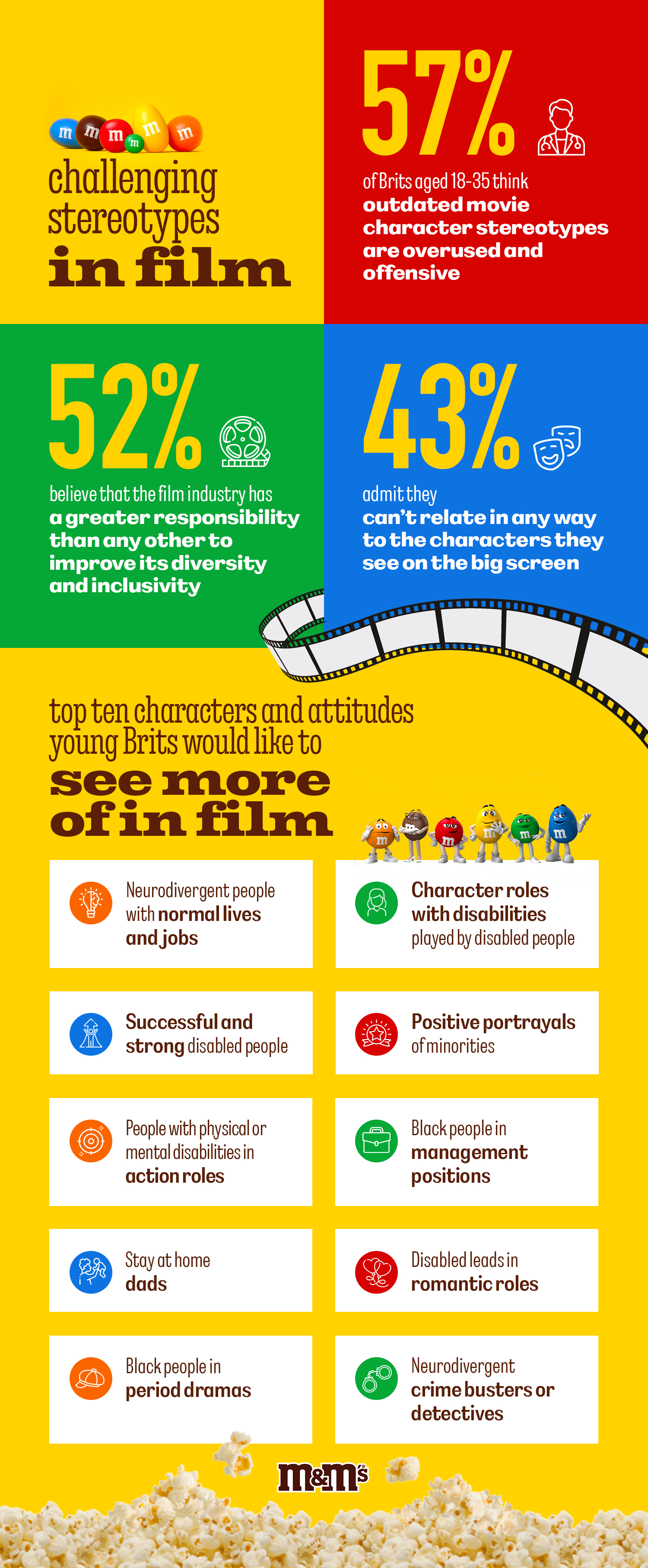 Whilst Hollywood has made steps to correct inaccurate portrayals of minority groups and negative stereotypes, 49% of those surveyed feel the movie industry still has a long way to go.  The research which aimed to discover how young Brits feel about diversity and inclusion within cinema also revealed the character roles and industry change they would like to see more of. 
Young adults would like to see more depictions of neurodivergent people living normal lives, rather than portrayed as having 'special powers'; more people of colour playing people in management positions; and disabled characters portrayed as strong or successful. This was followed by wanting to see more disabled character roles played by disabled people. With many disabled characters on screen played by able bodied actors, over half of those surveyed (59%) feel this needs to change. 
Following the research, M&M'S is working with London Film School to identify the films that the younger generations would like to see made by Hollywood, which challenge stereotypes and positively represent minority groups.  The organisations are calling on the public, via Twitter, to submit the #FilmsYouWantToSee – a selection of which will be brought to life as film trailers by young emerging directors. 
Leah Dykes, Brand Director Bitesize, M&M'S said; "We're delighted to be working with the London Film School, amongst others, on this important piece of work. As a treat synonymous with film culture, we feel we have a duty to do what we can to ensure the industry and beyond is inclusive and diverse, and celebrates talent from all walks of life.