Another bloody rebrand!? Heinz launches tomato blood and costumes
By Amy Swain on Thursday, October 28, 2021
Heinz has rebranded it's most iconic product to help people create DIY Halloween looks by using ketchup as fake blood.
The limited edition ketchup is shown in an ominous advert in which a ghostly bottle of Heinz 'blood' creeps around in the dark. It's not quite 'The Conjuring' but it is a little creepy! 
Heinz will also be releasing a limited edition tomato blood costume kit to help everyone get in the mood for spooky season.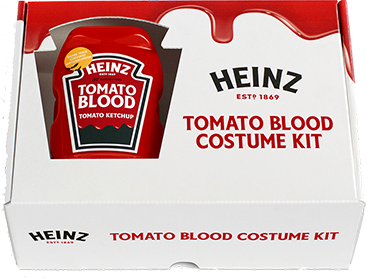 An immersive Halloween experience will also take place in Los Angeles where consumers can buy Heinz merch and get their ketchup on (quite literally) at their interactive "drip stations." Talk about a bloody cool costume!