'Very gay was a compliment right? – Ford releases their rainbow truck in the face of homophobic comments
By Lily Abery on Thursday, September 2, 2021
Germany's renowned car manufacturer Ford recently released their new blue 'Ranger Raptor'. Upon its release, however, Ford came face- to- face with the homophobia circling the 'twittersphere'. One commenter had criticised the 'Performance Blue' colour, calling it 'gay'. Instead of the blue colour, the troll in question had asked Ford to instead paint the 'Raptor' in "black and gold or camo". In a clever tongue-in-cheek move, Ford decided to turn the discriminatory insult on its head and  in so doing, pledged their solidarity with the LGBTQ+ community. 
'Very Gay' was a compliment, right? ✨🌈 #VeryGayRaptor pic.twitter.com/vOYJfwHANH

— Ford Europe (@FordEu) June 25, 2021
The comment "stopped us in our tracks," Ford said, so they retaliated with an animation showing what an actual 'gay car' would look like. To make this gag even more emphatic, Ford took it one step further, and made the vision a reality. The "Very Gay Raptor" is embellished by rainbows and gold dust, finished off with a pink love heart on the boot.  The whole operation took 60-hours and saw the car wrapped in 30 square metres of rainbow and gold-glittered Alphafoil.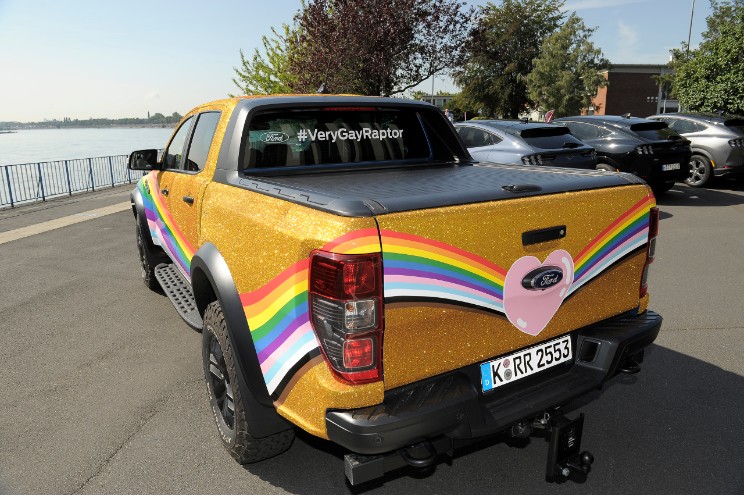 As Taylor Swift once said, "shade never made anyone less gay". Ford clearly agrees: shade was thrown and shades were changed.
Check out Ford's twitter here: