Emirates put a 'flight attendant' on top of Burj Khalifa, Dubai
By Lily Abery on Wednesday, August 11, 2021
Emirates have released a new advert featuring a 'flight attendant' standing on top of the Burj Khalifa to send a positive message regarding UK travel. The UAE has officially been moved to the UK 'Amber List' instead of the 'Red List', allowing travellers from the UK to visit. The ad features Love Actually style cards held by the 'flight attendant' displaying the words:
"Moving the UAE to the UK Amber List made us on top of the world. Fly Emirates. Fly Better."
The 33-second-long advert features Nicole Smith-Ludvik- a professional skydiving instructor-sporting the classic attire of an Emirates flight attendant. On the face of it, the ad's first frame depicts Smith-Ludvik suspended in the blue hues of Dubai's skyline. For reference, the Burj Khalifa- the world's tallest building- stands at 2,722 feet above the ground. To reach the peak, one would have to take the elevator to the 160th floor, and then climb for an hour to the building's highest point. Something to avoid if you suffer from vertigo, perhaps.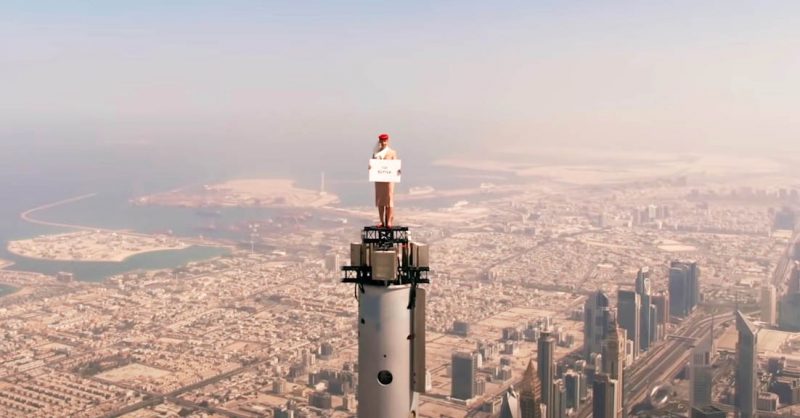 As the ad plays, the camera pans down from the cards and zooms outward to show Smith-Ludvik standing on top of the Burj Khalifa. The angle gives the viewer an unsettling idea of scale as Smith-Ludvik diminishes in size compared to the height of Dubai's landmark structure. In order to eliminate any suspicion surrounding the veracity of the stunt, Emirates released a 'Behind the Scenes' YouTube video in tandem with the ad's release. The video illustrates all the safety measures taken by the professionals working on the shoot, as well as the methods and techniques used to create the ad.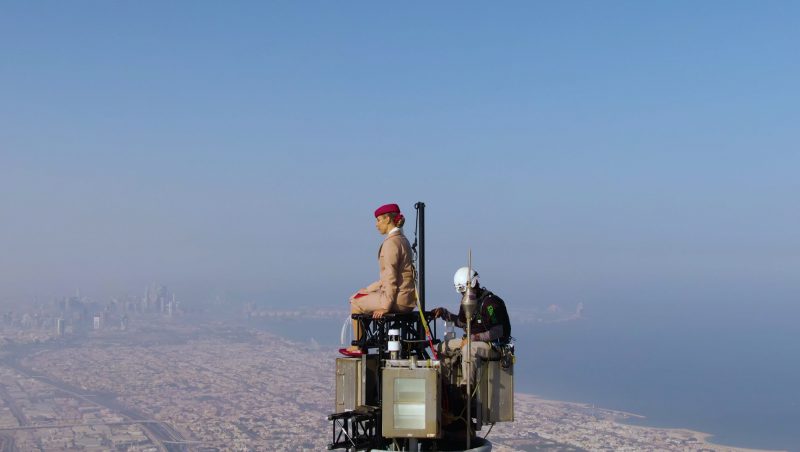 The same- or at least a similar- ad might have been achieved via means such as a green screen, but Emirates chose to actually place a person on top of the Burj Khalifa, factoring in all the risks such an ambitious campaign poses. Impressive.                                                                                                                                                                          For more information on how Emirates pulled off this stunt, check out the link below:
How Emirates pulled off insane Burj Khalifa single-take drone ad – DroneDJ