Papa John's deliver unexpected Cheddar-inspired collection
By Laura Kirkpatrick on Thursday, June 3, 2021
With the growing appetite of fast-food brands to delve into the world of fashion and beauty, Papa John's have decided they too want a slice of the action.
Following the likes of industry giants McDonald's and KFC, the crossover into these unchartered waters, has resulted in an unexpected pizza x fashion label collaboration.
The 'Papa X Cheddar' campaign is a bold departure for the brand who have teamed up with Atomic London to deliver a satirical advertising campaign.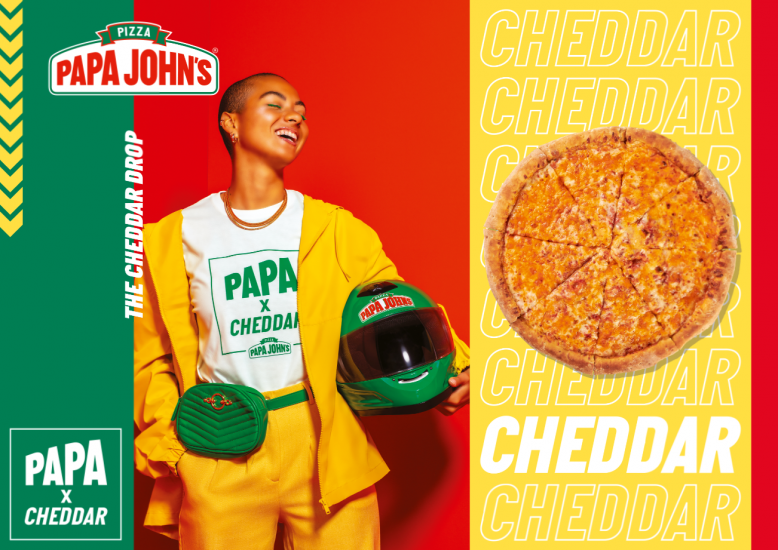 Directed by Josh Cohen (known for his work with Adidas and Nike) and not too dissimilar from your typical fashion ad, the new mouth-watering cheddar pizza range is juxtaposed with models wearing authentic streetwear and the original Papa John's delivery uniform. It also features an instrumental 'Cheddar' track from hip hop artist, B Zino.
Papa John's fans globally can shop the range in restaurant or online but also search the 'cheddar look' on global fashion marketplace, Depop, where the entire Papa x Cheddar collection is available now with all proceeds going to charity.
Jo Blundell, International Marketing VP of Papa John's comments: "This bold campaign where food meets fashion is a real departure for our marketing globally. Its satirical humour and references to Gen Z street collaboration culture nicely propels Cheddar back into fashion.  It's a first for us but also for fans who can get their hands on both the collaboration's pizza and exclusive items of delivery driver clothing."