Jay-Z's Cannabis Brand Monogram creates provocative OOH campaign calling out the hypocrisy of weed legislation throughout the US
By Joe Colquhoun on Tuesday, March 2, 2021
Jay-Z's Cannabis Brand Monogram, has created a provocative OOH campaign calling out the hypocrisy of the laws surrounding cannabis in the US.
These minor offences have been directly compared with outdated, technically legal behaviours that are objectively worse, yet receive far less of a punishment, if any at all.

Whilst some behaviours are less acceptable than others, (bestiality and cannibalism being the most abhorrent) the campaign cleverly uses more popularly overlooked offences that still seem to go unnoticed by the law.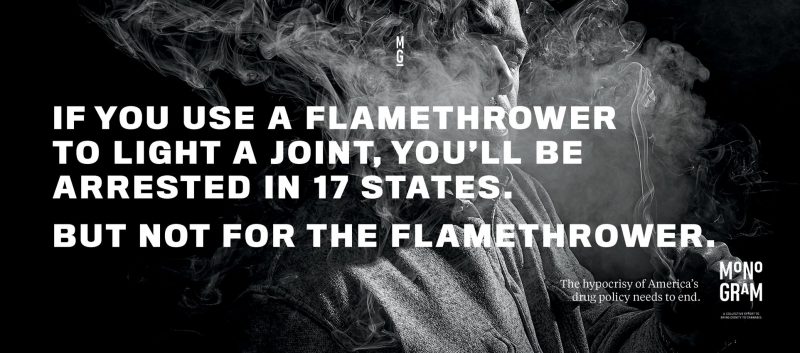 This isn't the first time the brand has done something like this. Last fall the team created an OOH campaign that was deliberately positioned on the border of states – starkly reflecting the divide in legality surrounding recreational cannabis use. Check it out here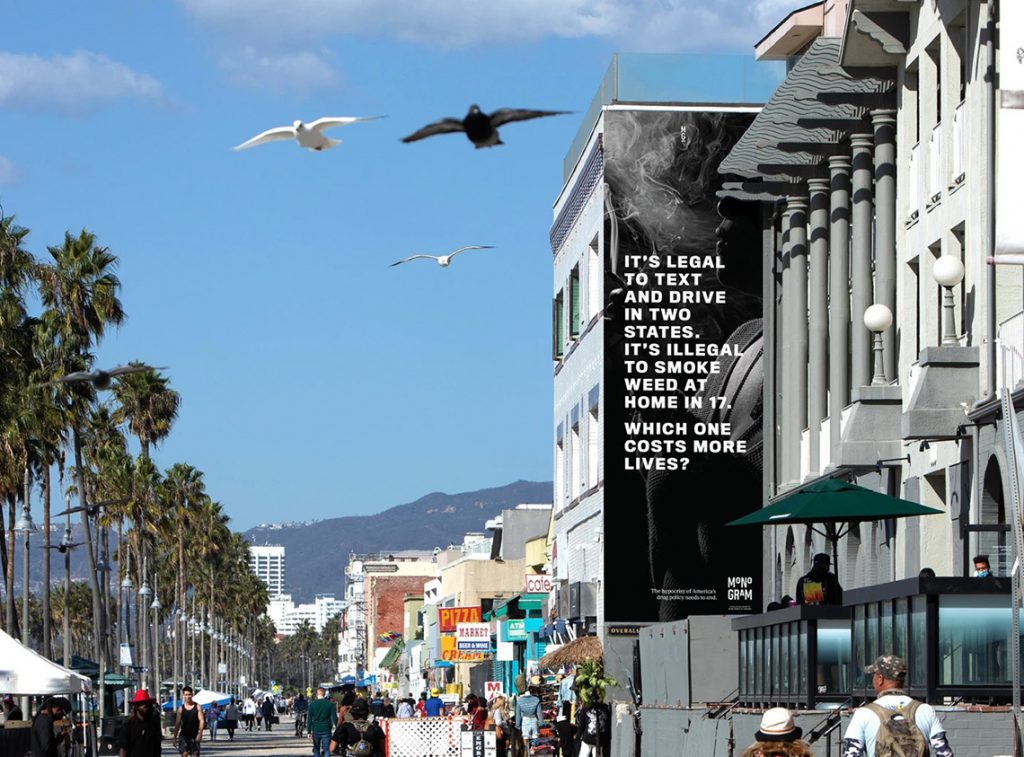 "Cannabis laws are out of date and disproportionately cruel and punishing when compared to the rest of the legal code," said Shawn Carter (Jay-Z) in a statement. "We still don't have proper regulation for texting and driving in Missouri, but staying home and smoking weed will get you locked up."
The campaign also includes a social video telling the sad story of Bryan Rone, a man that spent 15 years in prison on account of him selling Marijuana in Virginia which he'd bought over the border from Texas.
"There really is a state where cannibalism is legal and weed isn't," says Mischief Executive Creative Director Kevin Mulroy. "The fact that there are real people who have done real-time for nonviolent weed offences—and still are—is what Jay-Z wanted to make sure was the focal point of this poignant campaign. More often than not, their sentences are longer than those who have committed far worse crimes. So, instead of looking for stock photos of people or gritty models, Monogram cast real people whose lives have been permanently altered by ridiculous and hypocritical marijuana laws."