Heineken lend a helping hand to closed bars with campaign 'Shutter Ads'.
By Venetia Faye Acquah on Wednesday, February 3, 2021
The impact of the coronavirus pandemic has been devastatingly difficult for retail-based businesses. Bars, clubs, and restaurants have been forced to close with no real timeline of reopening. With advertising being one of the industries still able to operate (with restrictions of course), creative agency Publicis Italy & Heineken are using their creative powers for good!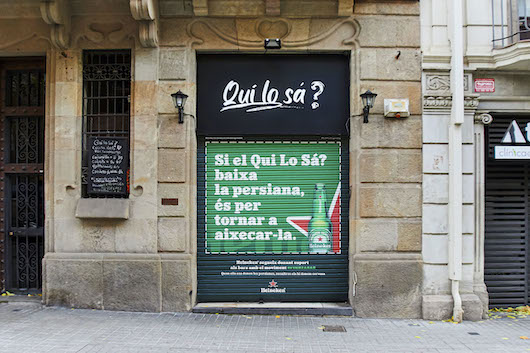 The two businesses have taken over the shutters of 15 bars, sharing optimistic and encouraging messages across Barcelona. As well as, giving small business owners a way to generate income.
As people anticipate the reopening of these establishments, they can feel reassured; that the path to normality is one that is carefully thought about by these businesses – Heineken is helping do just that.