Camden Town Brewery creates the first pub for hedgehogs (for a very important reason)
By Mark Perkins on Thursday, February 6, 2020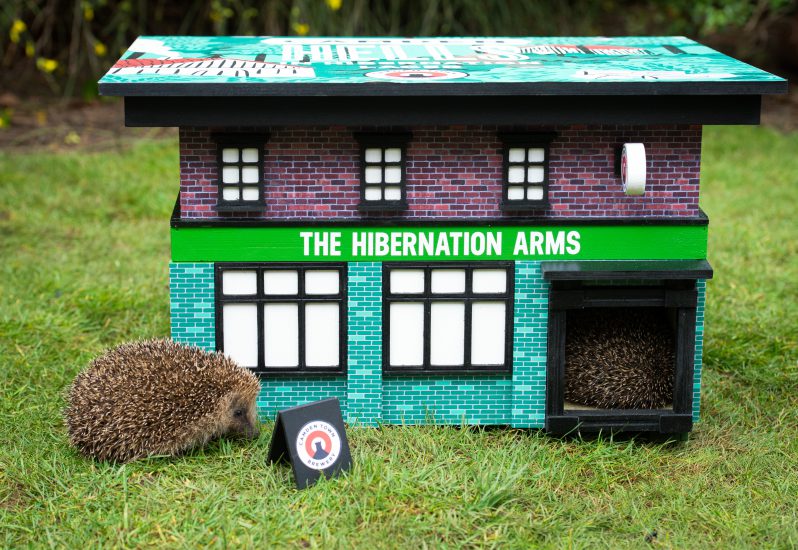 Hibernation isn't easy for British wildlife these days. The change in their environment has seen animals such as hedgehogs arrive much later in the year, meaning they're not able to eat enough to sleep through the cold winter months. And in urban areas, loss of habitat, dangerous roads and pesticide have all limited hedgehogs' ability to find a safe space to hibernate in winter.
As Camden Town Brewery launched its latest limited edition seasonal range, Hells in Hibernation, it seemed like an opportunity to add make a difference to the little fellas at the time they need it most.
In the latest campaign by W and Camden Town Brewery, a portion of every can of Hells in Hibernation Lager sold will go to the British Hedgehog Preservation Society (BHPS) to help hedgehogs hibernate this winter.
While every pub has a few prickly customers, W and Camden have created one exclusively for them. As part of the campaign is the launch of The Hibernation Arms, the first pub for hedgehogs to unwind for a long, long time. This may look like your local, but this hog-sized-hut provides a safe, snug space for hedgehogs to hibernate and is the inspiration behind how we can help hogs (and hoglets!) find a place to sleep in during the winter and birth in the summer.
The Hibernation Arms is available to buy from Camden's online shop – HERE – so you can place it in your garden (tucked away). This is one local where the customers are unlikely to keep the neighbours awake all night as they plan to have a sleepy lock-in till spring at the earliest.
Agency: W