2017 in review – Top 20 PR campaigns and stunts of the Year
By Rich Leigh on Wednesday, December 20, 2017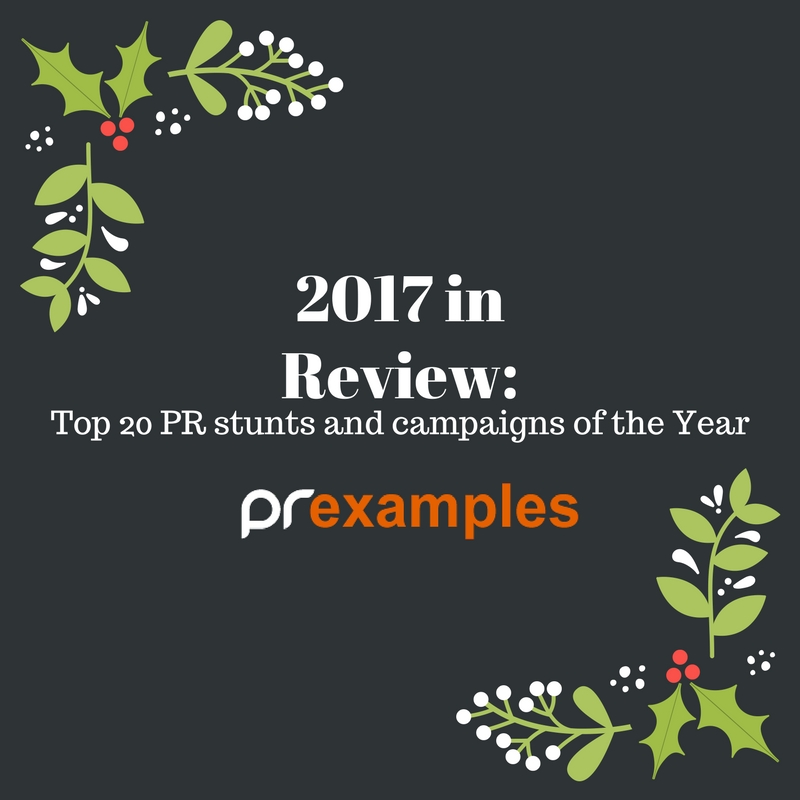 (If you've little interest in who runs this site and you just want wonderful campaign-y CONTENT from 2017, do skip this bit)
Well, well, well. It's been emotional, eh?
Six years ago, I was putting the finishing touches to the site you see before you, readying it to open the digital doors in January 2012. I'd been in PR four years then – next year marks my tenth year doing… whatever the hell it is we do.
I wanted PRexamples.com to be an agenda-less place to read, watch, be inspired and entertained by the best in public relations and marketing stunts and campaigns. And that's exactly what it's become, being ranked the #1 PR blog in the UK in the process. Mission very much accomplished.
As many of you will have seen, in August, I said I'd either sell or 'retire' the site (in this, ahem, needy post).
Well, PR Land (as I have always affectionately dubbed you, in what's become the comms equivalent of trying to make 'fetch' happen), I can announce that this will be the last annual round-up I write.
In fact, come early 2018, PRexamples.com will be under new management.
It's with a heavy heart that I say 'so long', but having had many, many conversations with potential acquirers; me insisting I'd much sooner encase it in amber than sell it to become a glorified way for suppliers to sell to a wonderful community of readers, I know it'll be in great hands.

I haven't chosen the interested party that offered the most money. I run my own PR agency, Radioactive PR (HEY, I get one bloody agency plug after all these years of trying so hard to keep it light), and never saw this as a retirement plan. I've gone with one I'm confident understands exactly what I, and all contributors and readers that have bought into the ethos, try to do here. In fact, the only thing that'll change is it becoming, in their excited words, 'bigger and better'. And I can't wait to see what that looks like.

So… thank you all.

Thank you to every single reader – there have been more than 4 million page views since starting the site, across more than 2,200 posts, from all around the world. Thank you to every contributor – there have been more than 400 of you. Thank you to every person that came to one of our (admittedly rare) shindigs and had a drink with us.

Just, thank you. It's been a pleasure.
You'll be hearing more on this come January, but for now, and bringing us back on track, here are the previous 5 years of annual round-ups. There's plenty to get stuck into here:
How was the top 20 decided?
As with our regular monthly round-ups, the list is ordered by the number of times each post, all previously featured on PRexamples.com, has been visited, giving as accurate an estimation of popularity as any other metric.
The link in each title takes you to each post, where you'll be able to read more about it, but each does have a description that might be enough for you.
Without further ado, I bring to you…
---
The top 20 PR and marketing campaigns and stunts of 2017, in reverse order…
20. Burger King serves beaten up burgers to highlight bullying – October – posted by Lydia Bryant
In an undisclosed restaurant, Burger King employees served 'beaten up' Whopper Jr. hamburgers. Unsurprisingly, 95% of the customers got up to complain.
While this happened, a nearby boy was being bullied by some other kids – however, only 12% of customers got up to help him – highlighting how people are quick to complain about things that directly affect them.
Who'd have thought Burger King would have been the brand to create one of the best, and with more than 4m views, best-watched anti-bullying campaigns this year? Watch it here:
19. No more bull – statue stands defiant on International Women's Day – March – posted by Angharad Welsh
US fund manager State Street placed a statue of a defiant girl staring down the famous art installation Wall Street Bull, in a stunt that delighted social media around International Women's Day.
As we near the end of 2017 and in context of that, it's even more powerful than it was in March.
18. The 'pawfect' car for dog lovers – Nissan unveils concept to promote new 4×4 – March
Nissan 'unveiled' a unique new model to promote its new X-Trail 4×4 – a dog-friendly version.
Highlights of the Nissan X-Trail 4Dogs concept include a two-way 'dog cam', water shower, dryer and access ramp. Of course, this is one of those for-coverage concept ideas that we've all either thought about doing or done (me? NEVER) that'll never see the light of day in reality, but a nice idea nonetheless.
17. Cancer Research UK offers smokers chance to check their lungs – March
An interactive campaign from Cancer Research UK encouraged smokers to check their lung capacity at bus shelters across the country.
The outdoor posters invite passersby to blow into a small tube to see how smoking has affected their breathing. The longer they puffed into it, the more of a message was revealed: "If you are a smoker you might not get much further than this line. However, with help from a Stop Smoking adviser is it much more likely that you will be able to quit for good, so you will have a greater chance of making it all the way down to this point here."
I'd like to see stats related to the effectiveness of the campaign, but a strong one for me. (Watch a video about it here).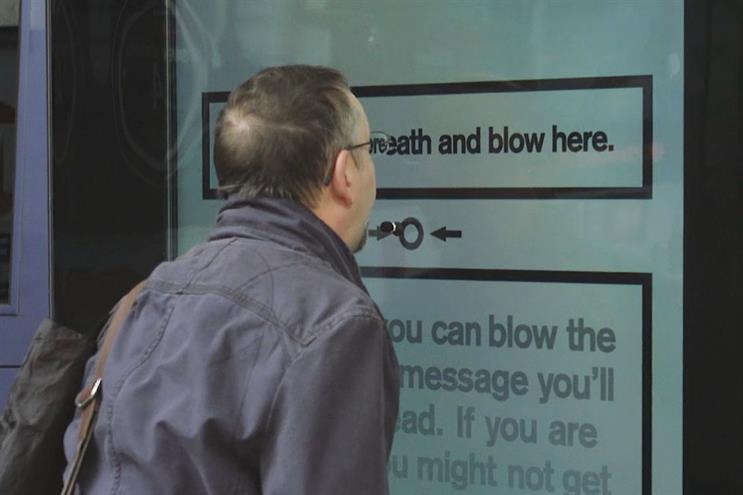 16. Thousands of Swedes ignored homeless people offering free event tickets – February
Folkoperan is an opera house in Stockholm, Sweden. The opera house played host to its spring show, 'God Disguised.
To promote the show, and illustrate how exposed groups are ignored in society (a theme in the show), Folkoperan and a number of homeless people performing in it took to ten different street locations with free tickets.
The performers wrote signs, offering two free tickets to the first people to stop and talk to them.
This from the press release:
"On the morning of the 21st of January, several of the EU citizens performing in the show wrote signs about their performance and that they had free tickets to give away. They stood where you would expect to find them; by the subway, outside the grocery store and on many other of Stockholm's busiest locations."
As you can see in the hidden camera videos, thousands passed by and ignored the message. It took 12 hours for the first person to claim 2 free tickets.
15. Pop-up hotel lets you pay for room by binge watching Netflix – July
Netflix, Three and Samsung joined forces to create a pop-up resort dedicated entirely to binge watching, with 15 suites inspired by popular Netflix shows where guests can sit back, relax and binge watch as many Netflix episodes as they want.
14. Amazon take over Westminster tube station – January – post by Cal Gable
Global giant Amazon took to the London underground to change the Westminster tube station signs to read 'Webminster', to promote Amazon Web Services.
Despite being the 14th-best read campaign of the year, and a nice-enough idea… I don't really get it. Very little correlation between the execution and AWS as far as I can see.
13. P0rnHub upload Trump's inauguration speech – February
Take a look at the title of the video in the image below… whatever your thoughts, clever work.
12. Nescafé's 'Hello Bench' literally brings strangers together over coffee – May
In an outdoor marketing effort during the recent Salone del Mobile in Milan – an annual furniture fair, 'the Nescafé Hello Bench' was tested out.
The bench got shorter when two people sat on it thanks to a couple of sensors, bringing strangers together over coffee.
11. London gets a 'porking' in Peperami pothole PR stunt – March
Peperami's phallic Animal was 'on a mission to leave no hole unfilled', punning his way around the capital and across social media as he drew attention to pot holes or 'Hangry Holes'. If you've ever wondered just how far you can stretch a joke about meat filling a hole, this is the stunt for you.
10. Café that accepts exercise as payment opens in London – January
David Lloyd Clubs opened the world's first café that accepted exercise as payment 'in a bid to tackle the nation's weight problem'.
Aptly named 'Run for your Bun!', there were no tills or card payment machines – once members of the public had chosen their (healthy) lunch they simply had to jump on the rowing, running and cycling machines for some HIIT training to pay for the meal.
9. Lucozade provide commuters with free trip on underground with contactless bottles – May
Thousands of bottles of Lucozade were given away in this campaign at Oxford Circus. Each bottle had a chip fitted in the bottom of the bottle, as part of the brand's 'find your flow' campaign, targeting busy commuters.
All members of the public had to do was swipe the bottom at the tube gates, just like a contactless bank or Oyster card, to get a free tube journey.
8. IKEA launch new 'wonderful everynight' campaign – January
IKEA's strap line is 'wonderful everyday'. To tie into this, this early 2017 campaign's focus was to show people how to have a 'wonderful everynight'.
"Too many of us go to bed with our phones, tablets, or laptops and don't have time to switch off before we put our heads to pillows, and the purpose of the campaign is to encourage the nation to change their bed time habits and take sleeping more seriously."
7. Contactless Payment 'Smart Benches' Installed in London for World Cancer Day – February – post by Lawrence Davies
To boost donations and drive awareness of World Cancer Day, Cancer Research – in their second showing in this top 20 – installed ten Smart Benches across London.
The wi-fi enabled bench encouraged members of the public to donate £2 to the charity. The installations into Islington and Lewisham were fitted with smartphone charges and complimentary internet access.
6. NIKE creates world's first LED track when runners can race themselves – May
Nike created the ultimate pop-up for runners – the world's first LED running track where you could actually race yourself (like a real-life version of the ghost car in Mario Kart).
The figure-of-eight arena took up a whole city block in Manila and was cleverly shaped like a NIKE's LunarEpic running shoe. The 200 metre track was lined with LED screens which allowed up to 30 runners to compete against an avatar of themselves at any one time.
5. All aboard! Bombay Sapphire magically transports gin-lovers around the world on gin train – June
Gin brand Bombay Sapphire created a 'gin train' immersive experience in London.
Lucky ticket holders were able to board The Grand Journey and 'travel' from places like Java to Ghana to Tuscany, all the while sipping on carefully created gin cocktails using botanicals from each region. Michelin Star chef Tom Sellers was on board, serving a range of botanical-based dishes to match the cocktails at each destination.
The train also featured performers, VR headsets and themed bars to fully immerse guests into each location.
4. Nike and the search for a sub-two-hour marathon – May – posted by Jack Field
An in-depth look at Nike's attempt this year to help a man run a sub-two hour marathon.
It feels almost odd to include this in the same company as, say, the Peperami stunt (!), but as well as being a genuine attempt to do something incredible, it was undoubtedly a marketing campaign, too.
3. Baby Dove launches with a provocative AI image of the Perfect Mum – April
Baby Dove launched with a bang in the UK with the image of a flawless, confident and polished young woman on the giant billboard at London's Waterloo station and the provocative question 'Is there a perfect mum?'
Mark Perkins, whose old agency was behind it, wrote a great piece looking at this intentionally controversial AI campaign from the inside.
2. 2m-tall statues spotted attacking British coastline in Pirates of the Caribbean stunt – May
Three 2m tall pirate statues were spotted attacking the shores in locations around the British coastline in a stunt from Walt Disney Studios to promote 'Pirates of the Caribbean: Salazar's Revenge'.
The figures, modeled on new characters in the fifth film in the franchise and revealed at low tide, were spotted on Brighton Beach, at Birling Gap and the Seven Sisters in Eastbourne and at HMNB Portsmouth Harbour.
1. New 'Rings' horror movie PR stunt scares unsuspecting shoppers – January
If any of you have seen the original 'The Ring' movie, there'll have been that one scene that stuck with you.
To promote horror sequel 'Rings', the team behind this memorable 'Carrie' stunt in 2013 went back to their prank-y ways, using that scene as the basis for this new stunt:
The set-up is simple. After being given a bit of sales patter, potential customers (actors? Who knows anymore?) in a New York City electronics shop were left alone by an assistant.
The same actress who played that bloody terrifying little girl then came crawling out of a hidden compartment behind a TV's screen, scaring unsuspecting shoppers.
A truly memorable campaign – even if the film wasn't.
---
And that's your lot this year! Thanks for reading, and please do feel free to share.
---
If you enjoyed this post, why not subscribe to our newsletter, highlighting the best PR stunts and campaigns?