"All or Nothing" an Adidas and Google World Cup themed scavenger hunt.
By Johny Ho on Friday, June 27, 2014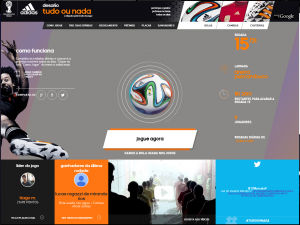 This major partnership between Adidas and Google is a scavenger hunt launched on June 9th and will going on until the end of the World Cup.
Titled "Desafio Tudo ou Nada" – "The All or Nothing Challenge", it integrates Google Maps and Google Street View, it will award participants with swags, including the balls used during the World Cup games. Launched using videos spread through the web featuring previous Team Brazil players inviting Brazilian football fans to participate
Hosted via website https://www.desafiotudoounada.com.br/, throughout the entire FIFA World Cup, after each major game, participants have to find "checkpoints" hidden in maps and answer quizzes about football as fast as possible to get points. The 10 best participants of each day are awarded with Adidas products, including balls used during the games.
"This partnership combines assets from both Adidas in the World Cup and Google's strong technologies to create an unique branding experience, amplifying their FIFA sponsorship. This project was born in digital and keys into major Brazilian consumer behaviors – including social, interactive and mobile elements. Involving Google from its inception was essential to include innovative elements, like featuring players in Google commercials for the first time", details Maria Fernanda Ceravolo, the creative director from The Zoo.
"For Adidas it is an extension beyond the field and the possibility to bring the World Cup to all the Brazilian people, mostly to those ones who are always connected and and deeply passionate about football and the World Cup", says Rodrigo Messias, marketing director for all World Cup related projects from Adidas.
Involved Agencies: The Zoo – Lew Lara/TBWA – ID – Fri.to