Austravel connect Londoners to Bondi Beach with tunnel 'to the other side of the world'
By Anastasia Yates on Thursday, May 1, 2014
Austravel – a 'leading Australia and New Zealand travel specialist' – have, overnight, dug a tunnel to the other side of the world.
Commuters using London Liverpool Street Station this morning had the opportunity to peer into the #LondonDownUnder hole to 'get a sneak peek' of one of the companies holiday destinations.
Apparently reported this morning as a fallen window in the station, the cordoned-off area apparently houses a tunnel to Australia (so basically they've acted on that childish belief we all had that if you dig far enough you will reach the opposite side of the world!). In reality, the 'tunnel' showcases real time footage from Down Under.
We've dug a hole to Australia overnight at Liverpool St — soak up the Australian sun! #LondonDownUnder pic.twitter.com/JLW9cpBjXo

— Austravel (@AustravelUK) May 1, 2014
The stunt (and of course, the accompanying hashtag #LondonDownUnder) was announced by the company on its Twitter account @AustravelUK. They have since tweeted a few photos of the installation, but none of them really show off the image inside the tunnel which I believe is intended to show Bondi Beach. Here's the best so far: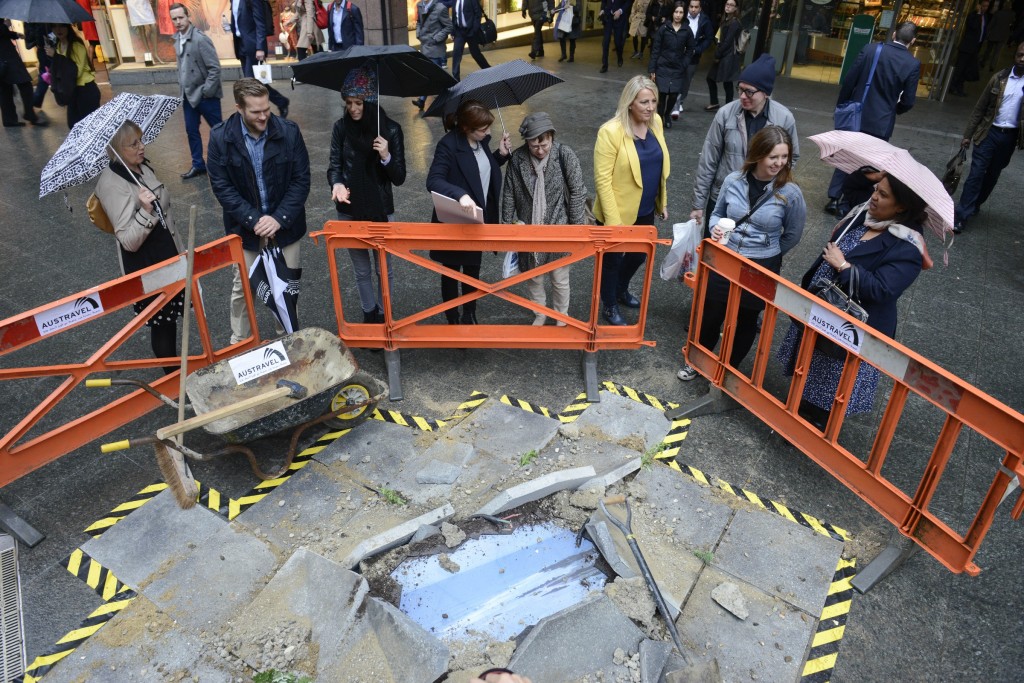 We can see the building materials and fencing, which do bear the company logo.
The stunt was coordinated by Frank PR.
Did you use the station this morning? What did you think?
Involved agency: Frank PR