Billboard made of dead rabbits unveiled to promote Easter-themed Rabbit Pizza
By Rich Leigh on Thursday, April 10, 2014
New Zealand-based pizza purveyor HELL Pizza has been behind a number of quirky marketing campaigns. From playing Russian Roulette with their pizzas to handing out syringe pens at schools, the firm clearly likes to get under the public's skin.
Well, to promote its new Rabbit pizza (in time for Easter – SEAMLESS LINK), HELL Pizza appears to have created a furry billboard… made of actual dead rabbits: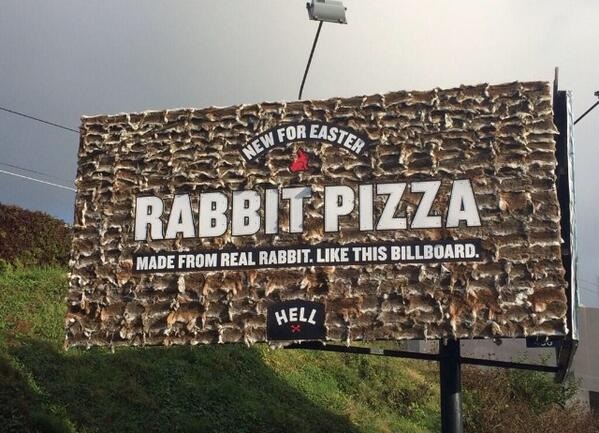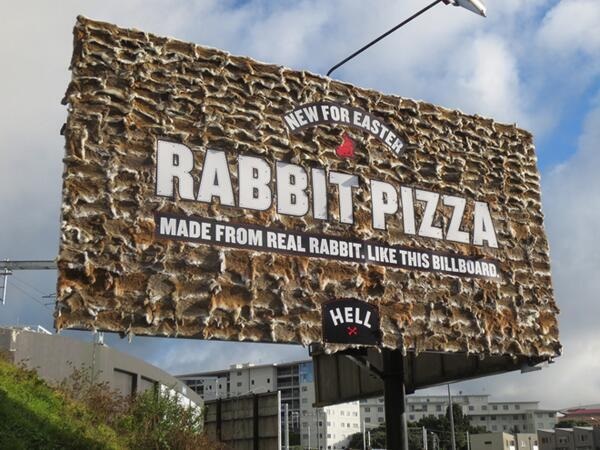 I'm unsure as to whether or not the billboard – which looks as if it's made of hundreds of rabbit skins – is real or one of those digital marketing images quickly mocked up to be shared. Knowing HELL and its previous campaigns though, I'd wager it was real – which shows a serious and laudable commitment to offence.
Update: yep, sounds real enough. Apparently, Auckland-based comms manager Hannah Rogers spotted it near her house in Parnell, saying:
A @HELLpizza666 billboard has just been set up down the road from my house made out of rabbit fur. That's kinda gross! — Hannah Rogers (@HannahRogersx) April 10, 2014
Hell replied to her, saying:
@HannahRogersx ahh yes, we'll be talking about that today — HELL Pizza :official (@HELLpizza666) April 10, 2014
In honesty, I haven't found a campaign I've ever been offended by and if this is within the law – which it probably is, I'm sure they've checked and all – I don't see it as anything more than an impressively imaginative PR ploy to get people irate and sharing, where any and all controversy will be welcomed.
Let the PR who is without a controversial campaign to their name cast the first stone. In the meantime, I think I can hear the unmistakable rumblings of a PETA stampede.
Thanks to Annalie Brown for tweeting me with this, from New Zealand.
Involved agency: Barnes Catmur & Friends
If you want more of the same (well, OK, maybe not the same as this campaign, but you know, you want the best PR and marketing campaigns sent directly to your inbox every week), click here to subscribe to our newsletter.