Tory PR fail with patronising bingo and beer tweet
By Jade Mansell on Thursday, March 20, 2014
A PR fail from the Tories who attempted to capitalise on certain cuts with an ill-advised tweet that met with derision and sent Twitter into meltdown yesterday.
The Budget has been based around 'makers, doers and savers' and in what many perceived to be a crass attempt to get on side with the 'hardworking people',  Conservative Party chairman Grant Shapps posted an advert with the caption: 'Budget 2014 cuts bingo & beer tax helping hardworking people do more of the things they enjoy. RT to spread the word.'
The advert looks like this: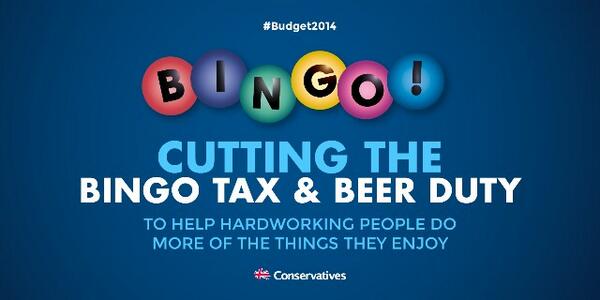 …and aims to highlight Osborne's announcement that beer duty would be cut by a penny and that taxes on bingo halls will be halved.
Unfortunately, the tweet was immediately labelled as patronising and the reaction from the Twitter community was instant, generating the hastag #ToryBingo and spawning a number of vitriolic replies.
Our industry is learning that the most important elements to PR are appearing human and understanding your audience, and it's nothing new that social media has escalated the opportunities for brands to connect with consumers.
However there's no denying that tone is absolutely crucial, and when you get it wrong the potential for backlash can be highly damaging.
Metro, The Telegraph and ITV picked up on the story, among others.