Top 10 PR and marketing stunts and campaigns of June 2013
By Rich Leigh on Tuesday, July 2, 2013
Thanks to sponsorship from PR and journalist service DWPub, I've been able to reward PRexamples.com contributors for a few months now in the shape of a £50 prize for the author of the most popular post on the site in any given month. As mentioned in this blog from the beginning of April, it's in a bid to encourage quality posting and say a little thank you where possible.
Congratulations to WPR's Stephen Graham, who becomes the third contributor in as many months to win the £50 prize, having penned the most popular post this month, focusing on a real-time photoshopping stunt from Adobe.
Here, in reverse order, are the top 10 PR and marketing stunts and campaigns of the month, compiled by looking at the best-read posts on the site by unique visitor.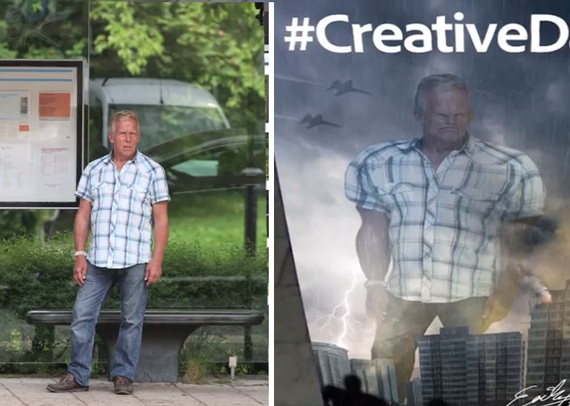 10. Supermarket Morrisons renames Wimbledon store 'Murrisons' in support of Andy Murray – anything I write here will only be more words than necessary to convey the simplicity of this nice piggybacking stunt. Have a look at the photo though, go on, you may as well.
9. Nivea create magazine ad that charges your mobile in the sun – similar to another of this week's posts about Vodafone's 'Power Pants', this clever campaign is all about keeping us in the soul-sapping embrace of our touchscreen overlords.
8. Ibis bunnies storm the hotel – an ultra cute campaign to promote Ibis Hotels' 'most comfortable bed ever'. 571 carrots were used in the making of this video, fact fans. Post by William Murray Communications' Donna White
7. Scrabble gave public free Wi-Fi, but only if they could spell. Higher word score = more time online – a fantastically well-thought out campaign that provided Wi-Fi in connection-less areas, provided you could prove you weren't a mouth breathing knuckle dragger.
6. Virgin Atlantic take over park bench in NYC to give public 'taste' of the flight experience – Sir Richard Branson's airline took over a bench in Manhattan and gave those that chose to sit on it 'a taste of the Virgin Atlantic experience', which meant a series of individual and brilliantly choreographed surprises.
5. Cadbury creates life-size delectable chocolate picnic bench – piggybacking on National Picnic Week, you know, that well-known national day you look forward to all year round, Cadbury created actual edible picnic benches and unveiled them here in the UK. This week's top contributor is WPR Agency's Jade Mansell
4. The only Twitter account you can't follow… no matter how hard you try! – to make the statement that nobody is a 'follower' when they buy the new Fiat Abarth 500, a Twitter account has been created that quite literally cannot be followed. Post by Twelve Thirty Eight's Inderdeep Gill
3. IRN-BRU also offers personalised cans in funny piggyback stunt – provided your name is Fanny – if you're sick of Facebook friends uploading photos of Coke bottles with their names on it, you'll like this stunt by IRN-BRU. They too now offer a personalised can – if your name's Fanny.
2. Train made entirely of cake pulls into Paddington – to celebrate 15 years of the Heathrow Express, a giant train cake was unveiled. The sweet replica did very well coverage-wise, for a story that would have otherwise been entirely glossed over by the press. Post by WAA's Alex Mansell
1. Adobe photoshops commuters onto bus billboard ads as they wait for the bus – a great stunt from Stockholm, in which movie posters are made in real time featuring people sat waiting for the bus. Post by WPR's Stephen Graham
If you, along with thousands of others, would like to receive the best PR stunts/campaigns of each week, directly to your inbox, click here to subscribe.
Feel free to get in touch with any campaigns or stunts you think should feature on PRexamples.com by emailing me on [email protected] (you'll always be credited). If you'd like to blog for the site, click this link here!