Swedish fuller figured mannequins go viral
By Alex Mansell on Tuesday, March 19, 2013
A Swedish clothing retailer has seen its use of fuller figured mannequins go down a storm the world over, with pictures going viral and debates about body image reignited.
The two mannequins are dressed in lingerie, and depict not the ambitiously slender and long-limbed figure we are so used to seeing, but much more lifelike women with larger dimensions.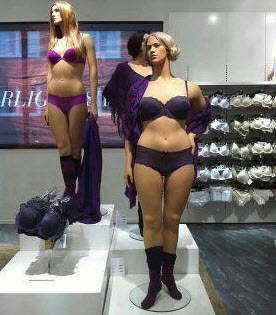 After the Women's Rights News Facebook page posted the pic, it soon garnered over 50,000 likes, and spread like wildfire, receiving criticism and approval alike. Gaining coverage across the globe, from the Huffington Post to the LA Times to Yahoo! Shine, the move has made for some great PR.
As it turns out, great wasted PR, as unfortunately it's as yet uncertain who is behind it, with rumours that the mannequins belong to Swedish H&M apparently erroneous. Watch this space.
**UPDATE** Turns out the mannequins can be attributed to department store Åhléns, who have since collected more coverage, including on the Mail Online and the Guardian