Burger King has announced a limited-edition burger to celebrate the upcoming Spider-Man film
By Zara Wilson on Tuesday, May 9, 2023
Burger King is launching a limited-edition Spider-Verse Whopper to coincide with the upcoming Spider-Man film. The burger, which features all the usual Whopper toppings, will be available at participating Burger King locations across the US from May 15 through June 21, 2023.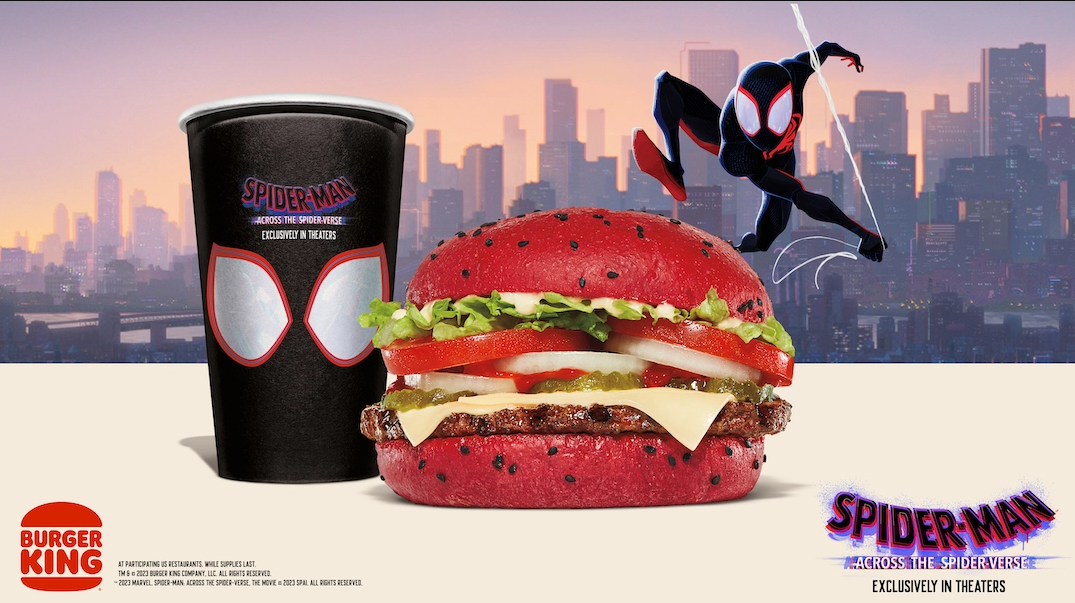 What sets this burger apart is its striking appearance, with bright red buns inspired by the superhero's costume. Customers also have the option to customise their burgers to suit their tastes by adding toppings such as crispy bacon, making it a unique and personalised meal.
To complete the experience, Burger King is offering a Spider-Verse Sundae, which features soft serve ice cream topped with black and red chocolate popping candies. The sundae is the perfect dessert to complement the spicy and flavorful burger.
The limited-time offer is sure to excite fans of both Spider-Man and Burger King. The eye-catching burger and delicious sundae are the perfect way to celebrate the release of the new film.
This isn't the first time that Burger King has teamed up with a major film franchise. In 2019, the fast-food chain offered a special promotion for the release of the movie "IT Chapter Two," featuring a themed burger and balloon-shaped dessert.
The limited-edition burger and sundae is the perfect way to celebrate the release of the new Spider-Man film and isn't one to be missed.