Cycle Safe: Endura creates helmets designed using real-life head injury scans
By Hannah Priestley on Friday, March 17, 2023
British cyclewear manufacturer Endura has designed a one-of-a-kind range of helmets, entitled Project Heid, using CAT scans of real patient's brain injuries that suffered, serious life-threatening bicycle accidents to raise awareness of the risk that comes with not wearing a helmet.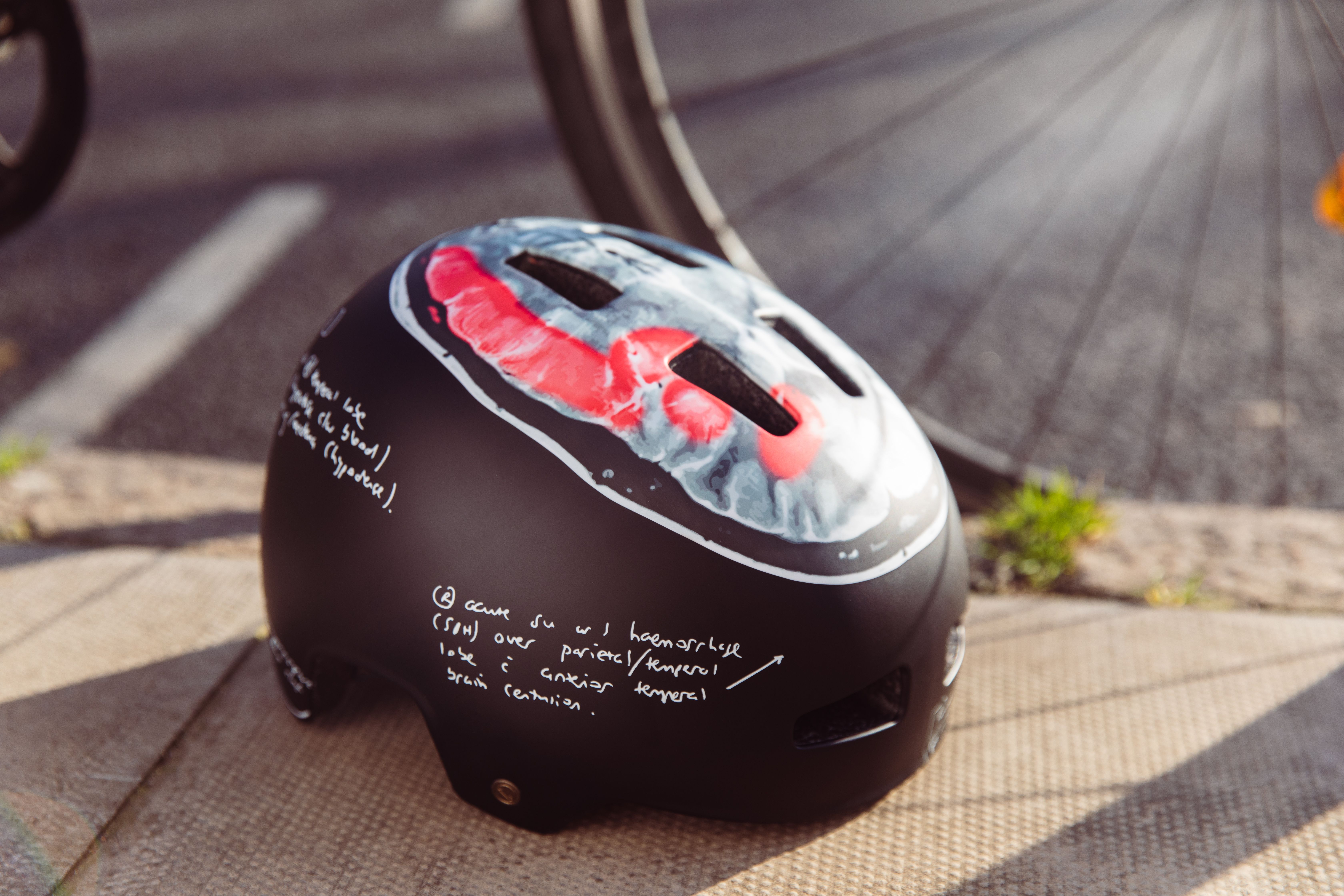 The helmets have been created alongside top Consultant Neurologists and in partnership with The Brain Charity and comes following research, commissioned by Endura, that revealed two thirds of Brits admitted they are concerned about sustaining a brain injury whilst cycling.
Each Endura helmet tells a different story, including that of Ian Charlesworth, 62 who, in 2019 was struck by a HGV in Hull whilst cycling without a helmet, and John Moroney, who was hit by a 4×4 in Bristol, during the same year, whilst cycling without head protection.
The initiative follows Endura's recent launch of its latest helmet technology which saw it become one of the first to combine Koroyd technology, which absorbs energy on impact, with Mips, a brain protection system which helps reduce harmful force transition. The importance of latest protective technologies is supported by research that says the risk of traumatic brain injury upon peak accident impact is reduced by up to 60% when wearing a helmet that includes energy-absorbing technologies (such as Mips).
Speaking on the launch, Noah Bernard, Brand Director from Endura, comments: "We understand the importance of ensuring that more people on Britain's roads and trails are wearing helmets, and we want to encourage the entire cycling community to do so. Ian and John's accounts are eye-opening reminders of the risks too many cyclists continue to take, and we thank them for bravely helping us to raise awareness with their incredible stories."
The leading cyclewear brand is utilising its position to highlight road safety for the growing UK cycling community. In addition, Endura's initiative looks to transcend into the non-cyclist community as well, considering the role of friends and family when it comes to encouraging people to wear a helmet.
Project Heid coincides with Brain Awareness Week, a global event that takes place throughout March. Once the project has been completed, the helmets will be auctioned to raise money for The Brain Charity to continue its incredible work.
The wider partnership with The Brain Charity includes Endura's headline sponsorship of the Head Matters event, taking place on Wednesday 15th March 2023 in Liverpool. The helmets will be displayed at St Enoch shopping centre in Glasgow on Friday 17th March 2023, where consumers will be able to experience them in real life.