AKQA partners with Ukrainian artist to launch uplifting Christmas card
By Jess Gaynor on Monday, December 19, 2022
Ukrainian production designer and artist Mariia Shub, partnered with AKQA to bring Little Wings to life in the form of a Christmas card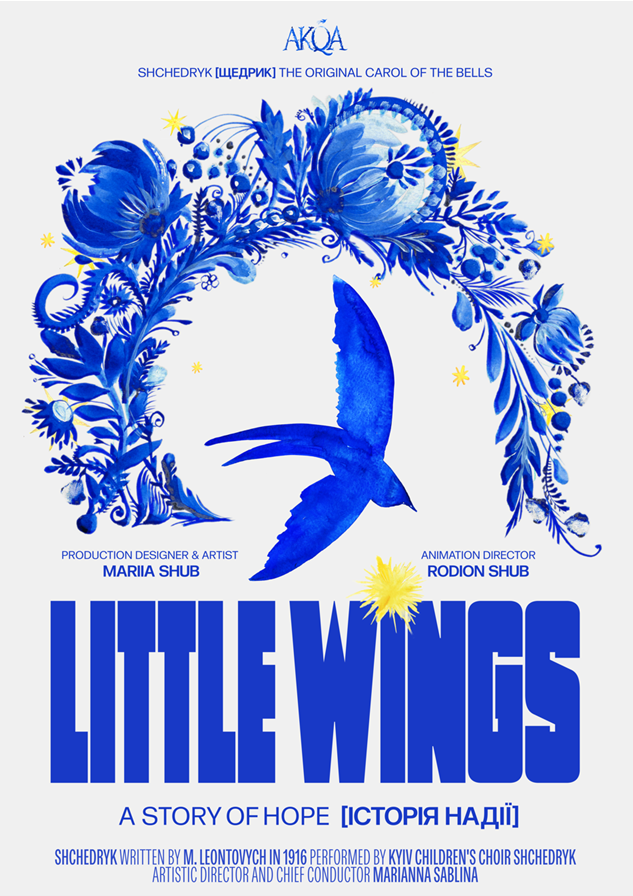 The 'Christmas card' also comes in the form of a video and was inspired by the Ukrainian folk song Shchedryk, also known as Carol of the Bells. The card was launched last week, intending to spread a message of hope this Christmas, and awareness of the lives that have been impacted by the war in Ukraine.
Little Wings was originally written by Mykola Leontovych over a century ago as a traditional Ukrainian folk song, announcing the start of spring.
The soundtrack for this year's card was sung by one of the Ukraine's most recognised youth musical ensembles, Kyiv Children's Choir Shchedryk, and was led by Artistic Director and Chief Conductor, Marianna Sablina. The film features sound design by composer, producer and international DJ, Damon Baxter (also known as the Deadly Avenger).
Reflecting on the creative process, Mariia said:
"Little Wings is a beautiful way to share that Shchedryk is a Ukrainian song, and to learn its roots. Few people know that it was composed and performed during a previous time of intense political struggle and social upheaval in Ukraine. It is always sung together in a choir, making the music a connector of people.

"Little Wings features powerful Ukrainian motifs of renewal and regeneration, including seeds, the tree of life, mountains and the swallow. The star is Ukraine's ancient and well-recognised symbol of hope for humanity, for out of winter's darkness always comes spring's light. We want viewers to be left with feelings of gratitude, love for the song and hope for the world."
Sam Kelly, Managing Partner, AKQA said:
"Meeting Mariia was a serendipitous moment. Initially, we planned to connect her with the UK creative community. Upon seeing the beauty of her handcrafted work, and hearing her story of Shchedryk, we wanted everyone to know that the song you listen to during the holiday season is a story of hope and love from Ukraine."