Bella Hadid has incredible dress spray-painted onto body during fashion show
By James Herring on Sunday, October 2, 2022
Bella Hadid has become the talk of Paris Fashion Week after having a "magical" dress spray-painted on her during the live show.
Hadid stepped onto the runway for the Coperni show in nothing but a pair of heels and underwear.
A team – led by Dr Manel Torres (inventor of the spray-on fabric) – set to work spraying the dress onto the model.
They began with the bodice before transforming it into a flowing skirt with a thigh split.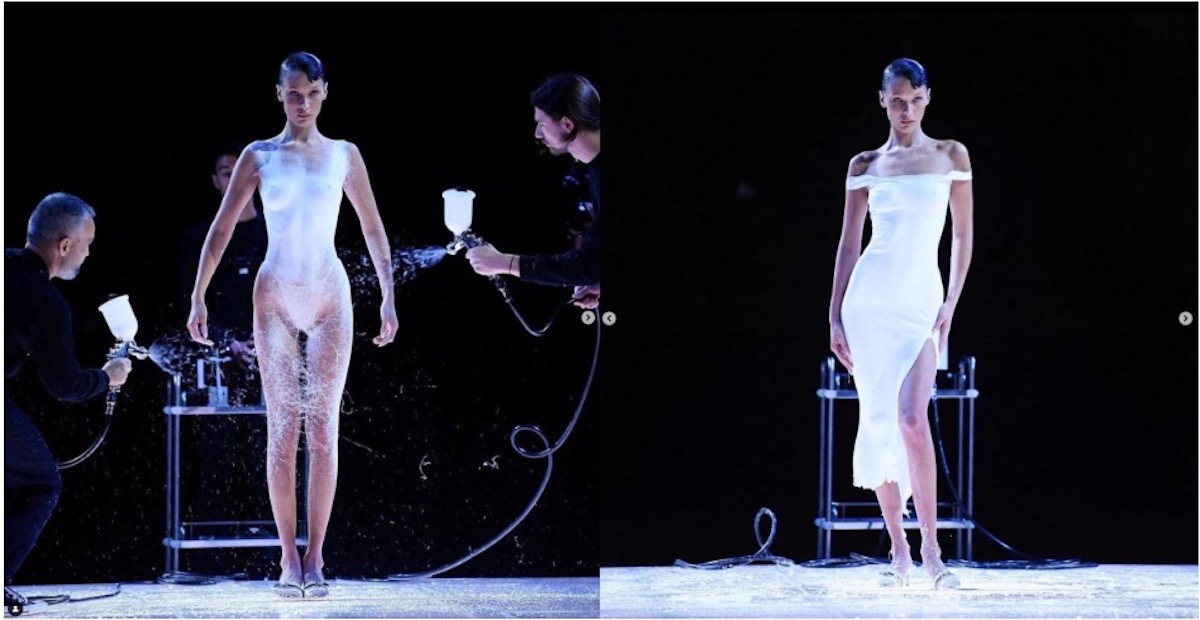 The spray-on dress was created with a liquid fibre (called Fabrican) that evaporates when it hits a surface.
"The texture of the fabric can be changed according to the fibres (synthetic and natural, such as cotton, linen, polyester or nylon" as well as recycled the company said.
It has a suede-like texture after drying and can be manipulated into different shapes.
Hadid's attire and accompanying performance was dubbed a "celebration of women's silhouettes from centuries past" by Coperni's designers, Sébastien Meyer and Arnaud Vaillant.
View this post on Instagram
A 'making of' video on the brand's Instagram page reveals more details on the creation.
View this post on Instagram
'It's our duty as designers to try new things and show a possible future,' Meyer told Vogue Business of Coperni's own spray-painting moment. 'We're not going to make money on this, but it's a beautiful moment – an experience that creates emotion.'