Liquid Death's blind taste-test succeeds at subverting marketing tropes
By Summerly Burbidge on Monday, June 13, 2022
Though simply a sparkling water product, Liquid Death is far from unoriginal and is successfully trailblazing overdone marketing campaigns to create hilariously original content.
The company invited members of the public to a seemingly standard blind-taste test.  The experiment ropes in 17 unlucky contenders to try their new sparkling water flavours, including "Berry it Alive" and "Mango Chainsaw." Instead of airing and comparing the drinks with similar competitors, a video we have all seen many times before, the challenger drinks are some of the most expensive drinks in the world, some of which are 290 times the retail price of a Liquid Death can. However…there is a twist. The taste-test features water mixed with beluga caviar, liquified wagyu beef burger and more.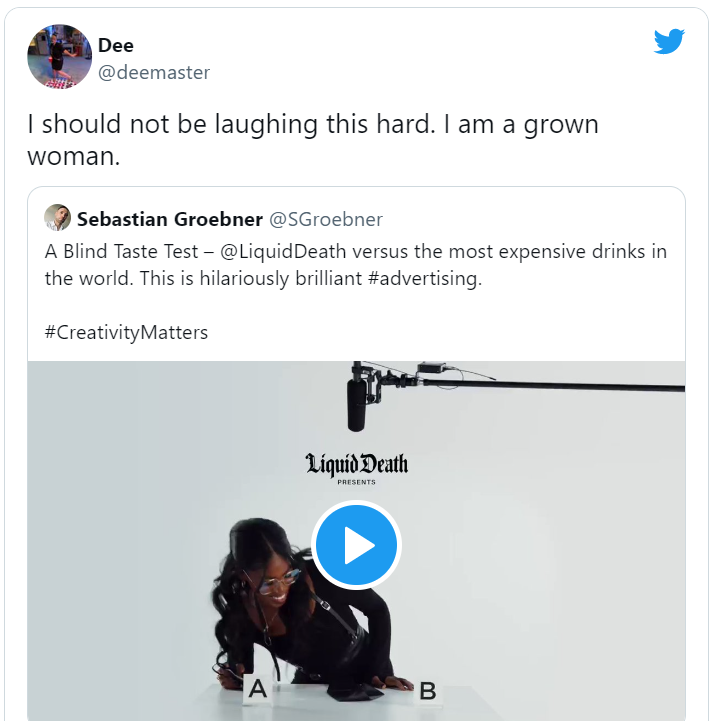 Needless to say… all participants preferred Liquid Death's sparkling water. The campaign succeeded in the advertising community and beyond, with the video making the rounds far and wide in the twitter sphere. Witty and sharp, Liquid Death is a brand to watch.