"Is that Balenciagaga?" The Simpsons make their debut at Paris Fashion Week
By Amy Swain on Monday, October 4, 2021
 Balenciaga surprised guests at Paris Fashion Week show this Autumn with an exclusive 10-minute catwalk episode of the Simpsons. The special episode saw hilarity ensue as Homer, Marge, Bart, Lisa and Maggie make their catwalk debuts, while fashion icons such as Kim Kardashian and Anna Wintour watched from the front row. 
Watch the full video here:
Credit: Balenciaga YouTube Channel
Other much-loved characters from the Simpsons put their strutting skills to the test too. Mo the Bartender rocked a square-shouldered brown blazer, while Smithers had donned a red gown with Balengica's famed thigh-high stretch satin knife boots. Demonstrating a clear attention to detail, each of the pieces worn by the Simpson's models were real Balenciaga designs.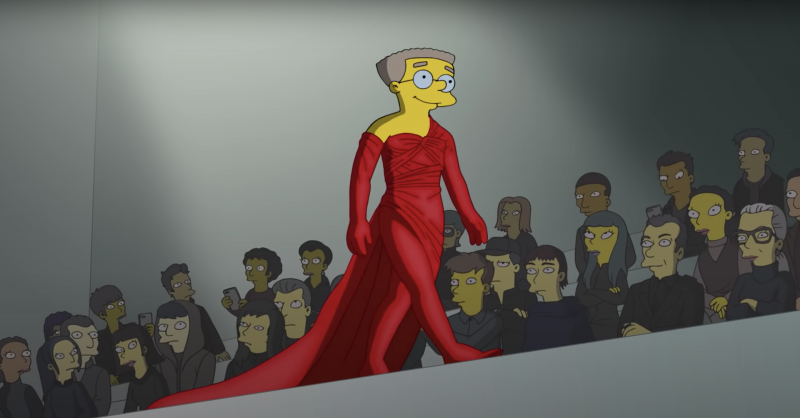 It was Marge who stole the show at the end, strutting down the runway in a floor-length gold ball gown featuring a giant bow at the back, earning her a standing ovation from the show's attendees.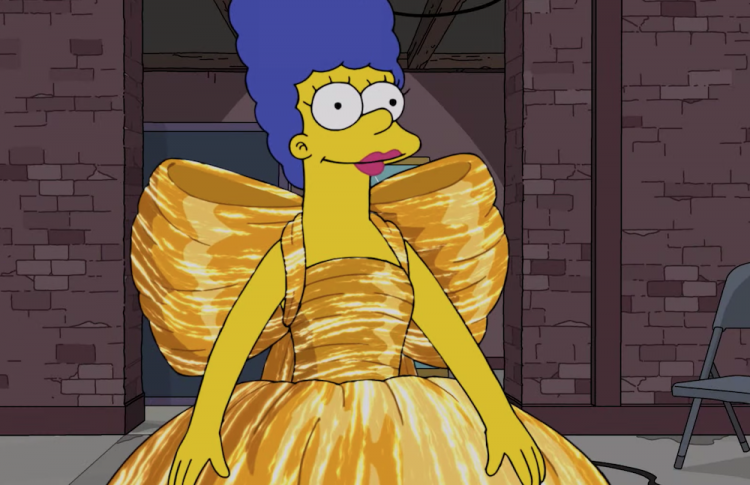 The exclusive animation poked fun at the sometimes-to-serious fashion world. Marge got stuck in a doorway thanks to oversized shoulder pads and Homer fainted at the sight of the $19,000 price tag on Marge's dress. He even struggled to pronounce the designer's name ("Is that Balenciagaga?"). 
This was a bold move from Balenciaga, especially as this was the first fashion week to return to live events. After 18 months of social distancing and cancelled plans, the show represents the fun and forward-thinking collaboration we never knew we needed.
The pure novelty of seeing one of the world's most famous cartoons collaborate with a prestigious fashion house sends a clear message from the fashion world. Fashion can be fun and Balenciaga isn't afraid not to take itself too seriously.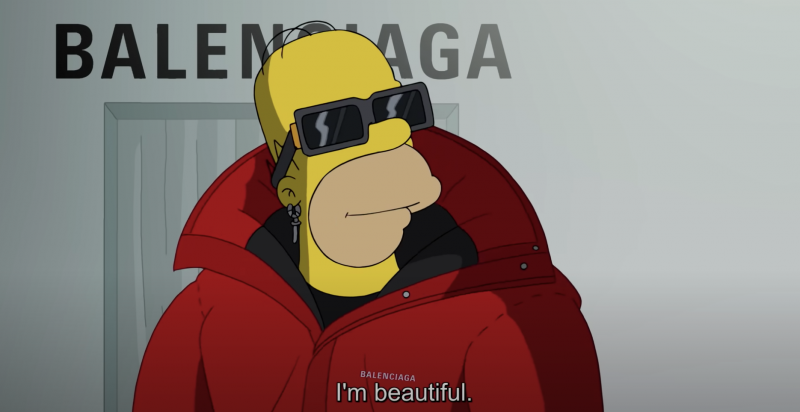 Creative Director Demna Gvasalia reached out to the Simspons because he has "always loved The Simpsons for its whole tongue-in-cheek nature…" and was delighted when they agreed to the collaboration.