Delta Air Lines sent a care package to cheer up a sad little girl called Delta
By Joe Colquhoun on Monday, August 16, 2021
Delta Airlines has sent a care package to a little Girl called Delta after her mum posted about the grief her daughter was experiencing at school as a result of Covid, tagging Delta Airlines in the post.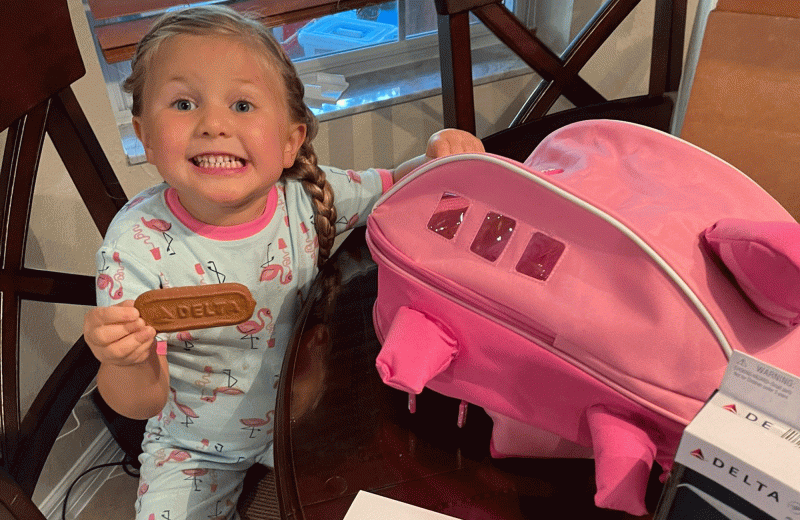 Kellie Gerardi, a scientist based in Florida took to Twitter when her daughter returned home from school saying that people had been associating her name with the new strain of Covid, Delta Plus.
"Petition not to call it 'Delta Plus' and instead move on to the next letter in this cursed variant alphabet 😩," tweeted Gerardi  "Sincerely, the mother of a very sweet little Delta who once thought the airline would be the most annoying namesake joke."
In response to the tweet, which quickly gained traction online, the Delta Air Lines team sent Gerardi's 3-year-old daughter a care package that includes a pink Delta backpack, Delta-themed Biscoff cookies, and a model plane. 
Last week I tweeted about how it was a particularly challenging time for my daughter to be named Delta.

Today she got the most amazing care package from @Delta & is over the moon about such a cool collection of things celebrating "her" name! Thank you Delta!😭❤️#DeltaProud pic.twitter.com/gEx5P3VrsO

— Kellie Gerardi (@kelliegerardi) August 9, 2021
"Our people saw this as an opportunity to send a message to little Deltas everywhere that the Delta name is amazing and no variant is going to change that," the company said. "We hope she knows how much we love her name and how special she should feel."
Also inside the care package was a special handwritten note.
"Hi, Kellie! We saw your tweet and just wanted to let you know that we think your daughter's name is amazing. It's the name for people who were meant to fly," the note read. "We sent you a few things with our favorite name, so she can know how special she is. Wear it loud and #DeltaProud! — Your friends @Delta."
Credit: @kelliegerardi via Instagram