Clarks Originals teams up with FANGIRL to celebrate black female creatives in content series
By Marie-Claire Minter on Wednesday, April 7, 2021
As the final part of Women's History Month celebrations for Clarkes Originals, the team announced their collaboration with FANGIRL, a black-owned, non-gendered accessories brand.
The collaboration comes as part of Clarks Originals new platform #InHerShoes in celebration of Women's History Month and centres around diverse stories.
Limited edition Clarks Originals x FANGIRL Wallabees are now available.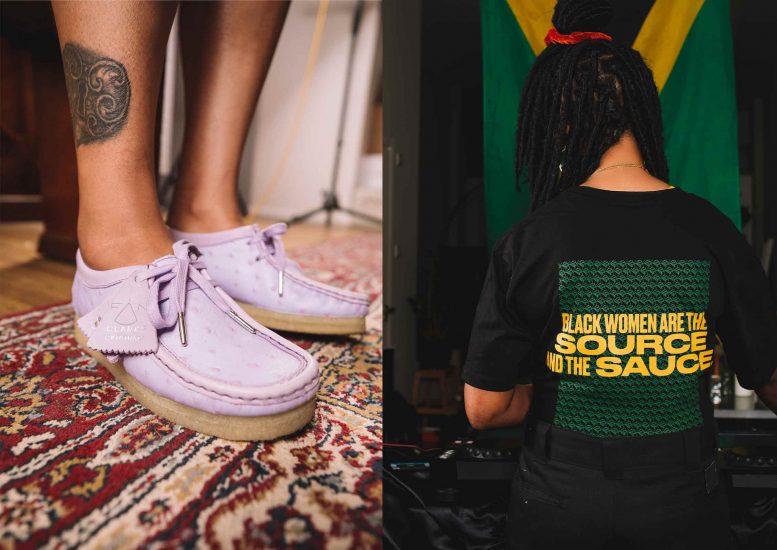 Rani Patel Williams, creative entrepreneur and founder of FANGIRL, directed the series which spotlights Black British female creatives to give their insights on what it is like to be a Black woman in today's world and what they're doing to keep pushing the culture forward.
The content series follows 5 females, Mata Labs, founder of Mata Marielle, award-winning designer, Priya Ahluwalia, singer & songwriter Raheaven, Girls Can't DJ founder Jordss, and The Curve Catwalk founder, Trina Nicole in their Clarks Originals shoes who walk you through their journeys and share how their history influencers their creative work.
The whole series was created by Black female creatives alongside Rani to maintain their perspective. Jean-Sebastien Degni as the assistant director, Raheaven's track 7 am features throughout the films. Ashley Verse shot photography and Toby Lloyd worked on Cinematography.
Alongside the limited-edition Clarks Originals x FANGIRL Wallabees, the five women featured in the films wore t-shirts featuring a statement on the back which is a truth about being a Black woman in today's society.
These read 'Black Women Are The Source and The Sauce', 'Why Are Black Women Told They Are Too Loud But Never Heard.', Why Are Black Looks Accepted on Everyone But Black Bodies', There is No Progress Without Black Women' and 'My Melanin Is My Biggest Flex'.
You can see the series on films below:
View this post on Instagram
View this post on Instagram
View this post on Instagram
View this post on Instagram