April Fools Day 2021: Round-up of the best brand spoofs and hoaxes
By Staff on Thursday, April 1, 2021
Trust nobody. Believe nothing. It's corporate LOLS day!
April Fools' Day brings out shenanigans from a variety of brands looking to cash-in on the buzz of the day.
Here's our round up of the best (and worst) hoaxes, pranks and spoofs.
VW
Earlier this week Volkswagen claimed to be changing its name to "Voltswagen" to promote its new electric car. The April Fools stunt was to meant promote the company's new electric vehicle for the American market. However the story was issued two days before April 1, and the company refused to deny it so many ran it as 'fact' and VW pissed of every media organisation in on the planet from the BBC to Reuters. What a mess.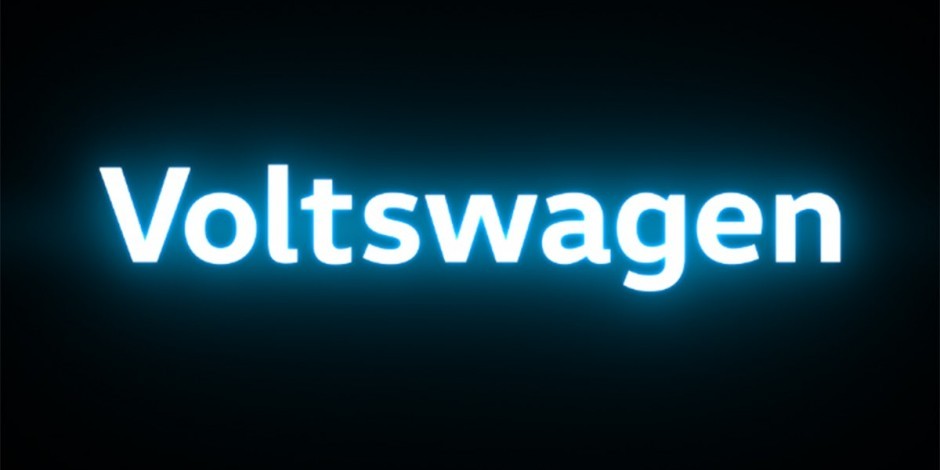 Asda
Asda, re-rinsing the joke, are proud to announce Weetabix and Heinz Beanz in a can!
We're really proud to announce Weetabix and Heinz Beanz in a can! New and exclusive to Asda.
Terms and conditions apply. Subject to availability.#Asda #HeinzBeanz @HeinzUK #Weetabix @weetabix #BreakfastofChampions #new #exclusive pic.twitter.com/aGuh2gUvGk

— Asda (@asda) April 1, 2021
Subway: Helping Hand
Subway announces the launch of their new 'Helping Hand' gadget – allowing users to scroll, swipe and like online without spilling the contents of their Footlong Sub. The giant sandwich occupies both hands – leaving customers unable to catch up on social media or messages during their lunch hour.
The new smart-tech gadget is attached via an ergonomic wrist-strap. The device firmly clamps the Sub, holding its contents in place so customers can switch between smartphone apps without having to put down their lunch or risk a Southwest Sauce spillage or a tomato tumble.
A Subway spokesperson said "Our smart-tech is going revolutionise lunchtime. It's a game changer! For anyone that finds the idea a bit weird, we're still happy to just cut their Subs in half."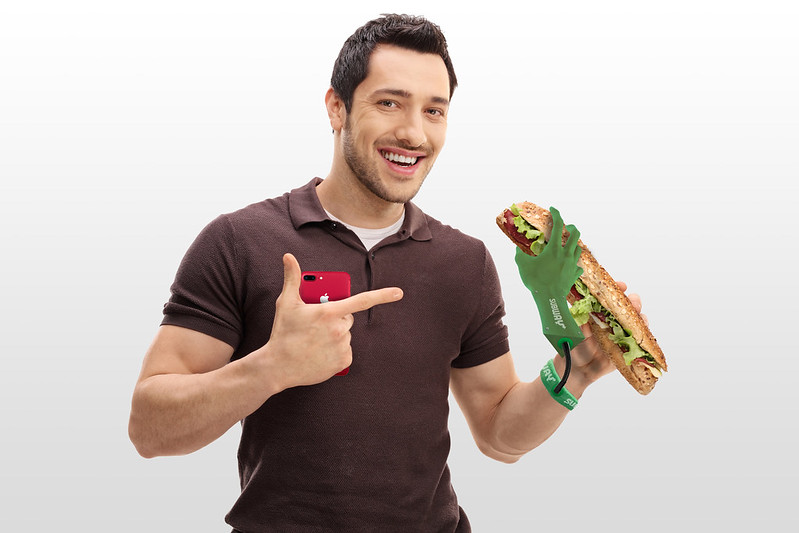 Robinsons: Turn Wimbledon Centre Court Purple
The iconic grass at Wimbledon has been turned purple ahead of the event this summer. Transformed from its perfectly pruned green, to bright purple, the makeover of Centre Court is in support of Robinsons new Blackcurrant squash.
An official partner of the tennis championships for over 85 years, Robinsons ensured that every 8mm blade of grass on the world-famous Centre Court got a pitch perfect purple finish.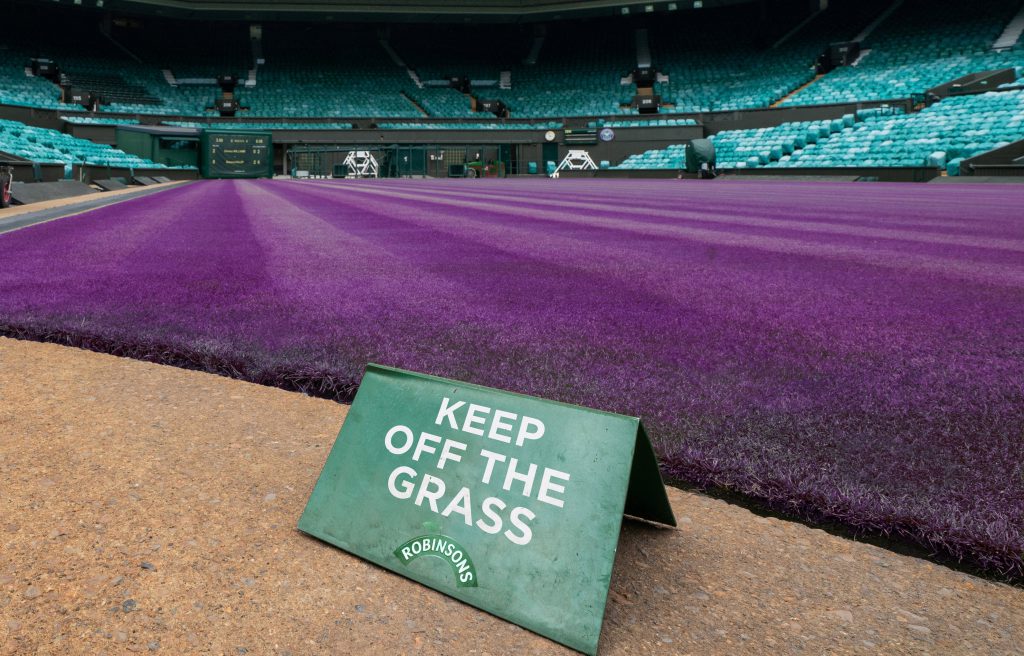 Heinz/Innocent
When it comes to drinking food, the experts at Heinz and innocent believe the more the berrier. That's why the two icons have teamed up on April 1 to give you the fruitiest, veggiest drink you never knew you needed, until now, Smoup! Part soup, part smoothie, Smoup is a tasty blend of the iconic Heinz Cream of Tomato Soup and innocent's best selling strawberry and banana smoothie.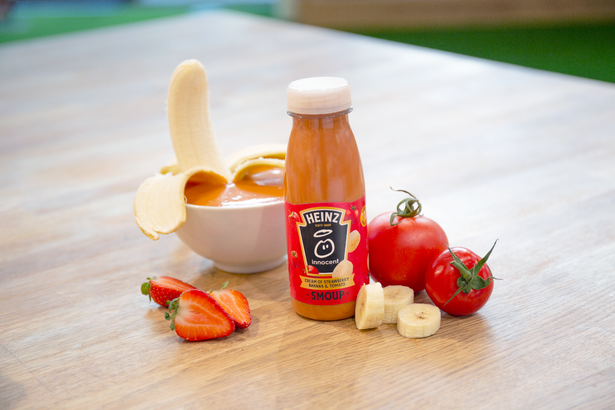 Ant & Dec: Saturday Night Takeaway
And and Dec launched a rebrand on Instagram, writing: "Some big news for you guys… after 30 long years together we've decided a change is needed, and so without further ado we can announce we'll now be officially known as Dec & Ant. It's only fair on the little guy x."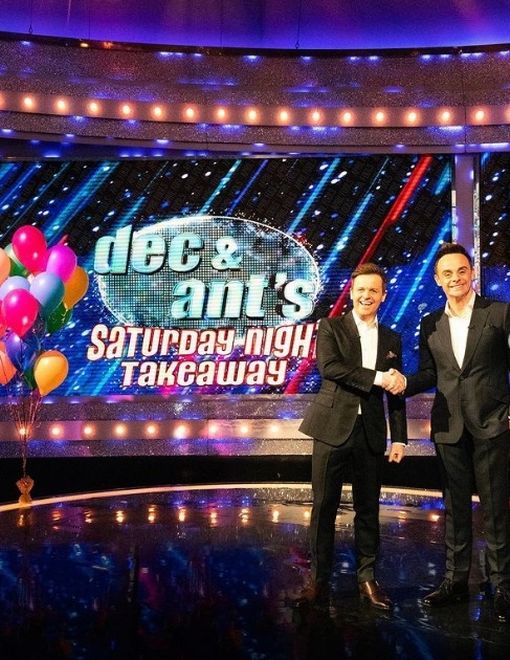 Interflora
Remember 90s mood rings? Meet the floral equivalent. Interflora have invented Mood Blooms: flowers that change colour according to how you're feeling.
Frankie and Benny's
Frankie and Benny's has today announced a limited edition 'Meatball Bath Bomb' which lets you bathe in the aroma of its signature 'Meatballs al Forno' to celebrate 25 years of the iconic dish.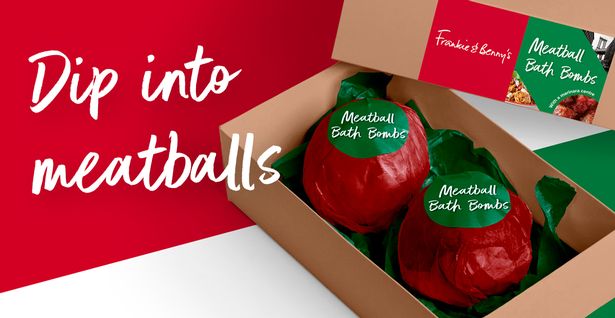 McDonald's
McDonald's have launched a three fries portion to put an end to chip thievery.
Fry thievery will no longer be tolerated. Introducing a new Three Fries portion for your mates that "just want a few".

Available now on the My McDonald's App. pic.twitter.com/MWanacyqvo

— McDonald's UK (@McDonaldsUK) March 31, 2021

Argos
Argos has announced the launch of its latest product, the Treadmow, available from today as part of the Spring/Summer 2021 range.
In a bid to help time strapped, multi-tasking loving Brits to do two things at once, the Treadmow combines two of the biggest lockdown trends, gardening and fitness, to get the nation ready for the summer months. And as lockdown restrictions start to ease, gardens across the country will be filling up for social occasions, meaning outdoor spaces need to look their best.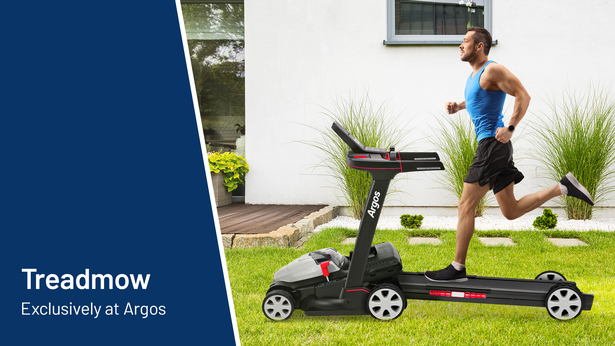 ITV: Good Morning Britain
Keeping a straight face, Richard Arnold announced to viewers: "Following on from the success of Love Island, ITV has now commissioned a big new budget reality show with a twist. With execs taking the tried and tested formula to help birds find the one on the new show dubbed Dove Island. It has apparently come after a year of lockdown which has seen the species become so lonely that telly bosses hope that they can find birds of a feather flock together once again."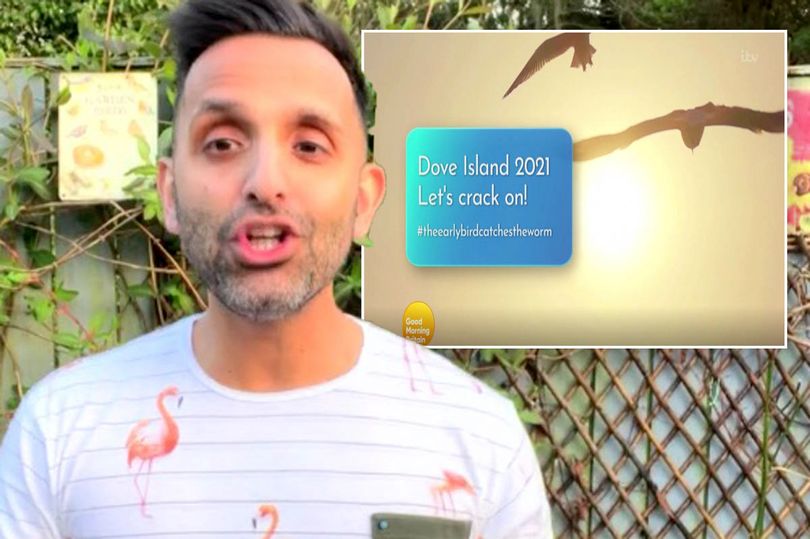 Happy Beds
Ever struggling to get a good night's sleep on your regular mattress why not try out the concrete mattress from Happy Beds? Have a Solid Night's Sleep!
World's Firmest Mattress? Completed it, mate😎

The Concleep is about to revolutionise everything. #SolidNightsSleep

Get yours here 👉 https://t.co/aI0YqtILRK pic.twitter.com/LzDlFOXthA

— Happy Beds (@HappyBeds) April 1, 2021
The Teletubbies
Move over Dogecoin, it looks like The Teletubbies have gotten into the cryptocurrency game! They've officially launched Tubbycoin which is being developed in the Coachella Valley.
The TubbyCoin BigHugs! Token, an official Teletubbies cryptocurrency made with special HugTech from WildBrain Labs is here. For every like, share, comment of #TubbyCoin, the TubbyCoin becomes more valuable! Let's take it to the moon. 🚀: https://t.co/CZJn5R7NI9 pic.twitter.com/B1Nt8OjFXe

— Teletubbies (@TeletubbiesHQ) April 1, 2021
Sour Patch
The Sour Patch Kids Prank Fund! This April fools, Sour Patch are encouraging their fans to pull out all the pranks (safely) and to film their mischievous antics, posting on their TikTok accounts and tagging the brand in the video. Winning pranks can win up to $1000.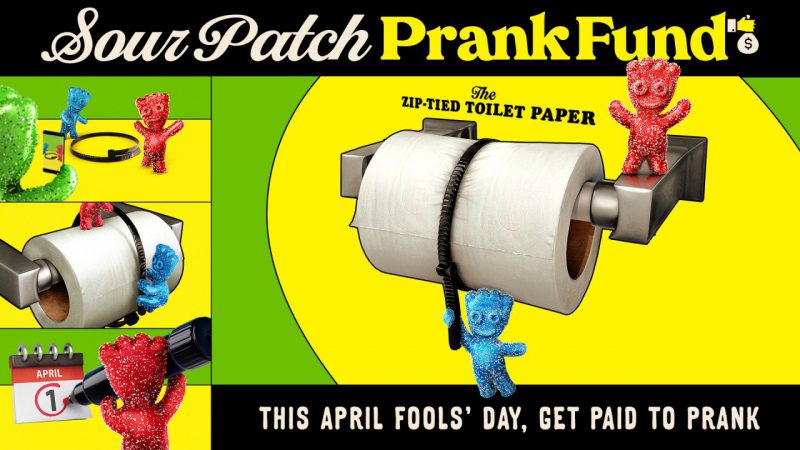 Pringles Lip Balm
The official Pringles Twitter account has shared the surprising announcement that they'll be releasing their very own Pringles lip balm range. With crowd favourites such as Salt and Vinegar and Sour Cream and Onion you're sure to be the life and soul of any Summer BBQ – The name they're currently running with, The "Pringles Tingle."
One twitter user said "I'm just imagining that lip balm container being as big as a Pringles stack container." So are we now.
Keep your lips feeling moisturised and iconic #PringlesTingle pic.twitter.com/WS5SIZ5lm8

— Pringles UK & Ireland (@Pringles_UK) March 31, 2021
Lego
As we all know, there's no worse pain in this world than standing on a piece of Lego. Fact. This year Lego have created SmartBricks, so we never have to experience the pain again. Now, when your foot approaches pieces of lego carelessly strewn out across the floor – the bricks will scatter in all directions, leaving nothing but soft, flat floor for you to step on.
Never step on a LEGO brick again! SmartBricks, coming soon… pic.twitter.com/enRuvdGYjP

— LEGO (@LEGO_Group) April 1, 2021
Amazon Prime Video
For those that haven't seen The Boys, one of the main characters, Billy Butcher is well known for his thick cockney accent and hilariously quotable one liners. For April Fools, Amazon Prime Video has introduced their in app BUTCHERED button. Now with the touch of a button you can dub Billy Butchers voice over other (more sensible) TV shows. Check out the video they posted on their Instagram account below
View this post on Instagram
Voneus
Live in the middle of the countryside with no internet connection? Voneus has the answer to your problems! The rural broadband provider is now using cows as their mobile internet 'Moodems'.By attaching a small router to the cows collar – farmers and locals living in the area can now enjoy 50mps speeds from the comfort of their home.
🐄🐄🐄🐄🐄🐄🐄🐄🐄 pic.twitter.com/pLid3r71QH

— Josh Owen Morris (@JoshOwenMorris) April 1, 2021
Duolingo
According to social media findings – many people learning a new language through Duolingo will practice their skills when using the toilet. With these time savvy individuals in mind – Duolingo has created their language learning Duolingo roll – available in five languages and coming in a range of bright colours.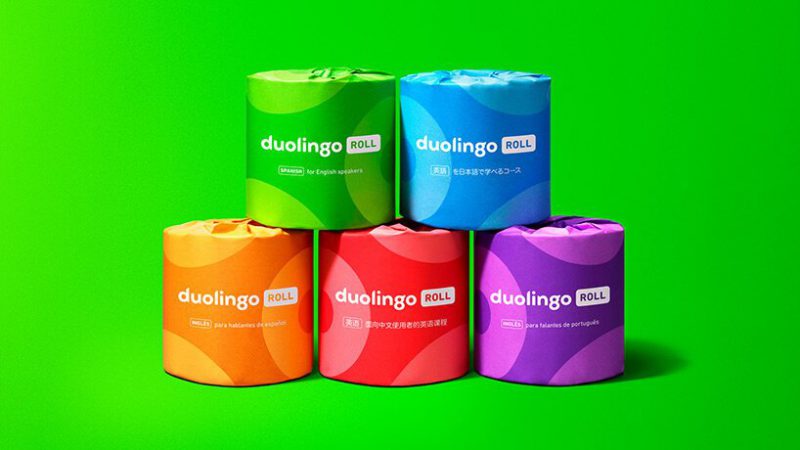 Keepmoat Homes
New Keepmoat home-owners are in for a treat as the housebuilder offers 'cuppa's on tap' with this new instant tea installation.
Dan Crew, Regional Managing Director at Keepmoat Homes, said: "We're always looking for new and innovative ways to make our homeowners' lives a little easier and with many of us now working from home, and tea consumption on the rise, we created the perfect solution, a hot tea dispensing tap."
Have you heard our tea-riffic news – our homeowners can now get #tea on tap! ☕
We know everyone enjoys their cuppa at different strengths, and our team have cracked a 'perfect brew' system which allows tea-drinkers to regulate their desired tea taste straight from the tap. pic.twitter.com/AFCBFTxiiL

— Keepmoat Homes (@KeepmoatHomes) April 1, 2021
Paddington Bear
Let us not forget the scandalous news broken by the official Twitter account of Paddington. This revelation led some fans to comment "Young man I know it's April Fools but you have gone too far, today."
I don't like marmalade anymore.

— Paddington (@paddingtonbear) April 1, 2021