Allbirds gifts the entire fashion industry with their Carbon Footprint tool
By Joe Colquhoun on Thursday, April 22, 2021
For international Earth Day, Allbirds is open-sourcing a version of its Carbon Footprint Calculator at FreeTheFootprint.com, totally free of charge. 


Over the years, there've been many impressive commitments to sustainability by fashion brands, yet there's still a lot more to do. According to recent research, 81 percent of Gen Z believe that brands are an essential part of the solution for the challenges facing humanity today.


Allbirds has sent out an email inviting the biggest fashion brands to join the conversation – starting by measuring their carbon footprint. This message also features in print and digital ads around the world.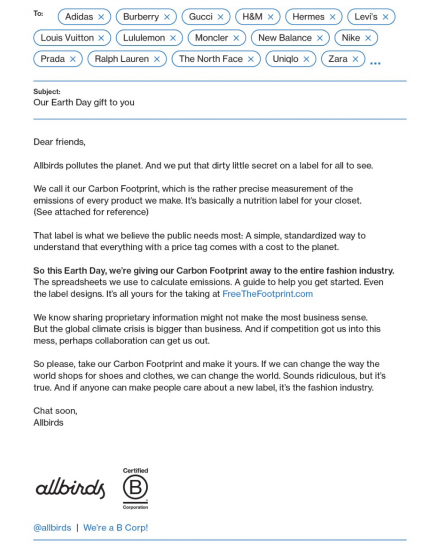 "For too long, many brands have focused on marketing sustainability rather than actually implementing holistic, high-impact solutions — and to an extent, it's worked," says Joey Zwillinger, co-founder and co-CEO of Allbirds. "If we want to continue pushing fashion toward a more sustainable future, we need brands to take responsibility for what they share with consumers. Having a key, universal identifier like Carbon Footprint to evaluate sustainability claims and force accountability from businesses is critical to drowning out the noise."


If you'd like to learn more and join in the conversation head to FreeTheFootprint.com.