Grenfell Tower Campaigners tap into popular culture with "Three Billboards" style stunt
By Staff on Friday, February 16, 2018
Three large truck-side billboards, demanding justice for the victims of the terrible Grenfell Tower fire back in June 2017, were spotted making their way around the capital yesterday.
Inspired by and in the style of the infamous banners now featured in the Oscar nominated film Three Billboards Outside Ebbing Missouri, they contain one simple yet damming question, "71 dead. And still no arrests? How come?"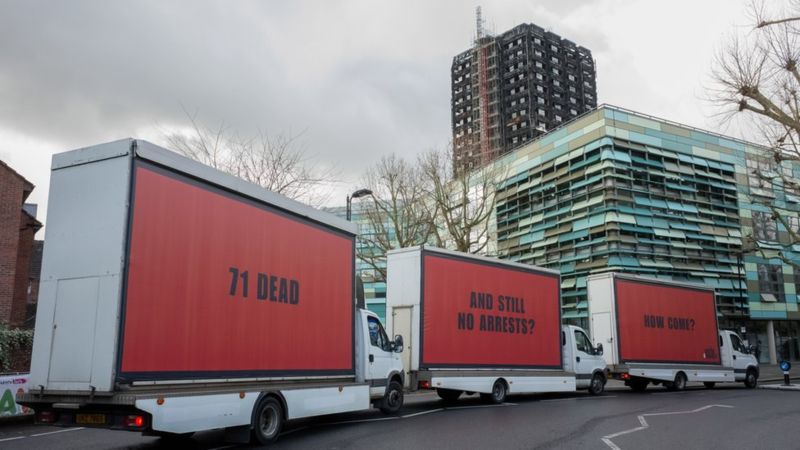 The convoy has been photographed passing sites such as the Houses of Parliament, London Bridge and St Paul's Cathedral.
Yvette Williams, co-founder of Justice 4 Grenfell the group behind the campaign, said in a statement that "Over the last few weeks we felt what happened is ebbing out of the public consciousness and people are becoming desensitised… it's really important to keep an issue around justice in the public eye."
The Metropolitan police have reported that the investigation is still ongoing but no arrests have been made to date. With the eight month anniversary of the tragedy occurring last Wednesday and the Oscars just 3 weeks away the cultural re-purposing of the "Three Billboards" could not have come at a more poignant or relevant time.