Top 10 PR and marketing stunts and campaigns of July 2017
By Rich Leigh on Tuesday, August 1, 2017
So, before we get onto the top stunts and campaigns, I've published a chapter from my best-selling book, Myths of PR, for free on Medium.
It's the final chapter, looking at the gender pay gap in PR. I'll say no more about it here because it's already a 25 minute read, according to Medium, but if you're interested, you can read it and get a discount for the book heeere.
Now, ONWARDS.
Here, in reverse order (and based solely on the number of unique views each post received), are the top ten PR and marketing campaigns throughout July 2017:
---
10. Tequila drinking fountain installed to mark National Tequila Day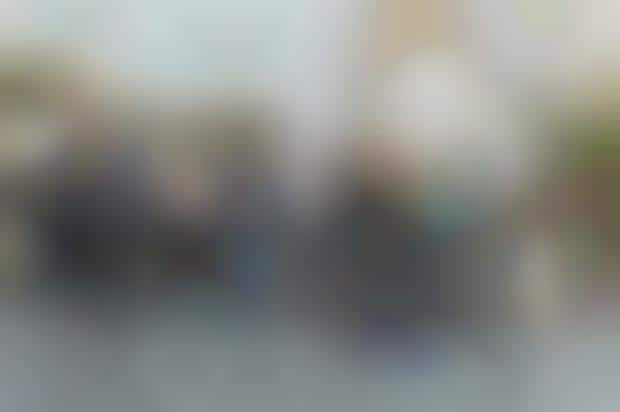 In a stunt not dissimilar to this beer dispensing billboard stunt from 2015, tequila purveyor Jose Cuervo hit upon the ingenious notion that people QUITE LIKE FREE ALCOHOL.
To mark National Tequila Day this year (on the 24th July), the brand installed 'H2Cuervo' drinking fountains in Los Angeles, California.
9. Björn Borg plays a tennis match on the border between the U.S and Mexico
In a promotional initiative intended to highlight sport's ability to 'unite people', Björn Borg, a Swedish sportswear brand named after the famous player, set up something of a unique tennis match.
Orchestrated to draw on US President Donald Trump's 'build a wall' policy, and coinciding with Wimbledon, Mexican player Mariano Argote and American player Peter Clemente played a tennis match, on the U.S. – Mexican border with one player on each side of the border.
8. Game of Thrones fans can eat direwolf bread made by actual Hot Pie! – post by Angharad Welsh
Deliveroo teamed up with Hot Pie to open the 'You Know Nothing, John Dough' bakery.
You might remember that Hot Pie gave Arya a direwolf loaf in the early days of the show – well, Deliveroo delivered replica treats in London for one day only, at £1 each.
7. White Walkers invade London ahead of Game of Thrones premiere
In a stunt to promote the season 7 premiere of Game of Thrones, London was besieged by White Walkers, led by The Night King.
It's not the first time we've seen a stunt like this for the show, but this is certainly better done this time around.
6. Village phone box turned into office in 'Better Call Saul' stunt
In one of the more quaint marketing installations I've seen recently, a village just 20 minutes down the road from our office was the surprise chosen location for a stunt to promote AMC's 'Better Call Saul'.
With a population of just 700, Saul in Gloucestershire briefly became the home to Saul Goodman's 'new' office, in what seems to have been the result of an ideas meeting in which somebody said 'ha, get this – his name's Saul, right? Well, this village is called Saul, TOO. Bill the client, I'm off to the pub.'
A phone number was also found at the installation – 0800 345 7285. When called, this is the message you hear (not dissimilar to the Ghostbusters hotline stunt):
5. Tourism Ireland recreates entire Game of Thrones plot in 250ft tapestry
Tourism Ireland unveiled a massive 250ft tapestry that features the plot of the last 6 seasons of Game of Thrones.
Since filming started for the show in Ireland back in 2010, the country has benefited hugely from a rise in tourism thanks to people wanting to visit the locations in the series.
As each episode of season 7 is aired, a new section of the tapestry will be unveiled.
The tapestry is currently on display at the Ulster Museum in Belfast and you can explore the interactive version here.
4. Shoreditch hotel launches hipster wedding package
A hotel in London's Liverpool Street has launched the 'Get Shore-hitched' package.
The package features handcrafted graffiti invitations created by local street artists and complimentary tattoos. Newlyweds can feast on canapes and a wedding breakfast menu created by Shoreditch street food vendors after the ceremony, which will take place in the hotel's Masonic Temple, a secret room hidden in the depths of the hotel.
3. KFC and Robinsons team up to promote Wimbledon
KFC and soft drinks company Robinsons teamed up to create an interactive version of the classic game Pong at KFC's Wimbledon High Street Store to celebrate this year's Wimbledon Tennis Tournament. The pop up interactive screen was positioned to attract tennis fans as they made their way to the championships.
2. Pop-up hotel lets you pay for room by binge watching Netflix
Netflix, Three and Samsung joined forces to create a pop up resort dedicated entirely to binge watching, with 15 suites inspired by popular Netflix shows where guests can sit back, relax and binge watch as many episodes as they want.
It's a nice activation for all involved – Netflix promotes its home-grown shows, Samsung can show off the viewing quality of its devices and Three can highlight its immense streaming capability all in one go.
Dubbed the 'Bed 'n' Binge Retreat', the 'resort' was open at Osterley Manor in West London.
1. easyJet launch library service for kids on its flights
One of my favourite campaigns in recent months, and a deserved #1 this month.
British airlines easyJet launched a new campaign, 'Flybraries', which see its airplanes turn into flying libraries to encourage kids to read.
7,000 copies of classic children's books such as The Railway Children, Peter Pan and The Wizard of OZ, chosen by children's author, Dame Jacqueline Wilson, are going to be put in the seat pockets of 147 aircraft for youngsters to read through their flight and then leave behind for the next child to pick up.
After the landing, the kids can then download free samples of other books to try, plus the first few chapters of Jacqueline Wilson's latest bestseller, Wave Me Goodbye, via the easyjet.com/bookclub.
---
As always:
If you'd like to write for the site – please do sign up to do so by clicking right here and filling in the short form.
If you've seen or are working on any great stunts or campaigns, please email me – rich [at] prexamples dot com (or tweet @PRexamples or @RichLeighPR)
Subscribe to our monthly newsletter, highlighting the best PR stunts and campaigns
---
Thanks for reading