2016 in review – Top 20 PR campaigns and stunts of the Year
By Rich Leigh on Friday, December 16, 2016
Why, hello there 2016-weary reader. If you're here for cunning stunts and rushed analysis in a bid to while away the remainder of the working year, you're in the right place.
This is the fifth year I've put together an end-of-year PR stunts and campaigns round-up, giving us 100 top campaigns over the last half-decade. Here they are if you'd like to catch up (it's actually really cool, if you're hella sad like me, to see what are obvious stunt and campaign trends):
How was the top 20 decided?
The list is ordered by the number of times each post, all previously featured on PRexamples.com, has been visited, giving as accurate an estimation of popularity as any other metric.
The link in each title takes you to each post, where you'll be able to read more about it, but each does have a description that might be enough for you.
Before I forget, if you would like to receive the best PR stunts/campaigns of each month, directly to your inbox, click here to subscribe.
And if you'd like to become a contributor, just fill in this quick form and we'll get you set up.
Without further ado, I bring to you…
---
The top 20 PR and marketing campaigns and stunts of 2016, in reverse order…
20-. Brilliant 'real life HITMAN' campaign unveiled – with a Chuckle Brothers twist – March
The production team behind Real Life First Person Shooter (Chatroulette Version), Realm Pictures, were asked if they would like to make a real-life version of HITMAN, to promote the newest installment in the Agent 47 video game series.
The main character 'could steal clothes, move objects and attack people inside, depending on the orders given by the participants, who were following the character's movements remotely'.
There are a few videos included in the post, but this one with the Chuckle Brothers (!?) is bizarrely good:
 19. Anti Ageing Gin Targets Older Demographic – April – post by Bottle PR's Nina Sawetz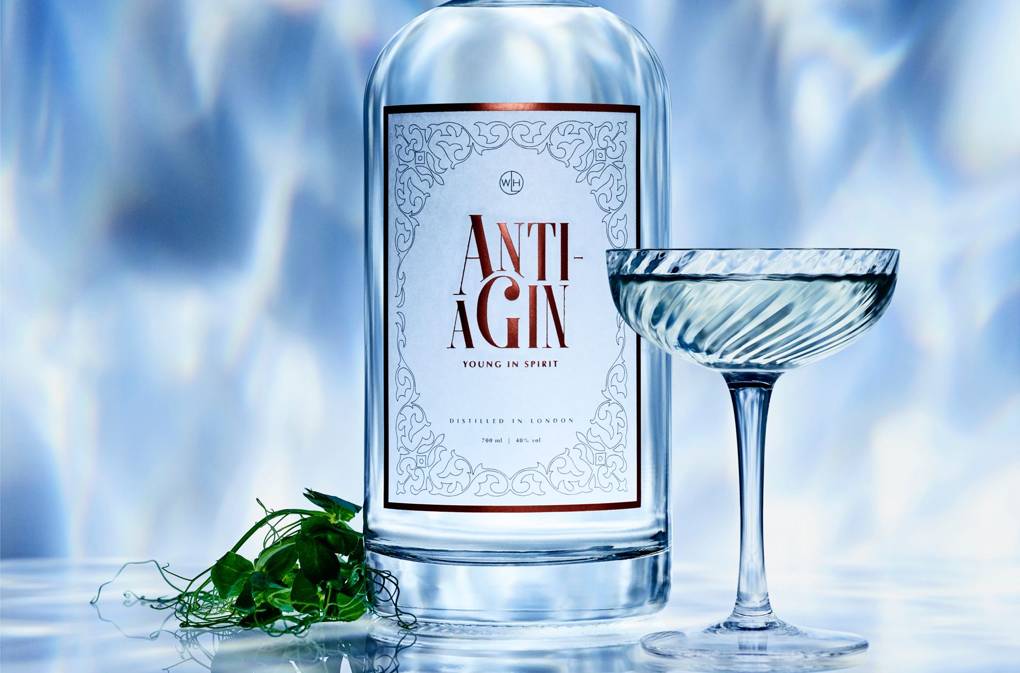 Warner Leisure Hotels came up with a novel way of tapping into the over-50s market, with the launch of its 'anti-ageing' gin, aptly named 'Anti-aGin'.
Teaming up with Bompass & Parr, Anti-aGin was made with edible collagen and a mix of anti-oxidant botanicals and stocked in Warner Leisure Hotels across the UK, and online.
The product apparently sold out within 24 hours, and picked up a shedload of coverage.
18. 'Scariest prank ever' to promote The Conjuring 2 release ends hilariously – September
Prank marketing efforts seem to have gone out of favour a tad. There was a time a few years ago, in what was perhaps the 2013 heyday, where brands were scaring members of the public/stooges on a regular basis (like this one from LG where they made people think the world was going to end, or this memorable 'telekentic' one to promote the movie Carrie)
Anyway, to promote the digital, DVD and Blu-Ray release of The Conjuring 2, unsuspecting (they always are) moviegoers were treated to this two way mirror prank.
It seems legit, but what do I know? The last guy's reaction is absolutely brilliant whether planned or, as it would seem, not:
17. #MissingType returns and goes global as brands and places drop As, Bs and Os from names – August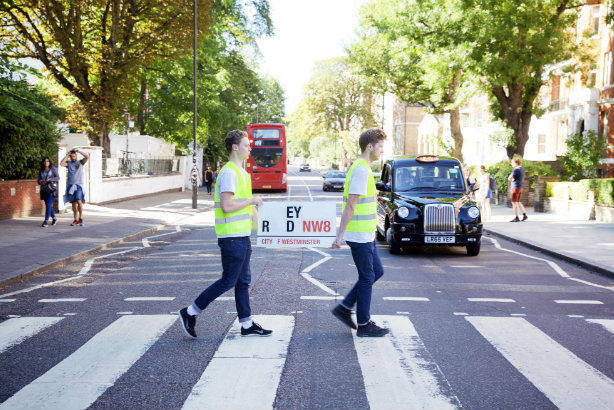 In June 2015, brands and street signs dropped the As, Bs and Os from their names – the letters that make up blood types – to highlight National Blood Week and the lack of blood donors. In just 10 days after launching the campaign, a record 30,000 new donors had signed up. Here it is if you'd like to refresh your memory – I was a huge fan, and loved the real-world impact of the stunt-led initiative.
The award-winning effort by NHS Blood and Transplant came back for 2016 – and this time, it was global; activated across 22 countries. Everywhere from the U.S and Australia to Brazil and Nepal got involved – and further to the PR-led approach from 2015, an ad campaign ran alongside it.
16. China's 'leftover women' ask for freedom to marry for love in beauty campaign – April
Sheng Nu literally translates to 'leftover woman', says Li Yu Xuan, a 33-year old single Chinese woman. "It refers to women over 27 who are not married."
To shine a spotlight on Chinese women being labelled as a 'Sheng Nu', international skincare brand SK-II released a short four minute film called 'Marriage Market Takeover'. The campaign aimed to highlight that everyone should have the freedom to marry for love and not because of familial or societal pressure.
Here's the video and it's eye-opening – try not to feel for the woman whose mum decides to assess her daughter's appearance on camera:
15. LEGO encourages parents to spend more time with their kids with video stunt – June – post by Johny Ho
One of my favourite campaigns of the year, and hugely underappreciated in my book.
From the post:
"In Taipei, where working adults are among the busiest in the world, a child's imagination was given the stage to shine.
"Hsiao Feng was chosen via a casting call, and a video was filmed of him sharing his Lego creation – a really strong car – that would help his father who sells and repairs cars for living be less tired" which might mean he would be able to spend more time at home with his child. Really, really sweet. Worth a watch.
14. Passengers given flight discount each time a baby cried in JetBlue Mother's Day stunt – May
In a nice stunt to piggyback this Sunday's Mother's Day in the US, airline JetBlue decided to reward passengers on a flight from JFK to Long Beach whenever a baby cried.
Dubbed 'FlyBabies' (the pun took me a while), the initiative offered a 25 percent discount to passengers each time a baby cried – meaning if four babies cried, all passengers would get a free return ticket for their next JetBlue flight.
13. Cadbury's pop-up peace offering after changing the Creme Egg recipe – January – post by Jack McIlroy Reid
Cadbury took a bit of a battering for changing the recipe of their beloved Creme Egg. Sales dropped.
In an attempt to demonstrate that their new eggs weren't all that bad, Cadbury set up a Creme Egg pop up shop on Greek Street, Soho for 7 weeks, offering Creme Egg toasties, Creme Egg with soldiers, Creme Eggs and strawberries and all manner of other weird and wonderful eat-in and take-out options.
12. Adidas creates trainers made from recycled ocean waste – September
Adidas created a prototype of a 3D printed trainer made from recycled plastic ocean waste. The project was in partnership with Parley for the Oceans, an organization that raises awareness about the environmental destruction of the oceans. To follow on from that, Adidas and Parley have launched a competition, giving 50 fans the chance to win a pair of the limited edition ocean waste trainers.
The trainer's uppers are made entirely from recycled ocean waste, including PET from discarded plastic bottles and nylon recovered from old fishing nets.
11. Giant Stay Puft Marshmallow Man spotted at Waterloo Station in Ghostbusters PR stunt – July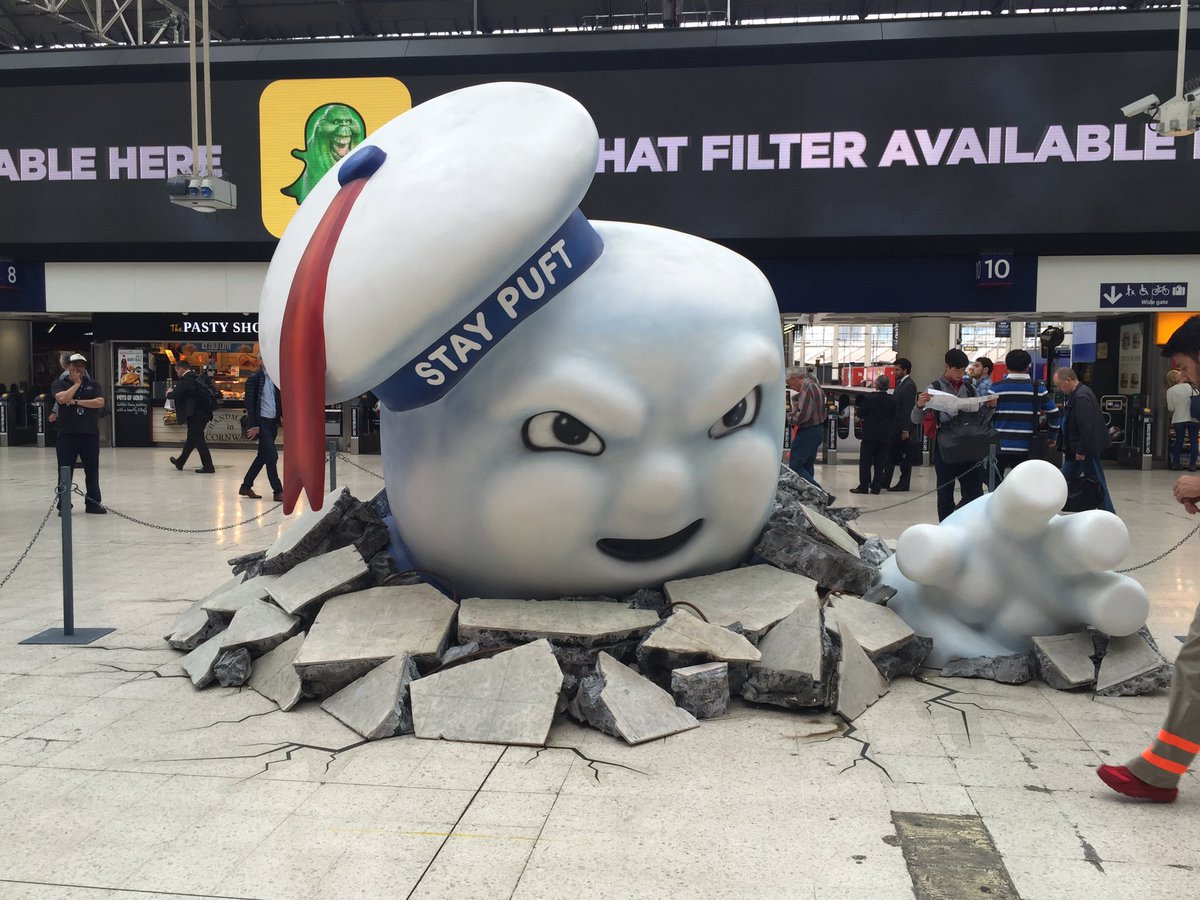 To promote the release of Sony Pictures' Ghostbusters remake, a giant Stay Puft Marshmallow Man can be seen breaking out of the ground at Waterloo Station, London
There was also a pop-up retail unit, built to look like a New York Subway entrance, manned by renowned science fiction, fantasy and cult entertainment retailer Forbidden Planet.
Business cards were given out encouraging commuters to call the GHOSTBUSTERS headquarters to hear a secret message. I called it so you didn't have to – here's the recording you would have heard.
10. Airbnb igloo and subsequent shutdown is a PR stunt and that's OK – January
A guy built and listed a '2 person igloo' in New York City on Airbnb. For $200 a night.
This came after a record-breaking blizzard that dumped 'about 26 inches of snow on the city'.
This was cleverly crafted by Airbnb and they can fight me to the death if they want to say otherwise. The 'Boutique Winter Igloo for 2′ was, SHOCK HORROR and according to its would-be landlord, bumped from the site by Airbnb for 'not meeting occupancy standards'… giving two PR bumps. The first, the irreverent and topical story itself, the second, the climbdown, helpfully covered by high-DA, high-traffic sites
9. Commuters opting for the stairs are greeted by live band playing Rocky theme tune – January
To promote its new film and Rocky sequel, Creed, Warner Brothers commissioned a brass band to greet commuters at the Chancery Lane Underground station in London with the Rocky theme tune.
You had to be a commuter who challenged the stairs instead of taking the easy escalator option, in true Rocky style.
8. Innocent Drinks launch handmade tweets campaign – November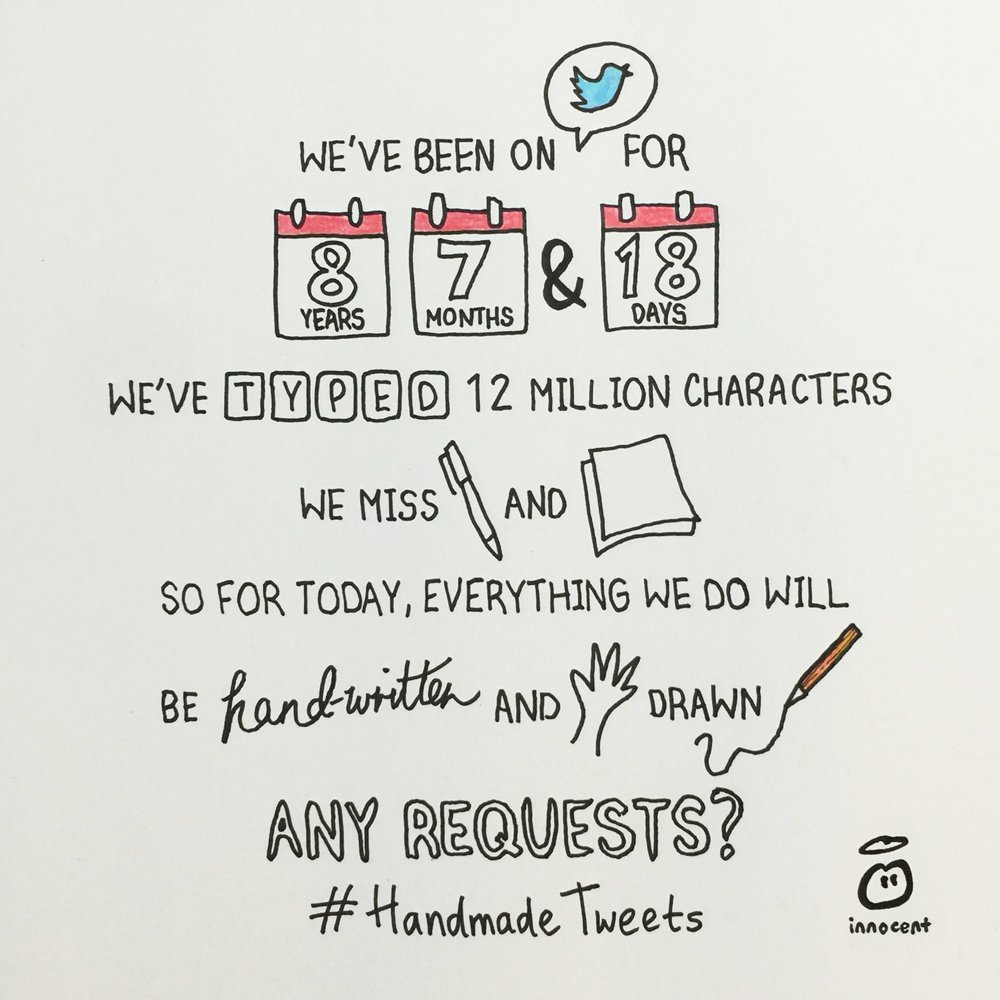 Innocent put together a day-long campaign, creating hand-drawn tweets instead of typed tweets, inviting their followers to request what they create.
Imagine Jim'll Paint It, but cutesier.
7. Giant Monopoly Board lands in Trafalgar Square – April
To celebrate The London Games Festival, a 15m² Monopoly board installation, called 'Monopoly at the Square' turned up in Trafalgar Square.
The board had all of the usual Monopoly components, with dice and playing pieces, however the giant board showcased a chronological history of video games in the UK. Highlights included the home computer boom in the 1980's and the rise of virtual reality in the 2010's.
Members of the public were invited to complete a round of the board to learn more about key figures and dates in the gaming industry.
6. Pop up Skittle store lets you pawn unwanted gifts for sweets – January
Wrigley-owned sweet brand Skittles opened a pop-up store in Toronto, Canada, allowing visitors to swap unwanted Christmas gifts for the sweets.
The 'Skittles Holiday Pawn Shop' was fronted by a comedy character called Dale the Dealmaker, who bartered with the public to decide how many Skittles each item was worth. The store particularly encouraged the swapping of novelty gifts such as Grandma-knitted sweaters and stuffed animals
5. Reebok transforms bus stops into mini gyms – September – post by Lydia Bryant
Sporting brand Reebok transformed six bus stops in Columbia into mini gyms.
The bus shelters were equipped with bars, steps and even a personal trainer to instruct waiting passengers on what to do. Those who did participate were given the option to have a picture taken that would then be shared on social media to promote the campaign and their accomplishment.
Ad agency Saatchi London opened a pop-up 'Brexit Tattoos' shop on Berwick St, London ahead of the EU Referendum. The tattoos were free, and the shop was opened to highlight the permanence of each vote.
Well, we all know how it turned out, but it was a nice idea…
Here are the tattoo options that were on offer: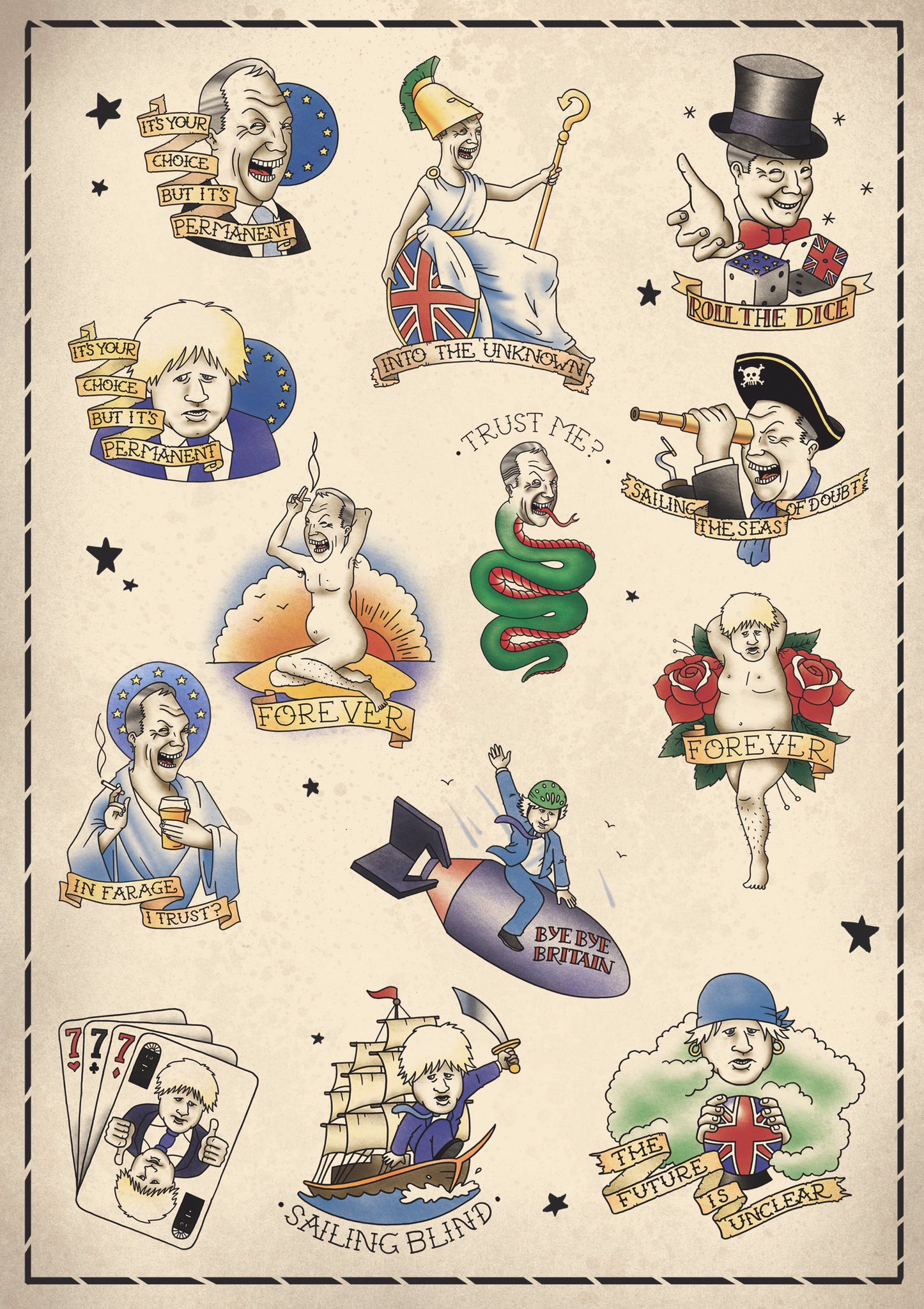 3. Giant hamster spotted scurrying around a London park in Kwik Fit PR stunt – May
A 12 ft-tall pedal-powered mechanical model hamster was spotted scurrying around London's Clapham Common.
'Jaffa' the hamster was cited as one of the 10 oddest discoveries made by Kwik Fit technicians in customers cars, so in the only reasonable next step, a life-like giant replica was made. Here's the campaign video:
2. Nivea creates 'Sunslide' to get kids wearing sun protection – June – post by Lydia Bryant
Last summer, skin-care brand Nivea created a doll to encourage kids to protect themselves (see here). For 2016, they came up with a more practical and fun solution.
The Sunslide is exactly what is sounds like – a giant slide that sprays factor 50+ extra water-resistant NIVEA Kids sunscreen on to children as they go down it. The slide was tried out on a popular beach in South Africa, and judging by the promotional video, it was a huge success and protected more than 100 kids per hour:
1. Popular Instagram account revealed as campaign to raise awareness of alcoholism in young people – September
Finally, the best-read post of the year was this health campaign, from September.
A popular Instagram account was revealed to be fake, having gained 18,000 followers and 'more than 50,000 likes' in a couple of months, posting 150 times. 25 year old Louise Delage cultivated a feed of beach shots, boat parties, fancy dinners and, most commonly, snaps of her with a drink in hand.
The account was actually a campaign from agency BETC for Addict Aide, a French organisation that supports people struggling with alcohol dependency. Here's the campaign video:
The campaign highlights how easy it is to not only ignore the signs of alcoholism, but perhaps also how easy it is to subconsciously enable it, 'liking' content constantly depicting damaging behaviours.
The post above also highlights the campaign as a case study, going into decent depth about the actions taken by BETC to execute it.
---
And that's your lot this year! Thanks for reading, and please do feel free to share.
---
If you enjoyed this post, why not subscribe to our newsletter, highlighting the best PR stunts and campaigns?