Top 10 PR and marketing stunts and campaigns of September 2014
By Rich Leigh on Friday, October 3, 2014
Oh HAI.
Before you skip straight to the good stuff, I wanted to mention something REAL quick. Honestly, quickly. As in, won't take up a lot of your time. Very little, in fact. So I'll get to it. Now.
When I set PRexamples up, I knew it'd need to have multiple contributors to survive – and because, well, I don't see every campaign and definitely don't have the time to write everything I do see/get sent up, unfortunately. So, the site is the amazing resource it is because of the community of people that contribute, whether once, sporadically or regularly.
With more than 280 people signed up to contribute from all over the world, there are a great range of students, practitioners and others that write or have written for the site. But, students and young PRs have always been the backbone – and, of course, they get older, busier and less able to contribute their time.
The site is almost 3 years old and, as such, I thought it was time again to publicly invite you all – anybody with an interest in PR stunts and campaigns – to sign up to become a contributor.
There's no obligation to write once signed up and, every month, the person that wrote the best-read post wins £50, just because. This month, as I can't win it and I know James Herring wouldn't accept it, the £50 will be going to Houston PR's Inderdeep Gill.
So, students, lecturers and people already working in the industry, please do share this around if you can (and send me tips if you are working on something or see something you think should be on the site). Better still, sign up and get involved.
---
Enough from me on that. Here, in reverse order and based solely on the number of unique views each post received, are the top ten PR and marketing campaigns throughout August 2014:
10. Naked breasts appear on outdoor ads for the first time in #whatnormalfeelslike campaign – boobs have never been shown, nipples and all, in public ads. Breast cancer awareness charity CoppaFeel! unveiled this new campaign, the first of its kind not banned by the Advertising Standards Agency for sexualising women.
9. The Krispy Kreme double hundred dozen – very much in the tried-and-tested 'let's supersize it!' PR stunt mould, this (not that that's a bad thing). To highlight the fact Krispy Kreme doughnuts can now be ordered for big occasions (targeting businesses), a Double Hundred Dozen box was created and offered up as a competition prize. Post by The Academy's Dan Glover.
8. Keep Britain Tidy Campaign Tackles City Smokers – what with time being money and all, the lads and laddesses in London's Square Mile are way too busy to find bins for their cancersticks, obvs. To highlight the fact 6 million of the things are dropped every year (in a bid to make people be a bit more respectful), Keep Britain Tidy put loads of big butts on the City's streets. Post by Taylor Herring's James Herring.
7. Reebok sends running human couriers to online shoe shoppers – a Human Dispatch Service was set up in New York City to hand deliver samples of new Reebok trainers. Nice idea. Post by Ciaran McCormick.
6. Fox's biscuits are looking for a Chief Biscuit Taster – it's this month's version of the Best Job in the World. Post by Houston PR's Inderdeep Gill.
5. Walkers launch the first ever Twitter vending machine on the streets of London – not technically the first as pointed out by a few people, but still, nice take on the vending machine stunt – which I feel we're seeing less of now. Post by Houston PR's Inderdeep Gill.
4. Loch Ness Monster Spotted In the Lake District – this brilliantly topical photo stunt to subtly promote a camera manufacturer added a bit of light-heartedness to the Scottish independence referendum, with subeditors everywhere asking the question 'has Nessie moved south?'. Post by Taylor Herring's James Herring.
3. Is It A Bird? Is It A Plane? No It's Car Launch Stunt – for no other reasons than 1) because they can, 2) budget and 3) because it looks hella cool, Jaguar launched their new car by having a helicopter dangle it over London. Post by Taylor Herring's James Herring.
2. 36ft tall Incredible Hulk 'raises' Tower Bridge in great projection PR stunt – LOVE THIS SO MUCH. Another big budget outdoor effort, this campaign is as good as you'd expect from a Disney-Marvel tie-in.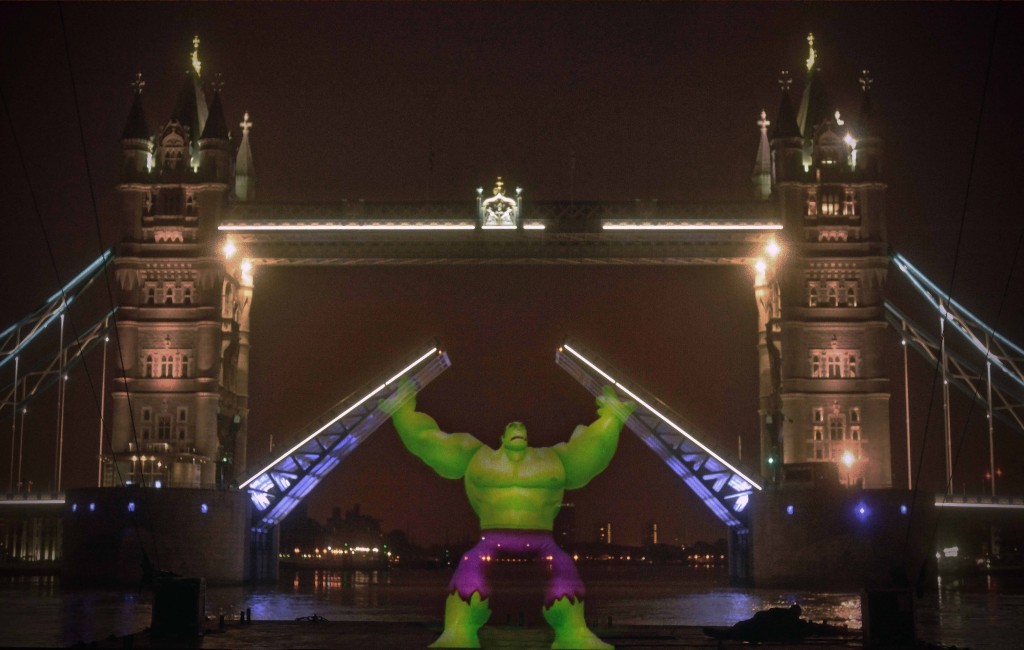 1. Mr. Kipling unveil 'edible billboard' ad as part of new marketing campaign – food as art is always a winner, and when you throw free cakes into the mix, well, it's hard to go wrong.
Thanks for reading, PR Land.
If you enjoyed this post, why not subscribe to our weekly newsletter, highlighting the best PR stunts and campaigns?