5 Most Notable Football Kit Launches – 2014/15
By Alex Judd on Monday, August 11, 2014
We've been blessed with a torrent of sport this year. The World Cup, Wimbledon, the Commonwealth Games and more, all scheduled to combine into one huge sporting binge. So, God forbid, you may have missed some of the pre-season football hype.
If you did, then you may have also missed the growing competition among clubs to hype the launch of their new kit. A once modest affair, it's now become just as outlandish as some of the transfer rumours – and full of promotional stunts. So to sort the star picks from the benchwarmers, here's this year's most notable launches:
1. First is Manchester City's new edition of their Etihad kit. Tying in nicely with the sponsor (who, coincidently, own the club) passengers of the airline were casually asked at check-in if they supported a football team. If the answer was City, then they were presented with the new shirt before anyone else before boarding. In a similar touch, they also invited ten #Cityzens (see what they did there?) for an exclusive tour of the stadium, where the new shirt was named and waiting for them in the dressing room. Two nice "surprise and delight" tactics, helping to maintain that close bond between a club and their fans.
2. Back in the capital, as Chelsea – not content with drenching their squad in paint – went one step further. Lead by adidas, they sought to recreate last year's best moments by gathering the relevant players, having them pose in the same way as before, wrapping them up like Egyptian mummies and making an impressive blue statue of themselves. Whether or not this is part of Abramovic's plan to build a modern Terracotta Army remains to be seen – but it's an interesting concept to physically capture a moment of greatness, even if they didn't win any trophies that season. I'd like to see what they did with the statues, though, as giving them away to fans seems like a PR open goal.
https://www.youtube.com/watch?v=K44k9GTx6nc
3. From the saaf (that's south to you non-Chelsea fans) to the north of London, Arsenal took to the river for their new Puma kit. Despite the slightly utopian narration of Arsene Wenger, the Thames water projection – showing plenty of overhead kicks and celebrations – was actually very impressive. They also threw a launch event at Carnaby Street where, among other things, Carzorla, Flamini and Arteta literally stood in the shop window wearing the new shirt – note to these three, there are more subtle ways of asking for a transfer.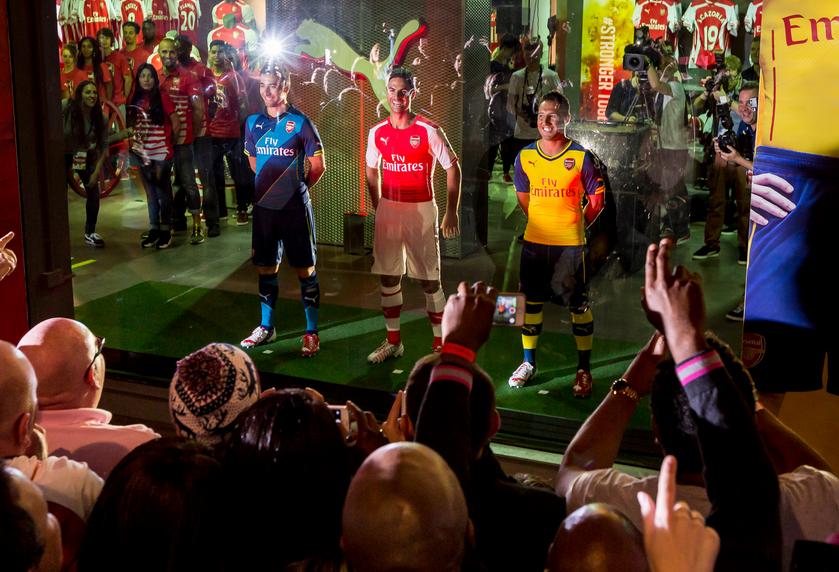 4. Over at Ajax, adidas took a more tongue in cheek approach this time. A representative from the sports brand and Edwin Van Der Sar (ex-Man. United goalkeeper, now Ajax marketing director) had individual meetings with key players and managers to unveil the new kit before the press launch. However, what they saw were a number of ridiculous designs such as a huge lion's face, tie dye and even a tuxedo shirt (wait? Another club actually did that? Oh…). They're then left to contemplate these hideous shirts on their own, before the real shirt is unveiled at the end. A great prank with a happy ending, well worth a watch.
5. Finally, a bit of a curveball, as we head to the seashores of Portsmouth. In tune with the Great War's 100 year anniversary, the fan-owned club stitched 1,400 names into the fabric of the shirt – each belonging to one of the "Pompey pals" who gave their lives in the conflict. The club's badge has also been changed back to it's original 1914 form as well. A wonderful tribute and an act that defines the sense of community that sport can bring.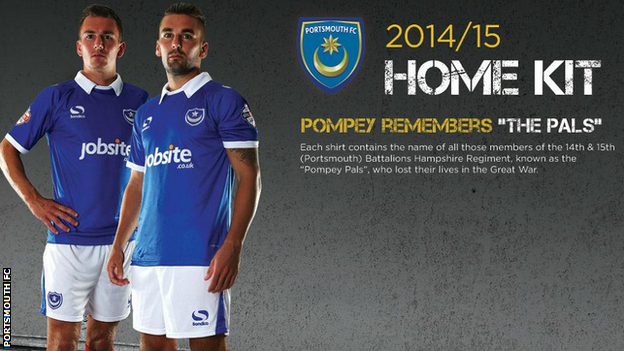 Have any more that should of made the cut? Post them in the comments below.