Top 10 PR and marketing stunts and campaigns of June 2014
By Rich Leigh on Wednesday, July 2, 2014
Before we get into this month's post, I've created a new email address to send campaign/stunt tips into. It's simply just: [email protected]. All's explained in the 'submit tips' link at the top of the page, but please do use this going forward for anything you see or are working on.
Here, in reverse order and based solely on the number of unique views each post received, are the top ten PR and marketing campaigns throughout June 2014:
10. Bic is globally crowdsourcing to create a 'universal font' – cheap pen (and dodgy razorblade) manufacturer Bic is asking the global public to help them create a 'universal font' by contributing digital samples. I love this – it's exactly what a digital campaign should be. Collaborative, attractively displayed, relevant to the brand in a subtly promotional way and not one bloody cat in sight.
9. Pong becomes world's first mind controlled game in charity billboard campaign – arcade favourite Pong became the first mind-controlled video game in this hella smart campaign to raise funds for and awareness of The Brain Tumour Charity.
8. Game of Thrones fans can pay £20,000 to be killed in the next book – I'm not about to explain what Game of Thrones is for those of you that think it's supercool to ignore popular culture, so if you have some spare cash and would like to be (fictionally) dismembered, likely by somebody who's forever-disrobed mum is also his sister, this post by WAA's Alex Mansell tells you all you need to know.
7. Japanese bar turns passed out drunk people into 'human posters' in alcohol awareness campaign – this is… odd. A bar in Japan decided to shame drunks (i.e. potential customers) into drinking less by casting their inanimate bodies in make-shift ads, encouraging members of the public to snap and share away. Post by WPR's Jade Mansell
6. Women-only pop-up pub opened for duration of World Cup – it's a (reimagined) pub. It's for women. It's a well-branded, well-thought out, intentionally divisive rebuttal to the incessant 'football widow' rubbish we're subjected to on a regular basis, with some cool benefits and goings-on for patrons. That said, it's gaudy and pink and horribly clichéd, so it does lose points on that front.
5. Penalty shootout practice installed in urinals across London – this is wonderful (though not wholly original). In short, rum brand Captain Morgan has installed wee-controlled interactive penalty shoot-out games in urinals. Post by Ciaran McCormick
4. Giant monster resembling Virgin boss Richard Branson emerges from the sea – it's a 25ft tall Richard Branson monster promoting Virgin Media's new bigger bundle (see the link?). Ludicrous but good fun.
3. Whisky lovers invited to 'world's first pub on a crane' in anniversary campaign – a sweet anniversary campaign designed to show White & Mackay's commitment to its humble roots, whilst achieving an aforementioned 'world first' (there being a real race for the 'first pub on a crane' category and all).
2. Paddy Power cage up 'traitor' who backed Italy and hang him from billboard – the World Cup bookmaker onslaught continues with this picture-led stunt from Paddy Power. Post by WPR's Jade Mansell
1. Here's who's behind the broken down octopus on Oxford Street… – a giant octopus caused a traffic nightmare whilst stranded in London's Oxford Circus, evidently in a PR stunt-capacity. I donned a deerstalker, adopted a hushed foreign tone and got to the bottom of it for you. Aren't I good like that? If MI6 is reading, please do feel free to get in touch.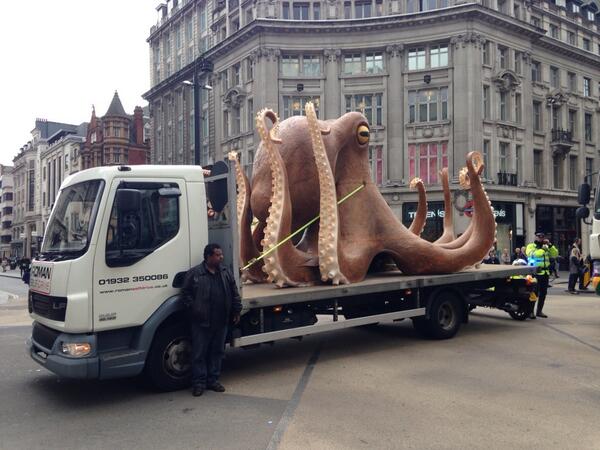 Thanks for reading.
If you enjoyed this post, why not subscribe to our weekly newsletter? Go on… live a little. Treat yourself.