RWC 2015 TRANSFORM CITY HALL INTO A GIANT RUGBY BALL
By Lewis Davey on Tuesday, May 6, 2014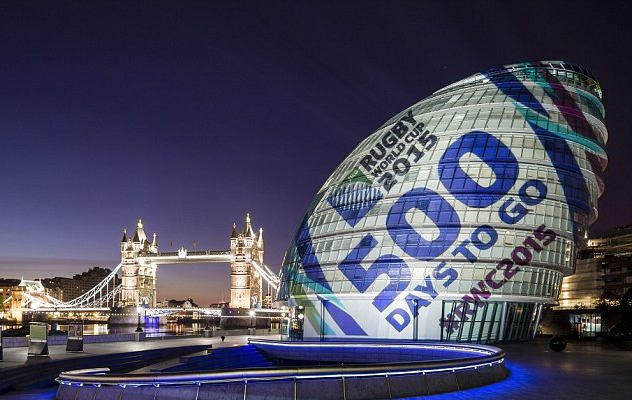 Rugby World Cup 2015 have kept up the trend of finding iconic London landmarks to project onto, by transforming City Hall into a giant rugby ball to mark the 500-day countdown to next year's Rugby World Cup.
I'm guessing that finding a building in London that looks exactly like a rugby ball was tricky, but the famous building, which was designed by the renowned architect Norman Foster, actually looks pretty good lit up as a rugby ball along the banks of the River Thames.
The projection took place over the weekend and the pictures were released today so it will be interesting to see the pick-up in tomorrow's papers – I must say I'm surprised 'camera loving' London Mayor Boris Johnson didn't nip out of the office for a cheeky photo bomb!
The Rugby World Cup starts on September 18, 2015 and while 500 days might seem quite a way off, tickets are set to go on sale in September – I'm already excited!