Giant hedgehog unveiled in park to promote new Sir David Attenborough series
By Rich Leigh on Monday, February 17, 2014
A 7 ft tall hedgehog was unleashed in Clapham Common, London today to celebrate the launch of new Sir David Attenborough series Natural Curiosities (which starts on Watch, tomorrow night).
The giant figure measures 12ft long, 8ft wide, and 7ft tall, making it larger than a rhino. It features 2,000 soft wood spikes and took a team of sculptors more than two months to design and build.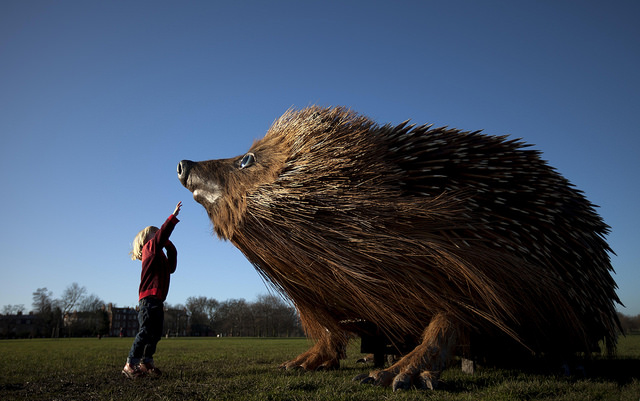 Sir David Attenborough said:
"The hedgehog is one of Britain's greatest natural curiosities and this sculpture is a fitting tribute to one of our most delightful species. The fact that a quarter of British adults have never seen a wild hedgehog suggests that we are witnessing rapidly dwindling numbers which is a concern."
This is a really nice photo-led campaign and all – and who wouldn't want a quote from/attributed to Sir David himself? – but I do always wonder what happens to PR creations like this once they've served their short-lived purpose. Personally I'd be fascinated to see such things in a kind-of PR museum… and if I wasn't confident I'd be the only visitor, I'd do more to make it happen.
Read more: Metro
Involved agency: Taylor Herring