The winner of the 'How to Get a Job in PR' Apprentice-style competition is…
By Rich Leigh on Tuesday, January 28, 2014
In this post from two weeks ago, I challenged readers to enter a competition to win Sarah Stimson's 'How to Get a Job in PR' book. It was primarily aimed at those eager to, as the title would suggest, get a job in PR, but having read the book, I think it should also be read by those in the early stages of their careers and PR employers, too.
The task was different to most competitions. I gave each entrant a unique affiliate link and asked them to promote it. The aim was to sell as many copies of Sarah's book as possible, effectively making her their client for a short period of time, with the commission earned going to charity. The winner of the competition would win a copy of Sarah's book.
My aim was to highlight something I think is lacking in public relations (and marketing in general) – a focus on delivering more than just coverage, or 'awareness' for our clients.
Of the seven entrants, five managed to encourage at least one 'click'. Here are the final results:

Congratulations to Roxanne Ellison, who managed to encourage both the highest number of clicks and sales.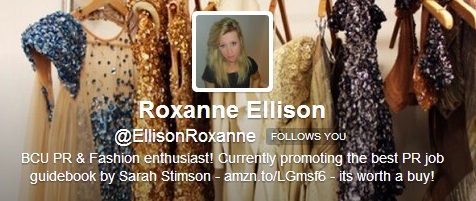 Having looked through her tweets since the 23rd, one thing is evident: Roxanne was very keen to win. There are a number of things she did well:
She enlisted the help of her friends to help her promote it
She changed her Twitter bio to include the affiliate link
She used her existing social media audience (on Facebook and Twitter, as far as I can see).
She highlighted the fact the commission was going to charity and used that as a hook to interest people (though, I note, she said 'all of the money' goes to charity, which isn't the case. Perhaps I was not clear enough, or perhaps stating it was only the commission would have meant her explaining affiliate marketing commission to an audience that just wouldn't care).
She tweeted accounts such as Pressvine, the British School of Media, PR educator Richard Bailey and people already working in PR, asking them to share the link, which some did, reaching thousands of relevant potential buyers.
She replied to people tweeting about their struggles to find jobs or internships in PR (examples here and here). Again, this shows relevance and that the size of the audience isn't as important as the audience you target (as evidenced by Daniel Vaughan, who had the 2nd lowest number of clicks but was responsible for a sale).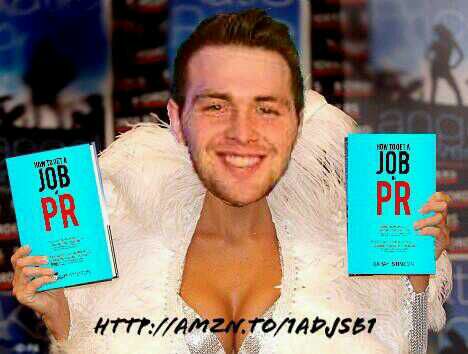 I will be in touch with the others to ask for a topline breakdown of their efforts, but wanted to say well done to everybody and thank you for getting involved. It's been interesting to see how those in the early stages of their careers or hoping to work in PR tackled the task, before they've had chance to get used to a particular way of working.
Oh, and a special thanks to Ryan Owen Gibson who was kind enough to create the image to the right in a bid to get people sharing his tweet, including the affiliate link. I look particularly thrilled with my cleavage and tiny hands.