John Lewis rewards 'most patient man on Twitter' following account name mix up
By Jade Mansell on Tuesday, November 12, 2013
Retail store John Lewis has pledged to send a gift to a Virginia man who shares the brand's name and has been receiving an onslaught of Twitter activity due to consumers mixing up the accounts.
Dubbed 'the most patient and polite man on Twitter' by Buzzfeed, the professor has patiently replied to every single tweet mistakenly sent his way in the past few months – and the release of the store's hotly anticipated Christmas advert means this has become quite the arduous task this week.
John Lewis (the man) has sent witty and amusing responses to the people who tweet at him, as well as directing them to the official John Lewis account: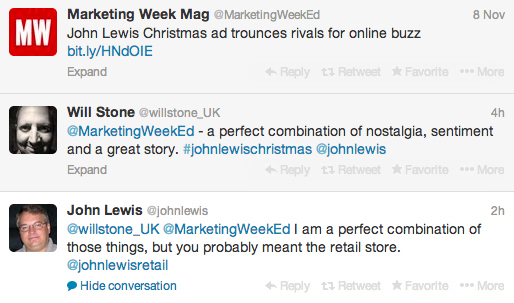 John Lewis (the brand) picked up on the increasing popularity of the dedicated Twitter user, and on Monday tweeted at him: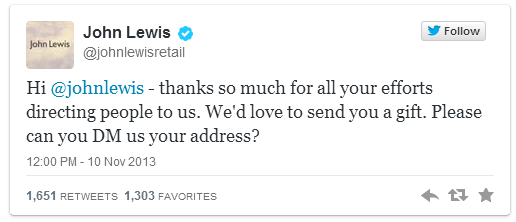 A spokesperson for the department store told Metro: 'We're grateful @johnlewis has got a good sense of humour and are currently deciding on what gift to send him as a token of our thanks.'
Simple, savvy customer service, you almost suspect it's a brilliant stunt from the PR team…
This has been picked up by Metro, the Mirror and the Mail Online amongst others.