McFly and Busted team up to become…McBusted
By Jade Mansell on Monday, November 11, 2013
In a move that's set to baffle the music industry and delight fans in equal measure, McFly and Busted have merged to become – McBusted.
Noticeably, Busted's founding member Charlie Simpson has not returned to join the new arrangement, though this isn't too surprising given that he prompted Busted's split by leaving the band back in 2005.
Of course, bands reforming has been nothing new this year – just last night Boyzone featured on Jonathan Ross, and the Big Reunion on ITV2 has proved a hit.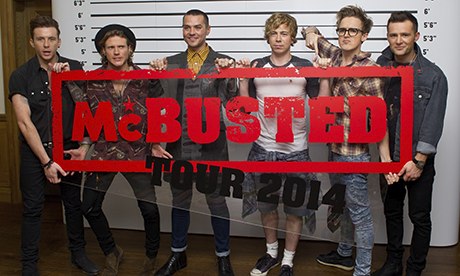 There's certainly money to be made in bands joining forces – who remembers the NKOTBSB (New Kids On The Block Backstreet Boys) Tour of 2012? But bands coming together as one – and popular bands at that – is a pretty novel and brilliant way to stand out when making a comeback in a crowded scene.
McBusted will be kicking off a tour in April 2014, as well as performing this Friday on BBC's Children In Need.
This has thus far been picked up by the Guardian, Mail Online, Sky News, the Daily Mirror and Digital Spy, amongst others.
 Picture credit: Getty Images