Non-league Football Club Farnborough FC 'sign' Messi, Pele, Zidane and Maradona
By Inderdeep Gill on Monday, August 12, 2013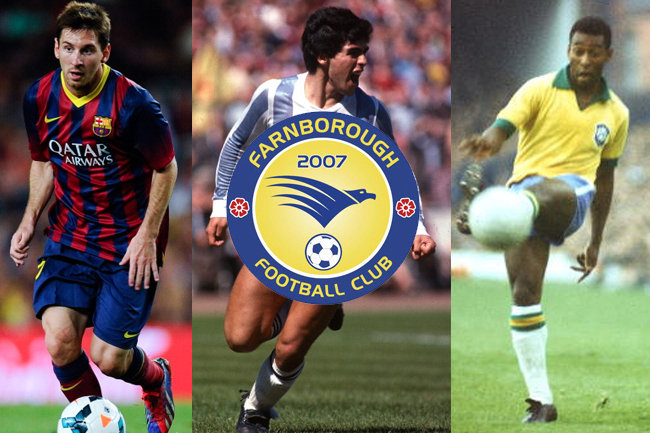 Farnborough FC (a team you've probably never heard of) is updating their line-up with some of the World's greatest players (you've probably heard of all of these).
Who would've thought the day would come when Lionel Messi, Pele and Diego Maradona would join a non-league football team?!
They've teamed up with Paddy Power and have not only renamed their ground 'Paddy Power Park' and updated their kits, but ALL of their players have legally changed their names by deed poll to footballing greats in their positions. Even the manager Jose Mourinho aka Spencer Day is in on it!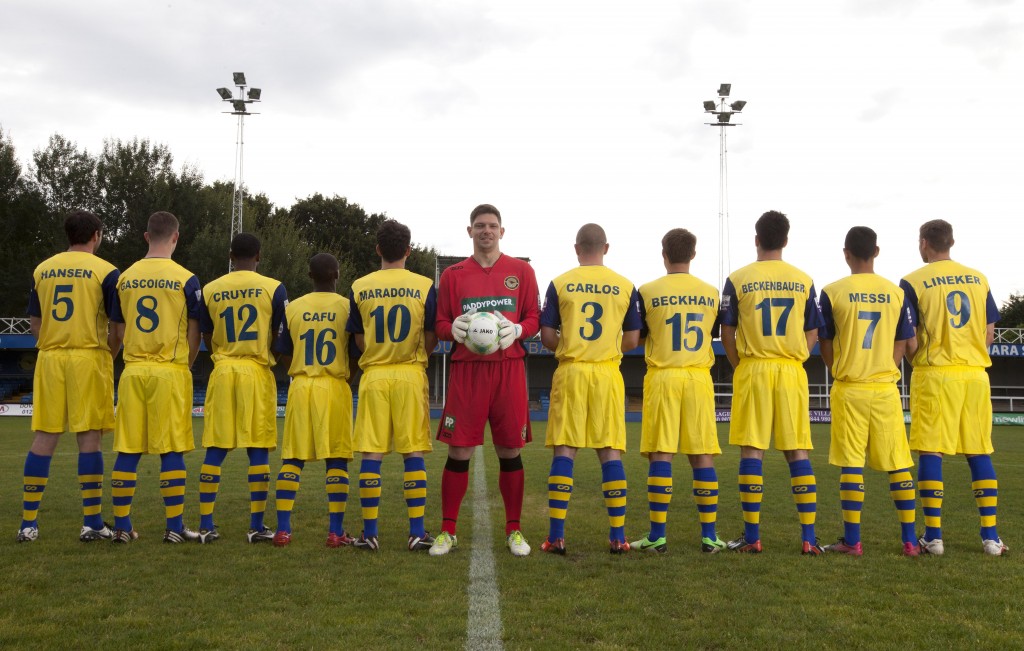 He's probably chuffed he has choice of decent midfielders featuring George Best, Paul Gascoigne, Zinedine Zidane and Johan Cruyff. With Sir Alex Ferguson being the coach, we should expect big things from them.
Here's the full squad list:
Kevin Ainsley SCRIVEN – (goalkeeper) Gordon BANKS
Oliver George TREACHER – (defender) ROBERTO CARLOS
Joshua Adam HUGGINS – (defender) Lothar MATTHAÜS
Adam Hugh DOYLE – (defender) Paolo MALDINI
Alan Francis INNS – (defender) Alan HANSEN
Paul Jinnah MASSAQUOI – (defender) CAFU
Nathan KOO-BOOTHE – (defender) Bobby MOORE
Thomas Andrew McGARRY – (defender) Franz BECKENBAUER
Reece Nicholas JONES – (midfield) George BEST
Stephen Thomas LAIDLER – (midfield) Paul GASCOIGNE
Scott Paul DONNELLY – (midfield) David BECKHAM
Merrick Anthony JAMES-LEWIS – (midfield) Zinedine ZIDANE
Tyrone Michael Justin BERRY – (midfield) Johann CRUYFF
Daniel BENNETT – (striker) Lionel MESSI
Reece William CONNOLLY – (striker) Gary LINEKER
David Charles TARPEY – (striker) Diego MARADONA
Elvis Zark HAMMOND – (striker) PELÉ
Spencer DAY – (coach) José MOURINHO
Leigh James Thomas DYNAN – (assistant manager) Paddy POWER
Simon John GARDENER – (manager) Sir Alex Fergurson
Roger Leslie PEIRCE – (kitman) Terry Venables
They've been in a bit of financial trouble, going in to liquidation in 2007 and being in administration since April of this year so hopefully this sponsorship secures them a good financial future.
(Source 1, Source 2, Source 3)
Read more: Paddy Power blog

Involved agency: Frank PR