2012 in review – Top 20 PR campaigns and stunts of the year
By Rich Leigh on Sunday, December 30, 2012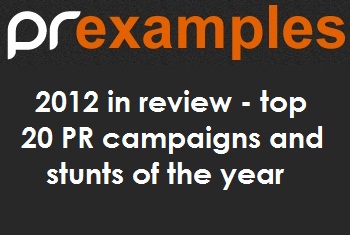 2012 was a good year to work in PR. The opportunities to piggyback on topical events, what with the Olympics, the Queen's Jubilee and all the fun to be had at the expense of yet another ridiculous end of the world prophecy, were ample. Brands and agencies around the world succeeded in capitalising and, of course, creating their own positive news, whilst some made huge errors in judgement, especially when it came to disasters and tragedies.
Public relations is, for the public we practitioners attempt to relate to/with, almost scarily fleeting in its ability to really capture imaginations. Ask anybody that doesn't work in marketing and they'll struggle to remember PR stunts, campaigns or aforementioned errors in judgement from the last week or two, let alone the last year.
Fortunately though, for people that do study or work in publicrelationssocialmediadigitalmarketing for whom previous and successful efforts can serve as case studies or inspiration, I've taken the time to compile the best twenty public relations stunts and campaigns of the last twelve months, which just about happens to coincide with when I launched the site.
The examples are ordered by the number of times each post, all previously featured on PRexamples.com, has been visited, giving as accurate an estimation of popularity as any other metric. The link in each title takes you to each post, where you'll be able to read more about it.
Before I forget, if you, along with thousands of others, would like to receive the best PR stunts/campaigns of each week, directly to your inbox, click here to subscribe.
Without further ado, I bring to you…
The Top Twenty PR (and marketing) campaigns and stunts of 2012, in reverse order…
20. Beer company leases an island – most expensive PR stunt of the year? – Castlemaine XXX leased an island off the coast of Australia and asked members of the public to decide how it should be developed. Mental budget involved.
19. Coke Zero makes train commuters James Bond for a minute, post by Racepoint Group's Simon Hilliard – (surprisingly attractive, athletic and obliging) members of the public were challenged to sprint their way through a busy station, packed with obstacles, in order to win tickets to an exclusive Skyfall screening.
http://www.youtube.com/watch?v=RDiZOnzajNU
18. Alton Towers 3D art lift stunt shocks shoppers – a brilliant 3D art stunt gave the impression a lift's floor had collapsed, created to 'test people's likely reaction' to theme park Alton Tower's new ride for 2012, Nemesis Sub-Terra.
17. Simple PR wins: Muppets cupcakes sent to Stephen Fry – to promote/celebrate (same thing) the launch of The Muppets movie, character cupcakes were sent to prominent tweeters. Who then tweeted about them, thus letting millions of followers know about the film if they didn't already. PR doesn't need to be complicated.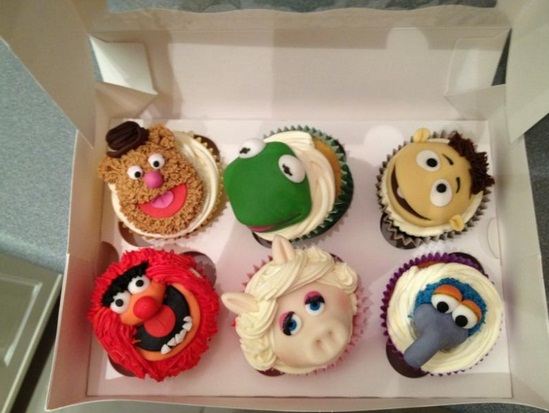 16. Tweets written in the Sky by Paddy Power stunt planes to support Team Europe at the Ryder Cup – encouraging tweets sent to the Paddy Power Twitter profile to support Team Europe were written in 1,200ft tall letters by stunt planes. Although Paddy Power weren't official sponsors, they received a great deal of coverage and even received a couple of Guinness World Records in the process.
15. £1k prize Sleeping Beauty stunt slammed – a controversial campaign to promote the DVD release of arthouse film Sleeping Beauty, about a student who gets paid to lie unconscious while men 'manhandle' her. Students were asked to submit a 2 minute video as to why they should sleep in a big bed in public (Waterloo Station, London) and be paid £1,000 for doing so.
14. Fit as a Butcher's Daughter racy campaign for Rustlers, post by Leeds Met PR student Faye Oakey – a social media campaign for every sun-averse web developer's favourite brand of microwave burger caused a few raised eyebrows, adopting the 'sex sells' attitude with a risqué character to target 16-24 year old blokes.
13. Nando's delivered an ultimatum in funny parody response – Nando's were essentially, through ripping off a funny ad by insurance company Santam, blackmailed into donating free food to a children's home. All ended well and everybody came out gleaming.
12. Best anti-smoking campaign ever? – this hidden camera charity campaign, where children asked smokers for help lighting their cigarettes, was as successful in increasing calls from Thai people hoping to quit smoking as it was garnering views and plaudits.
http://www.youtube.com/watch?v=-u-rhnV4l08
11. Oddbins anti-LOCOG stunt rewards Pepsi-drinking, Nike-wearing, Mastercard-using customers, post by Leeds Met PR student Faye Oakey – a humorous quick and dirty PR protest against Olympic body LOCOG's Nazi-like enforcement of what brands could and couldn't say about London 2012
Still with me? I don't know how to split into pages, otherwise I would. Here's the top ten, with a bit more information about each example:
10. Skoda successfully seize social media, post by Fleishman-Hillard's Asad Dhunna
–          What? Less a PR campaign or stunt and more a demonstration of what keeping on top of social media can do for a brand, this example relates to a motoring journalist who tweeted he didn't have a car and a follow-up from Skoda's press office, who lent him a car and even threw in a free lunch.
–          When? February
–          Who? Skoda's press office
–          My thoughts: Ahhh, bribery. The fact this – and the original blog on Car Dealer magazine's site – are so popular shows that people like a brand that goes over and above. James Baggott, the journalist in question, tweeted, got an unexpected response and for next to no outlay, Skoda comes out of it looking very good indeed. Set alerts and keep an eye on Twitter searches, people, all it takes is one tiny opportunity and you can capitalise.
9. Pre-defaced GoCompare billboards, post by JML's Jonathon O'Connor
–          What? Billboards up and down the country featuring Gio, GoCompare's operatic frontman, were being threateningly defaced. Or were they? As it turns out, the light-hearted jibes were part of the brand's plan to kill the character off, squeezing news coverage out of their above the line spend.
–          When? July
–          Who? Carat
–          My thoughts: When your competitor's mascots are inexplicably-popular talking Russian meerkats, you have to admire a brand who challenges that head-on. By piggybacking on the fact their ads were named Marketing's most irritating ads of 2009 and 2010, GoCompare showed they weren't afraid to change and managed to show a sense of humour, whilst knowingly encouraging people to question whether the billboard campaign was real or not, leading to members of the public sharing the ad online.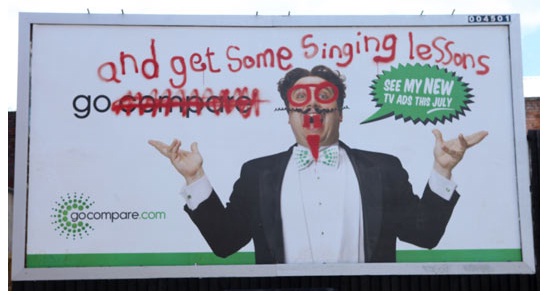 8. Great case study: McDonald's crowdsourcing PR campaign delivers tasty financial results
–          What? To celebrate the 40th year of McDonald's in Germany, members of the public were encouraged to create their very own burger. The winning burger would go on to be sold in the restaurant. The campaign roundup by agency Razorfish highlights some brilliant results, even stating that 'never before had a campaign brought in so many additional customers'.
–          When? Post from May
–          Who? Razorfish
–          My thoughts: When I'm asked how PR – and particularly online campaigns – can benefit sales, this is one I point to. It was well-executed and in the absence of many other full campaign overviews, gives me hope that 'digital' work is being done out there that isn't simply to see how many likes on Facebook a brand can get.
7. Beach volleyball team 'stop traffic' to remind commuters to avoid busy roads during the Olympics, post by M&C Saatchi's Jonny Stanton
–          What? To encourage commuters to avoid busy roads during the Olympics, TfL had the British volleyball team play in public outside of notable London landmarks, wearing, well, not very much.
–          When? May
–          Who? M&C Saatchi PR
–          My thoughts: You can't go far wrong with barely-dressed athletes in public, really. I saw lots of press coverage for it, all mentioning the GetAheadoftheGames.com site, which featured a tool to help commuters better plan journeys, so in that sense, I'm sure it was successful. The post still gets quite a lot of traffic now, presumably not from visitors intent on appreciating the PR benefits of the stunt.
6. Marmite create Ma'amite to celebrate Queen's Jubilee
–          What? To celebrate the Queen's Jubilee, Marmite had a limited number of 'Ma'amite' jars made, to be sold in Sainsbury's.
–          When? April
–          Who? Adam and Eve DDB UK
–          My thoughts: Quintessentially British (although Wikipedia tells me what would become Marmite was invented by a German), DDB piggybacked the news agenda brilliantly, creating something that wasn't too in-your-face and could actually pass for a commemorative product.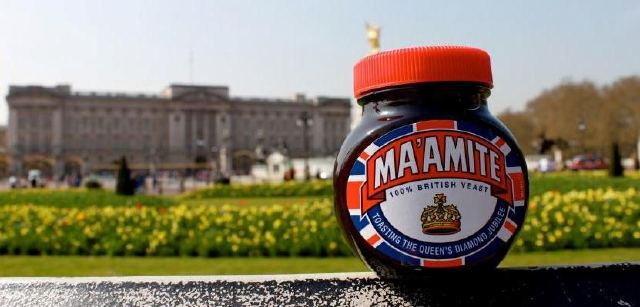 5. Jack Wills presents the best summer job in Great Britain, post by Leeds Met PR student Jazz Chappell
–          What? Students were asked to apply for a 6 week internship, where a guy and a girl would get to 'work and party' in the 'Jack Wills house', travel to America to attend a major Jack Wills event and get £10,000 in university tuition fees paid for them
–          When? March
–          Who? Jack Wills' in-house team
–          My thoughts: what student wouldn't want £10,000 of the tuition fees paid for them? A nice opportunity and one that seemingly caught the attention of students – Jack Wills' target market – judging by the volume of traffic this post still receives.
4. Ben and Jerry's release combination lock that fits on tubs to stop others eating your ice cream
–          What? To stop people stealing your ice cream, Ben and Jerry's created a combination lock for tubs that the public could actually buy.
–          When? May
–          Who? Unknown
–          My thoughts: Funny and popular, this is a stunt that probably cost a little to set in motion, with the value seemingly in reinforcing the quality and desirability of the product. I can't imagine they sold many of the locks, but the press ate this stunt up.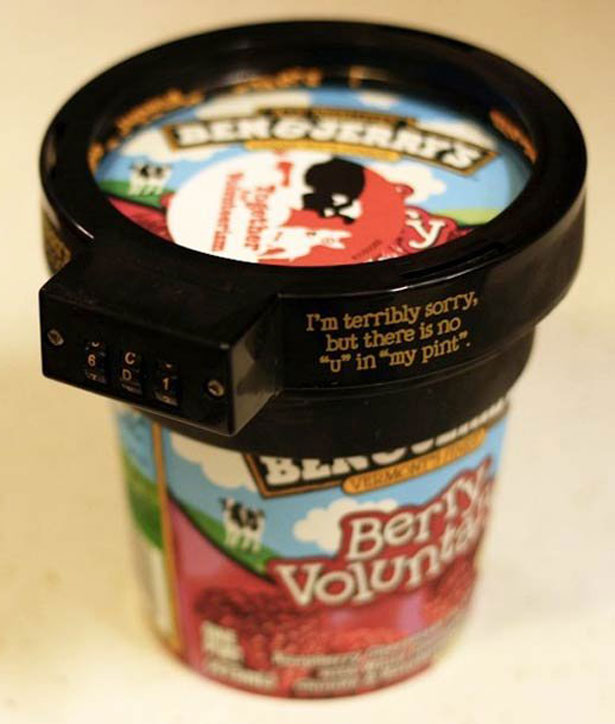 3. Funny Veet reviews valid PR example? (Potentially NSFW)
–          What? Dozens of humorous reviews started popping up on the Veet for Men Amazon product page, the majority of which being cautionary tales for men intent on 'Veeting' their nether-regions. Using a "links: URL" Google search, I can see that thousands of websites and forums, including media outlets, have both written about the product page and linked to it.
–          When? April
–          Who? That is the question.
–          My thoughts: I'm convinced the PR/marketing team set the ball (pun intended) rolling before, as they would have hoped, members of the public got involved in a 'me too! I can be funny and tell knob gags!' way. I'm even more convinced now, months later. In the link to the example, you'll find a quick breakdown of the regularity of reviews, before 'somebody' started posting funny ones. I just can't believe a deluge of 5 star reviews, links and conversation around a product (which may or may not have resulted in increased sales – after all, getting buyers there is half the battle) was ever the by-product of the public's wish to be funny. Nobody cares about brands enough.
2. Journalists bribed in brilliant Dictator DVD release stunt
–          What? Journalists were sent a cash bribe and a personalised letter, thanking them in advance for their '5 out of 4 star review'
–          When? August
–          Who? Shine Comms
–          My thoughts: Whether the stunt had an effect on reviews and ultimately sales is unknown, but it was certainly a big hit on Twitter, where film reviewers were quick to tweet pictures of their letters and cash piles. This is an example of a relevant PR idea executed very well; with just the right amount of humour ("you are free to say whatever you wish. Just as John Lennon was free to refuse my father an autograph in 1980"). Still haven't seen the film.
1. Push to add drama – Belgian TV stunt footage released
–          What? To launch TV channel TNT in Belgium, members of the public were invited to press a button, which, unbeknownst to them, set of a chaotic and entertaining chain reaction…
–          When? April
–          Who? Ad agency Duval Guillame Modem
–          My thoughts: I recently gave a talk to students in Leeds, where I classified good PR into three categories; campaigns that wow, campaigns that deliver [results/to goals] and campaigns that do both. This definitely fits into the first category and whilst people I've spoken to about it have been quick to recall the stunt, very few could remember the company or the reason behind it. Whether it had more long-term impact in Belgium is anybody's guess.