@DKNY creates hype around London store with imitation social media video #UK2012
By Faye Oakey on Friday, July 13, 2012
DKNY PR girl knows exactly how to work social media for her brand, with a Twitter follower count of 411,801, and an amazing blog full of DKNY updates, fashion tips, and #PR101 she is a prime example of an engaging brand personality. So, to announce the newly renovated store in London, what would be more characteristic than using social media rather than the traditional press release?
http://www.youtube.com/watch?v=yUrxaBBhvrs&feature=player_embedded
#UK2012 follows a faux social media conversation, using a handful of high-profile users to create a buzz around the event. FOMO kicks in with their followers- what is it, who will be there and how can I get in? The conversation gets faster, with more and more people joining in, big names like Jessie J, and model Coco Rocha spur them on.
The conversation spans many sites, it starts off with a picture of an invitation taken on Instagram, which is shared on Twitter, soon people are talking about it on Facebook, Tumblr and Pinterest. Ending with DKNY PR girl herself checking in at the store on FourSquare, and sharing on her twitter account, inviting her followers to come along.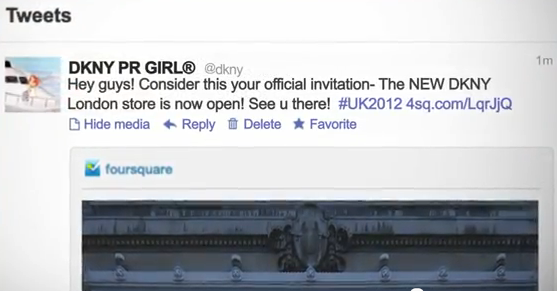 It is said that many of the featured celebs scripted their own material, which creates a lot of personality in the video, my personal favourite is this conversation: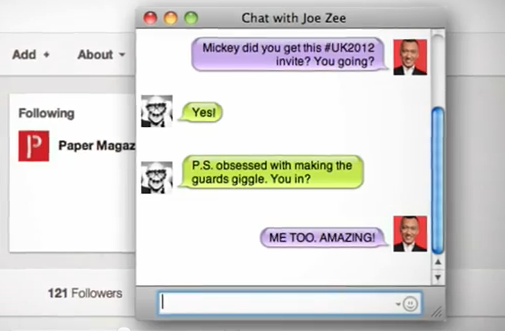 It's the first of this type I've seen, and brilliantly executed, big names ensure the audience is captivated, and nobody likes to feel they are missing out. The exclusivity of #UK2012 in the video resonates, and the content is sure working out as intended – just look at how many tweets use the hashtag. The video has 1,701 views so far, and from her blog post yesterday, 46 shares on Tumblr, and 41 tweets.