Zombies needed – undead end job recruitment drive launched by experience day website
By Rich Leigh on Wednesday, June 20, 2012
With mass unemployment, you may be sick to death of job-hunting. If this sounds like you, this job might be right up your street.
Experience day website wish.co.uk is recruiting zombies for this Zombie Manor House experience in Warrington, just outside Manchester, in live auditions taking place at Pineapple Dance Studios this month.
You may remember seeing the zombie shopping mall experience from wish.co.uk, also, who can count celebrities Simon Pegg, Jamie Oliver and Derren Brown as fans.
The job ad itself is being hosted here by monster.co.uk and opens with the line 'Tired of moaning about your job? How about a job where moaning is a distinct advantage!'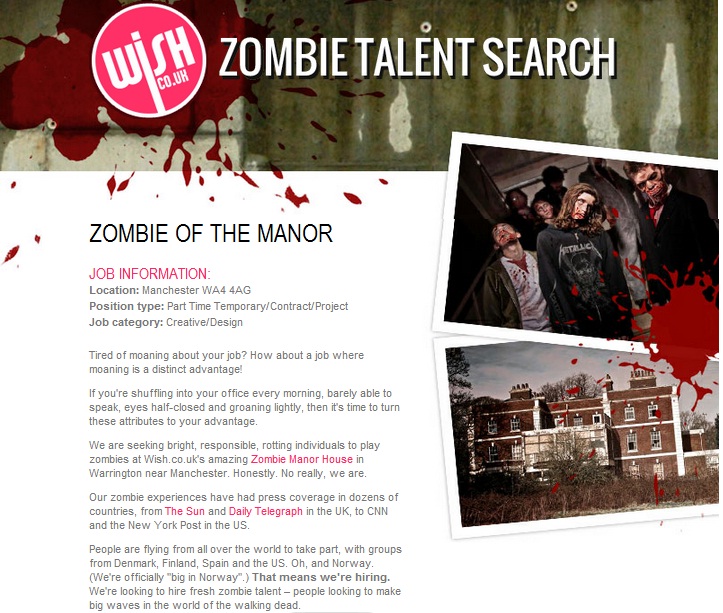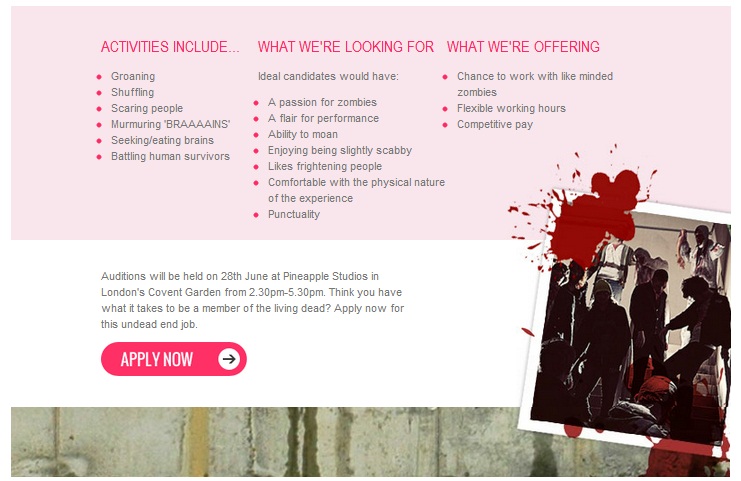 Richard Kershaw, co-founder of Wish.co.uk, said:
"Hundreds of zombie fans from around the world have contacted us begging for work. Given the huge demand for our Zombie Manor House, we're inviting these people to audition in front of our expert panel to see if they have the right stuff – why settle for a dead end job, when you can apply for an undead end job instead?"
Applicants from the country over are invited to live auditions at Covent Garden's Pineapple Dance Studios on Thursday 28th June between 2.30-5.30pm. They will be expected to showcase their zombie talents in front of a panel of judges. Entrants should come dressed to impress, though zombie make-up artists will be on-hand for last-minute touch-ups.
This zombie manor house trailer shows what successful applicants can expect to be doing as part of their working day:
Involved agency: 10 Yetis (the agency I work at!)